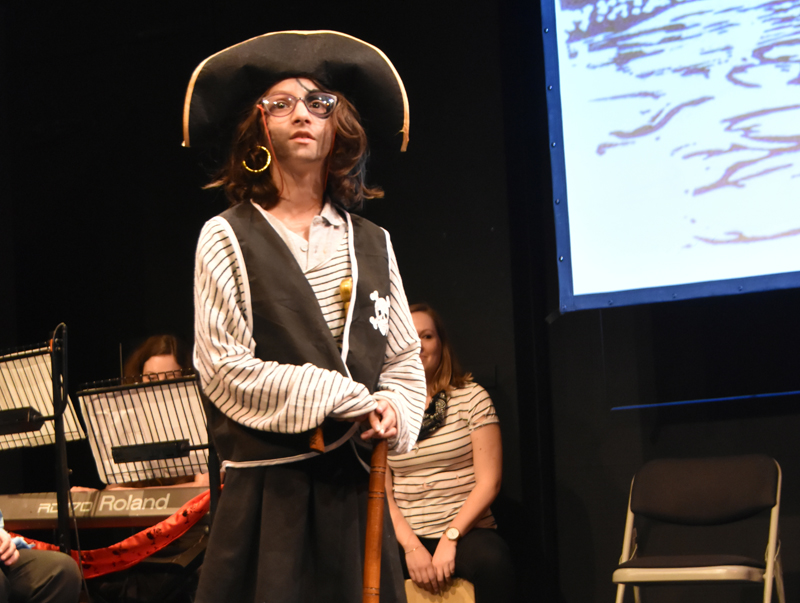 Picture credit: Lyric Hammersmith

Back in 2016, Westminster Special Schools applied for a small grant from John Lyon's Charity. Writing an application for funding was a task that I hadn't undertaken before and was one that I initially didn't feel confident in. However, I'm pleased to say we were successful in our application and this enabled us to have a three week Creative Arts Festival.
As a school we hadn't delivered a project on this scale before and it was both exciting and challenging. The festival placed inclusion and creativity at its core and had a wide range of opportunities to ensure that all students would both be included and feel the positive benefits of the festival. The activities included a full scale re-imagining of Treasure Island into a sensory story that transformed one of the schools into a port, a desert island, a submarine, a mermaid's grotto, a pub and a pirate's boat! The festival culminated in a two day residency at the Lyric Hammersmith. The response was amazing and other cultural organisations expressed an interest in working with us as a result of the festival.
The festival came at an opportune moment as John Lyon's Charity had a keen interest in supporting SEND schools to have meaningful relationships with cultural partners, following on from the launch of their Perspectives handbook; a guide book that detailed examples of best practice of partnership working.
We decided to build on our success in 2016 by applying again in 2017 for a larger grant. This grant would fund the festival over a three year period and include three other SEND schools. Cambridge School and St Ann's in Ealing would join College Park and QEII Jubilee School, and our cultural partnership would be extended to include The Wallace Collection.
We were being ambitious… very ambitious! We had a tight timeframe to organise our application so that we could commence in the summer of this year. We had developed a good relationship with John Lyon's and so thankfully were well supported in our application at all stages.
After initially sharing our vision via a presentation to our partners and funders we moved forward with the project at quite some pace - visiting our partner schools and cultural partners, collating information and adding the meat to the bones of the project. We drew heavily on our experiences of 2016 and used our this experience to form the structure of the festival and estimate the funds needed to support it. This stage of the project was both incredibly busy but also very satisfying.
We met with John Lyon's to present the proposal alongside our cultural partners. Having the project critiqued proved useful very useful. John Lyon's were invaluable in their guidance and questioning and helped us to present a coherent plan for the festival. The funders examined and questioned the plans - the questions demonstrating that they were keen to support the bid and that they wanted to understand what we wanted to achieve.
The shape of the festival was forming and the festival had initiated a cross-school conversation that we didn't have last year. Partnership working is the foundation on which the festival would be based and it was heartening to have so much commitment and enthusiasm at this early stage.

The feedback from the application has been overwhelmingly positive. We are still waiting to hear from the trustees' committee, but we feel very confident and we should learn of the final decision in the next couple of weeks. Look out for the West London Special School Creative Arts Festival in the summer of 2017!

---
Paul Morrow is Lead Practitioner of the Creative Arts at Westminster Special Schools and is also part of our AND Advocates programme. Click here to find out more about him and the programme.
Paul will also be taking part in our upcoming ANDInclusive project at the Tate Exchange - click here to find out more about this.