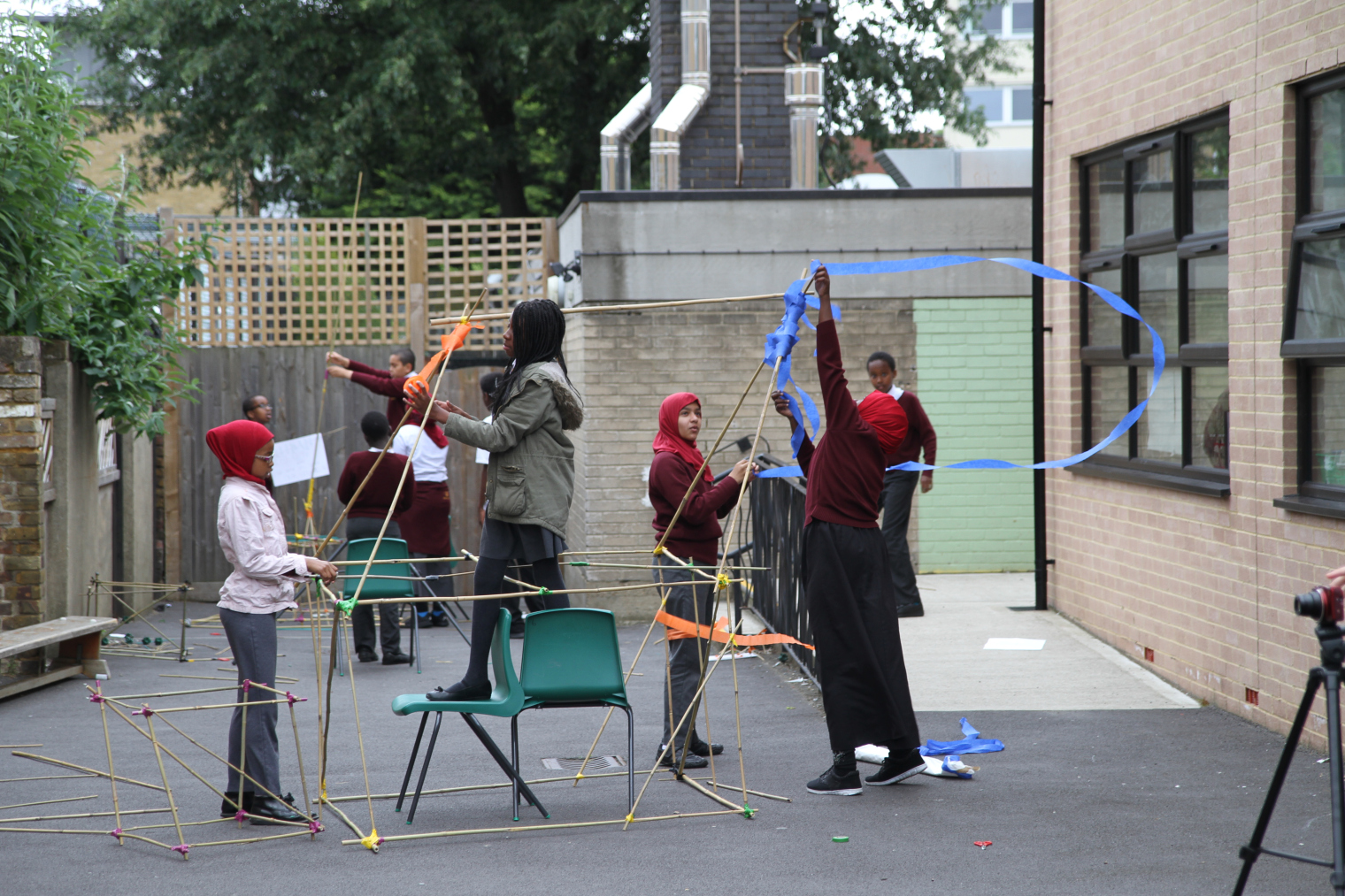 At Enable Arts, we are just into year three of our Cultivate programme in Wandsworth and Lambeth. It's been a hugely interesting journey. Cultivate is an education programme working with primary and secondary schools to inspire, involve and educate young people about a range of creative and place-making opportunities. Our aims have evolved from harnessing and engaging young people in regeneration through culture, to ensuring young people have access to cultural learning, creative experiences and awareness of creative careers across the borough, including in areas undergoing regeneration.
Since it's inception in 2015, we have employed over 40 creative practitioners and organisations to engage over 2,600 young people in 29 schools. This is increasing, with projects planned up to July 2018. Young people have developed new creative skills and raised their awareness of creative and cultural careers; schools have experienced new ways of thinking about the creative curriculum and met local arts providers. Local cultural organisations have embraced new audiences and partnerships. We have embedded creative work with young people into Wandsworth's Arts Team priorities and initiated conversations about creating a Local Cultural Education Partnership.
Creative Careers
At a time when strategic responsibility for education in England is fragmented, careers work for young people is under scrutiny, and the government has published a new Careers Strategy. We have partnered with Wandsworth Ambitions Careers Cluster to deliver a creative careers programme and have devised a workshop series – Cultivate Routes – to open students' eyes to a wider range of creative opportunities and encourage critical thinking skills. As take-up of creative subjects at GCSE and A level drop, it is vital that young people gain an understanding of the creative industries and the possibilities within them regardless of subject choice. We also continue to engage with local headteacher networks, and the programme reach is spreading and crossing boundaries with projects underway in Wandsworth and Lambeth.
The London Cultural Education Challenge has challenged us, but hopefully we have risen to it. There are so many voices calling for recognition of the multiple benefits of engaging with arts and culture and building this into a rounded education. A New Direction's investment has enabled us to focus attention with new resources and fresh energy and to bring our cultural partners with us, as well as to recognise and promote the fantastic work being done already in the borough. Our new free guide to Wandsworth's creative youth offer will be given to every school pupil in Wandsworth (over 23,000 young people!) and distributed in key locations throughout the borough, as well as being made available online.
The new London Plan
Planning and regeneration are also under review in London and we are encouraged to see the Mayor's new Draft London Plan. This is a strategic plan which shapes how London evolves and develops. All borough planning decisions should follow London Plan policies, which provide a framework for local plans across London. The draft includes strong support for protecting and enhancing London's creative and cultural facilities, including affordable creative workspace and the development of new Creative Enterprise Zones. London boroughs are encouraged to consider ways for 'everyone to experience and participate in London's rich cultural life'. Importantly, it also asks boroughs to 'use Cultural Quarters to seek synergies between cultural provision, schools, and higher and further education which can be used to nurture volunteering, new talent and audiences. This can include partnerships with a range of cultural organisations, such as libraries, museums, galleries, music venues, dance studios, and theatres.' The Draft London Plan can be viewed here - chapter 7 focuses on Culture and Heritage. Comments are invited by 5pm Friday 2 March 2018.
Going forward
Cultivate began as an initiative to support community and cultural engagement in the Nine Elms Vauxhall Regeneration Area and hence our match funding has in part been through developers building in that area. It is therefore fitting to see the London Plan reflecting the importance of providing for culture and the creative industries and to support young people through this, in long-term strategic plans.
Crucially, investment from A New Direction, and match funding from Wandsworth and Lambeth Councils and Nine Elms developers including Vinci St Modwen, St William, Taylor Wimpey and Bellway Homes, has provided the critical capacity needed to instigate projects, engage with partners and champion young people's cultural learning. The governance and funding landscape of academisation, outsourcing and ever decreasing local government funding is challenging. Without this crucial funded capacity, shown to be essential to enable positive partnership work, how can initiatives like Cultivate, or local partnerships, which are instrumental to strategic objectives, be sustained?
---
For more information about Cultivate contact Katherine Hill, Cultivate Programme Manager: khill@wandsworth.gov.uk
Follow the programme on Twitter: @cultivate_ldn
Find out more about the London Cultural Education Challenge
Picture credit: Cultivate