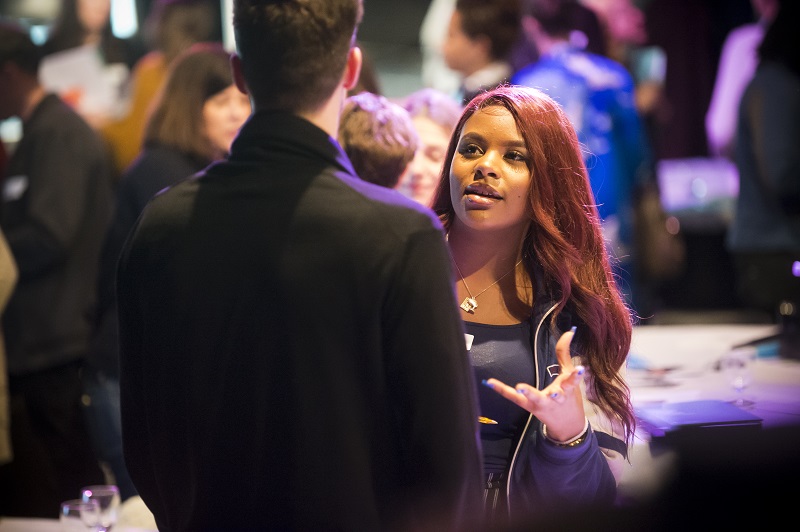 Wednesday 7 February saw the opening of PLUGGED IN - an event curated by the Institute of Contemporary Arts (ICA), Guap Magazine, Design for Disability and A New Direction (AND) bringing together 50 cultural institutions and 50 young creatives aged 18-24 with the aim of connecting, debating and revolutionising the way we work together.
During our initial brainstorms, there were lots of ideas floating around about what the name of the event should be. In the end, we chose PLUGGED IN (with the hashtag #PluggedInLDN) because we thought it identified with our story and what we were trying to capture. It was also in line with being aware and tuned in to the cultural opportunities London has to offer. The main things we wanted delegates to take away from the day were: what will we start doing differently? What will we stop doing as a result of the day's conversations? And what have we learnt?
PLUGGED IN featured the following speakers: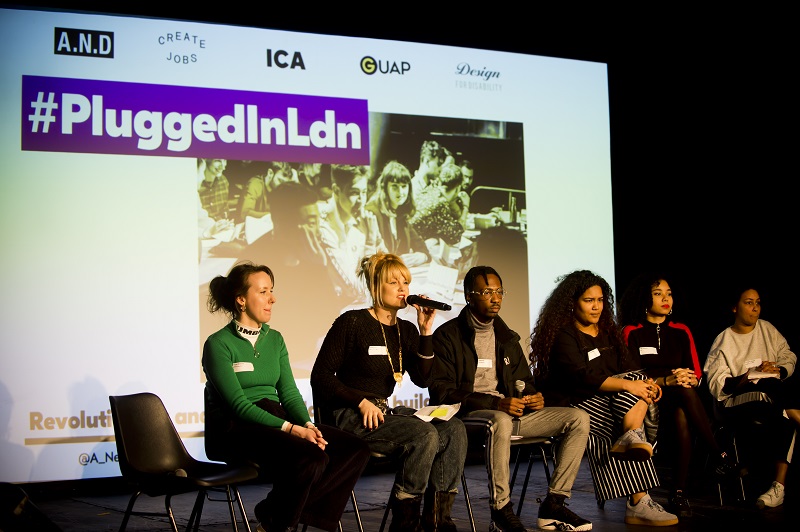 To open the show, the co-curators were invited onto the stage to say a few words about our involvement with the project. For me, it was so exciting to be a part of an evolving conversation. As an individual with a disability, my vision is to see inclusion practiced across all industries, and I think bringing together the arts sector with new and emerging talent encourages new conversations which push for change and social inclusion.
After introductions, we started the speed networking part of the evening where each visitor got the chance to meet a different set of participants every time the cowbell rang. This was a great opportunity for the young people in the room, as there were so many practitioners from high profile arts and cultural organisations to talk to.
For our first workshop, everyone was assigned a staff member and a numbered table. Each of the workshop leads (who were also guest speakers) had a mix of 10 young creatives and institutions working with them. In my group we discussed the problems surrounding inclusion within the creative industries. One point raised was that creatives feel they do not have enough experience on how to market themselves and need to go out and meet people face to face. I asked one creative what she thought experts could start doing differently to fix this, she mentioned that dialogue is key and that she would benefit from new forums for collaborations to keep dialogue active. She also mentioned that team reviews should be carried out to assess existing practices and see what can be done differently. This discussion highlighted for me the importance of networking and knowing who we can talk to. Giving creatives the spaces to build forums allows for conversation to stay active, and consultation and review of existing practices encourages us to see what can be done differently. It's all about creating new headspaces for discussions to happen.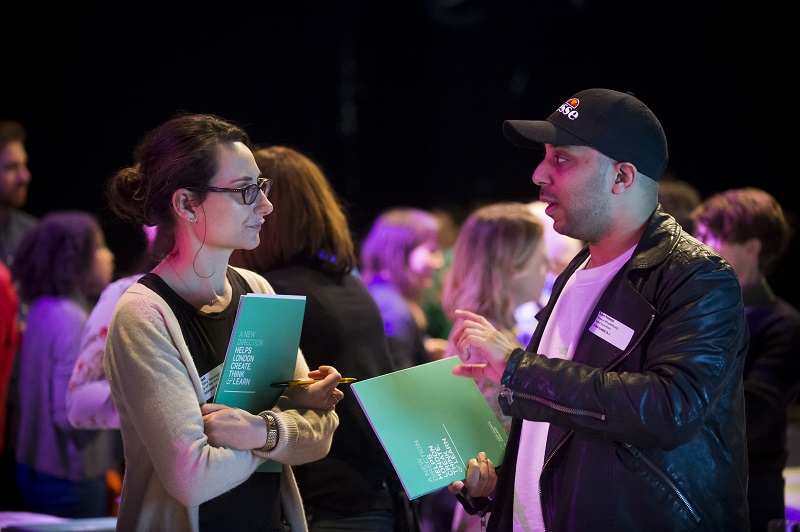 Another point raised was that young creatives often felt intimidated by the industry, though a lot of young creatives said that going to events like PLUGGED IN helped a lot with confidence. "I think when you're invited to a big event like PLUGGED IN you feel you're working as a collective and everyone is on a similar level, whether as a young person or as a professional," said one delegate. I think it is important to ask young people what they want. A lot of the time we are handed 'a guidebook' telling us what we should and shouldn't do, and who we should and shouldn't be talking to. What the event confirmed for me was that professionals and industries need to be coming to us. Working with my collaborators and hosting this event at the ICA has allowed for cross-disciplines to meet and discuss under one roof.
A recurring theme I came across after speaking to both creatives and practitioners that I found to be quite surprising was the lack of information and knowledge people have about finding creative opportunities. The idea of having role models is especially key to young people, as is knowing how we can tap into diversity.
One young person who told me she was on the autistic spectrum chatted to me about needing to make creative industries more aware of neurodiversity and understanding individual's strengths. She was saying that creating more accessible environments in the workplace like quiet spaces to people who require them could make an institution feel more welcoming. She said that she struggles to find any training or education for neuro-diverse people. I think a lesson which we can take away from this is that there is no 'one size fits all' model - it's about creating a flexible system that is inclusive for all. People don't want to be taught how to be 'normal'. There is no 'normal'. Having an inclusive mindset and the right role models around would be of huge benefit. Industries should learn to stop making assumptions and be open to diversity.
This was something that was echoed in a lot of the feedback, as was the desire to embed events like this into our current cultural structure so that they happen on a regular basis. Henry Onilude, Creativity Works alumni and young creative, had this to say:
It was an insightful event, I learnt so much. I love the way they encouraged networking through the quick networking session. I know so many people, including myself, left with a hand over of contacts. The advice the panel gave was also really helpful and the two performances by JAJA KIsses and YIIGAA really ended the event on a high.
PLUGGED IN was truly worth every minute of my time. One of my favourite events I have been to. I look forward to hopefully attending again in the future!
---
Pictures credit: Roger Brown for A New Direction