Creative Ecosystems
New Approaches to the Cultural Learning Ecology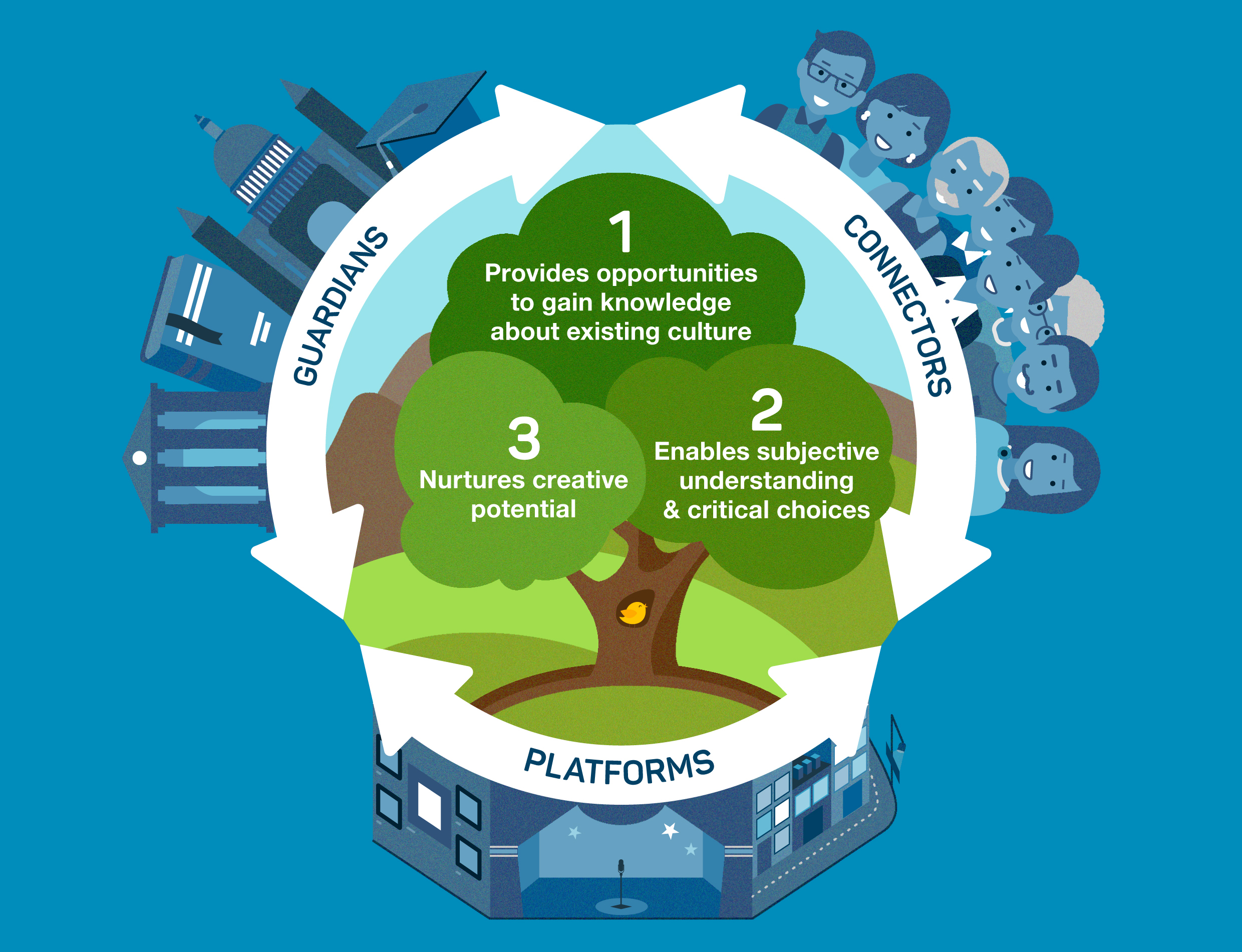 The concept of cultural entitlement – the notion that arts and culture is a basic human right for all young people – is intrinsic to many recent debates around engagement with arts and culture. It is also at the heart of A New Direction's ongoing work aimed at ensuring that London is the best place in the world in which to have a creative childhood.

Our previous research has highlighted how a diverse range of factors including the city's varying levels of cultural infrastructure and vast differences in wealth mean that opportunities for cultural engagement are not equally accessible to all young Londoners. We know that addressing issues of equity, access and quality are a central concern if we are to ensure that all children and young people are able to enjoy a creative childhood. But, in order to address these issues, we need to understand:
how we decide which interventions, practical solutions and partnerships will have the most impact;

how we identify, and subsequently support, promote and exploit the elements which need to be in place for every child and young person to have the opportunity to learn about, engage with & create cultural experiences;

how we plan for culture in a place, who are the stakeholders in this discussion and how do their roles interact, correspond, or conflict.


With this exploration into the cultural learning ecology, we are interested in whether thinking about children and young people's engagement with arts, culture and creativity as taking place in a joined-up ecosystem consisting of complex interactions, networks and connections may offer useful insight into answering these questions.
The Cultural Learning Ecology
A common response to addressing the cultural needs of a community, is to identify provision; to look at what the cultural offer in a place is and where the gaps are. Such mapping of cultural assets and the opportunity this offers to delve deeper into an analysis of the motivations and barriers to children and young people's engagement can be useful. Nonetheless, this emphasis on supply-side and provision (even when uptake is considered) falls short in exploring the varying ways in which the players within a given landscape link, compete or influence each other and the dynamic ways in which children and young people navigate this terrain. In order to successfully respond to those questions outlined above, to challenge any assumptions that we may have around children and young people's engagement, and to thus affect real change we need to be able to understand the role that arts and culture plays in the lived experience of children and young people.
One way in which researchers have attempted to develop a more comprehensive understanding of the cultural sector is to apply an ecological approach.[1] Drawing on the study of the natural world, this looks to ecological concepts such as interconnection, webs and networks, regeneration, symbiosis, and fragility and strength as a means of exploring culture in a place. It is thought that by analysing a cultural environment through the lens of systems, flows and categories it may be possible to generate a broader, inclusive understanding of a landscape without having to exhaustively examine every detail.
Incorporating research, debate, and field-work this exploration will see AND collaborate with thought-leaders, practitioners, educators, researchers and young people to help us uncover what a thriving cultural learning ecosystem for children and young people looks like and how we can work collaboratively to generate, nurture and support such conditions. It will be of interest to those working in the arts, education, and youth sector as well as anyone interested in ensuring that all children and young people are able to access opportunities to learn about, engage with and create arts and culture.
Initial discussion will inform the development of fieldwork to be carried out by A New Direction into a cultural ecosystem within the city.
In embracing a fresh way of looking at young people's creative and cultural experience and considering new ways of thinking, discussing and investigating how it operates, it may be possible to generate valuable, even crucial, insights into how the children and young people of London can be best supported to lead culturally and creatively rich lives.
To start our exploration, we invited John Holden, Visiting Professor at City University & author of the AHRC's research into The Ecology of Culture, to explore what an ecological approach to Cultural Learning might look like.

Infographics
We have produced some infographics to illustrate the main themes of John's paper. Download them here:
Infographic 1 - An ecological approach to learning
Infographic 2 - A thriving cultural learning ecosystem
Responses
Cultural Consultant Lawrence Becko responds to John Holden's piece by exploring how we might engage children and young people directly in exploring and shaping their own Cultural Learning Ecology. Read here >
Tom Cunningham from The Young Lambeth Cooperative discusses how their organisation embodies an ecological approach. Read here >

Pat Moores from The Mighty Creatives outlines how the concept of a Cultural Learning Ecology aligns with their Blueprint for a Better World: What If Every Child Could Fly? Read here >


If you would like to contribute to the discussion, please contact Annie Thorpe.
---
[1] John Holden, The Ecology of Culture: A Report Commissioned by the Arts and Humanities Research Council's Cultural Value Project Arts & Humanities Research Council, January 2015: http://www.ahrc.ac.uk/documents/project-reports-and-reviews/the-ecology-of-culture/