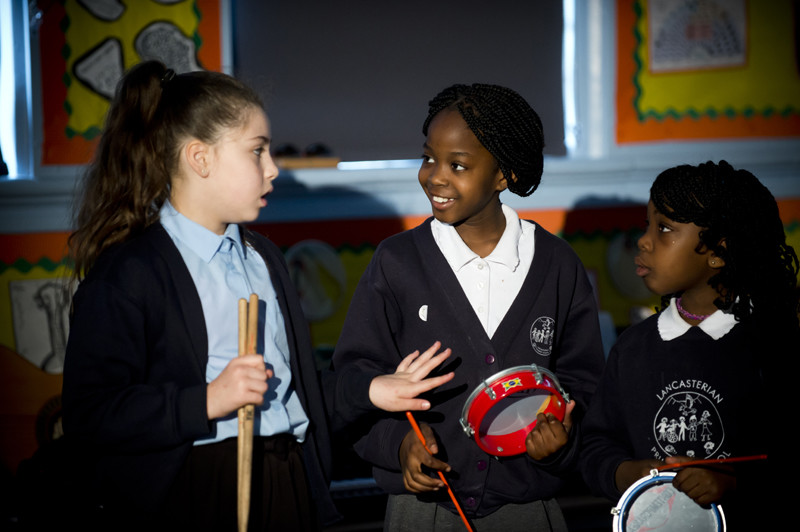 In 2015/16 A New Direction launched Arts Award Local Area Networks, enabling Arts Award Advisers, Centres and Supporters to come together, learn from each other and develop new opportunities for young people. In 2017/18 A New Direction will be supporting the creation of more networks, by looking at creating new borough clusters, to forge new relationships and share best practice across boroughs.
These will allow Arts Award Advisers, Centres and Supporters to come together and:
Share learning and best practice

Make connections and build new partnerships

Raise the profile of Arts Award in a specific area

Develop approaches to a high-quality cultural education offer for children and young people


A New Direction aims to make London the best city in the world for young people's cultural and creative development. Arts Award is a key component in making this happen. Through Arts Award, children and young people can find out what inspires them, share their talents, and achieve an award that makes a real difference in the world of work and the arts.
On 30 May 2017 the leads of six Local Area Networks across London came together to reflect on the successes, challenges, inspirations and opportunities of the programme.
The aim of this year's Arts Award Local Network Clusters approach is to map work more closely with emerging and existing Cultural Education Partnerships and challenge work and opportunities as well as the continuation of existing great work done across boroughs.
Successes of the 2016-17 Local Area Networks programme
Network leads cited their networks as being mainly well attended, and providing a good basis for schools to connect with each other locally.
In Barnet's Network, both primary and secondary school's found that they could create progression routes linking them together to share their opportunities for students to achieve Arts Award.
In Kingston and Sutton, a music-focussed approach worked well - allowing music hubs and people to come to the sessions in areas not previously worked with Arts Award
Tower Hamlet's Network found that splitting meetings into themed 'chunks' and periodically combining them with cultural partnership meetings allowed people with differing interests and childcare needs to attend meetings in accessible local spaces.
Lewisham's network found it useful to link up with work being done with Bellingham housing association - connecting to partnership work being done in the borough
Islington and Camden found that their previous work on offering a shared Arts Award offer garnered them networks that wanted to work with Arts Award in the boroughs. They also found that meeting individually with cultural organisations in the boroughs revealed good answers.
Walthamstow Network found that delivering a regular, targeted INSET as part of Network meetings on topics such 'next steps after training', 'preparing for your first moderation' and 'moving on to your next stage of Arts Award delivery' have been successful.
Challenges
The Networks then reflected on some challenges that could be responded to in the new 2017- 18 Local Network Clusters.
All Networks found that there was a need to balance the number of speakers and presenters and information at each network meeting so that the wide variety of stakeholders could filter information easily.
This was echoed in ensuring that sectors that haven't worked with Arts Award before had a clear case made for them, about its value without overloading them.
It was noted that in some meetings there were a lot of schools and not many independent Arts Award Advisors, whereas in others it was found that cultural organisations and alternative non-formal youth provision were the dominant presence.
Interestingly, some Networks found that some schools with a lot of arts provision felt that they didn't need Arts Award. Conversely, there were also some schools that hadn't engaged but were eager to try Arts Award.
There was also a thematic response that there were not many secondary schools in attendance in some Networks. In reflection, this could have been because of GCSE commitments this year.
Overall, the Network leads found that there was a split between partners that had been delivering for some time and needed support to continue despite challenges, and those who had not and were eager to start Arts Award delivery.
Inspirations
The discussion then moved on to learnings that could inspire future practice and delivery from previous Networks into the future iteration in 2017-18:
The number of people who want to make progression happen across London is immense and needs harnessing

Five primary schools that hadn't engaged with Arts Award before have decided to trial it for 2017-2018. They engaged via one Local Area Network

There is space for eager new schools to support one another in their Arts Award delivery, and there is a need to support them with this
The enthusiasm of new Arts Award Centres stands out in meetings and again needs supporting

There is a need to find the capacity to 'handhold' newly trained Advisers and connect them to surgeries to kickstart delivery

Peer to peer discussion is the best form of advocacy, e.g. teacher to teacher and arts organisation to arts organisation

Opportunities
Opportunities were discussed as a final theme. These focussed on opportunities that have arisen from running Local Area Networks in the past:
There is an opportunity to push the networks further to groups delivering in outreach contexts

Forming a core Arts Award champion base for boroughs could also be a way to drive knowledge and understanding

Opportunities to work across all Music Hubs in London via Networks was outlined as a possible opportunity to catalyse change in Arts Award

The upcoming GLA London Borough of Culture initiative is also an opportunity for Networks to embed Arts Award in borough strategy and practice in culture and arts

Tackling progression via cross-working groups was outlined as an opportunity. This focussed on the example of and Arts Award Gold cross-organisational group to create progression for young people and partnership working across organisations delivering the Award

There is an opportunity to connect to existing partnerships work with Housing Associations (as outlined by Lewisham) to offer Arts Award information sessions

Some local authority leads are starting to value culture more as an asset, and this could be a timely way to underline the value of Arts Award in local authorities and cross-borough partnerships

Libraries found that schools wanted to do Arts Award and schools sessions work because teachers see Libraries as a neutral, easy space to work

Where boroughs have been working together for a substantial time such as in Waltham Forest and Redbridge there are opportunities to formalise this relationship in a network cluster