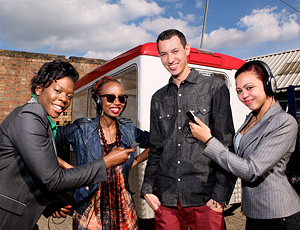 (Images: Rahil Ahmad, used courtesy of LLDC)

Over the last six months young people from the Host boroughs, between the ages of 16-25 have received training in radio presenting and production skills. The programme, delivered in partnership by Reprezent 107.3FM and A New Direction has given a voice to some young people from East London on issues important to them linked to the Olympic and Paralympic Games and their legacy.

Having gained these valuable journalism, radio interviewing and presenting skills, the young people came together to evaluate, celebrate and discuss what they really think of the Queen Elizabeth Park. Just what it is the future looking like and what will be in it for them?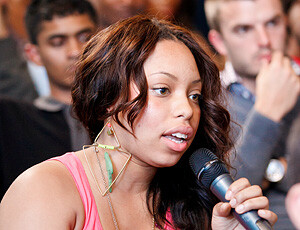 The evening was hosted by BBC Radio 1xtra's Nick Bright and we began by listening to two of the documentary radio shows, produced by the young people, recorded in and around the Olympic park, exploring its future from a sporting, recreational, design as well as community perspective. They interviewed a variety of people from the high profile decision makers and designers behind the scenes, to athletes, politicians and local people about what they wanted to see happen to the park, and the impact the park will have on the area post-Games.

Nick was joined by panel guests Ruksana Begum, British Women's kickboxing champion, Amy Marren, 13 year old Paralympian Swimmer, Team GB, Dekan Apajee, BBC Radio London reporter, Wendy Zadigue, Deputy Young Mayor of Newham and Peter Tudor, Director of venues, LLDC for a lively and interesting debate which covered what the legacy of the Games for young Londoners might be, and what the future of the park could look like.
The evening ended with an awards ceremony celebrating the young people's achievements.
You can listen to the discussion and other shows made as part of this project at legacyradio.reprezent.org.uk