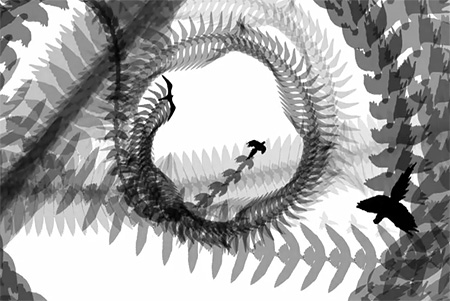 Image: A still from 'Flightlines' by Janette Parris and Serhan Ahmet at BSix College in Hackney)
The Event was run by motivated young people from A.N.D's Headstart programme, and showcased inspiring digital artwork produced by other young people from Newham College,Bsix College in Hackney, Middlesex University and Arc Theatre in Barking and Dagenham.

We were lucky to be joined by artists Simon Grennan (Grennan and Sperandio) and Janette Parris, lead artists on our Truce Arts project, run in partnership with Creative Intelligence Agency (C.I.A), which gives young people the opportunity to work alongside, and be inspired by the work of these artists to produce and share digital artworks in response to the theme of the Olympic Truce. Get involved and submit your own artwork now... (all submissions received will be considered for film compilations by Soda for showing on BBC live sites this summer.)
We were welcomed by Headstarters Keisi Morina, Jacqui Adjeni-Williams and Renaye Sinclair Roberts who led audience members to the auditorium as the rest of the Headstarters finished final testing on lighting and sound, setting up the bar and refreshments, checking guestlists, etc with help from facilitators Edna Pletchetero, Lucy Wood and Oliver Benjamin from Headstart / A.N.D. We spotted our young Social Media Journalists (Joe Mason, Claudia Andrews, Kimberly Nyamhondera, Jake Morgan-Stead and Kaspian Thylmann-Foster, and Sandra Townsend) with facilitator Fran Plowright, and Charlie Tims setting up along the back row, ready to blog and get involved in the live debate about 'what a Truce could mean for young Londoners'. Read their blogs here...
Photograhers Tim and Barry who lead the Headstart photography group were on hand with Tahmina Rahman and Michelle Appeah, and Benjahmen Smith to document the event (must remember to send those pics to the Tottenham Journal...), whilst film producer Eelyn Lee and Headstarters Sandy Abdelrahmen, Shajna Begum and Muzzammil Hashmi were getting ready to film the event.
As the lights went down, we were treated to an impromptu piece of immersive theatre entitled 'Whistle' by Quilt Productions, specially commissioned by Headstart for the event. Seated in the audience, the audience were fooled into thinking a dispute had erupted in the stalls - as a hush descended, a resolution was reached between the arguing group - our first moment of Truce of the evening.
Headstarter, Kayo Chingonyi was our compere, and did so with expert ease and confidence. We started with a film of Lord Bates explaining the concept and history of the Olympic Truce followed, and then straight into a set of wonderful animations by the students at Bsix college working in collaboration with digital artist, Janette Parris. You can see some of the work here.
A workshop discussing how culture unites and divides us followed, devised by headstarters (in collaboration with facilitators deep:black) and compered by Renaye Sinclair Roberts and Avneet Chugh with some interesting points raised about Truce in the context of barriers to culture and reaching your 'cultural comfort zone'.
The audience were then treated to a set of wonderful films produced by young people from Arc Theatre working with artists Grennan and Sperandio, and Carole Pluckrose from Arc. Depicting moments of 'Truce' from their favourite films in the form of 'Truce Tableaux', the films documented the process of directing the scenes to produce the final polished set, and we were all impressed by the professional and often entertaining results. The young people took to the stage with Simon Grenandio after the showings to take questions from the floor.
James Massiah, a poet and wordsmith from South London then took to the stage to perform a specially commissioned piece around the concept of Truce, which went down a storm - look out for this big talent!
Eelyn Lee Productions, Tim and Barry and members of Headstart followed up with beautiful moving pictures inspired by Old Master paintings, shot on location in Hackney and Newham - the 'Truce Triptych' combined complex imagery with an arresting sense of Truce.
We then received a music video premiere of 'Tonight' by up and coming artist, Bilal - directed by Headstarter Muzzammil Hashmi, contrasted the tranquility of the river Lea with personal stories of conflict.
We finished with a brief discussion about what people can do to break down barriers between different groups in London, and each wrote a pledge for how we could make more peaceful city, which were then hung from the tree in the courtyard of the Bernie Grant Arts Centre.
It's youth led events like this, that combine high quality artistic content by young people, with discussion of ideas about how to make London a better place for all, that make us proud to work with all the Headstarters - a fine bunch of motivated and creative young people.
Thanks to all involved!