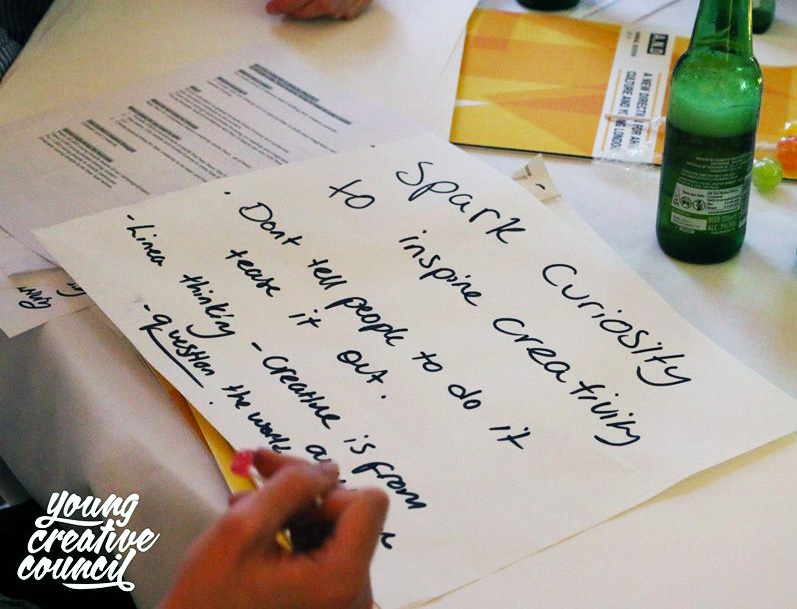 A New Direction approached the Young Creative Council with a brief, a brief
for their My Culture, My London campaign, established to inform and inspire young (11-15 year old) Londoners. Its aim is to let these kids know that they ARE creative, that it exists in all of them, and A New Direction want to awaken this in them.
So they had a brief. A very clear, targeted brief. But to an audience who are notoriously cynical of brands and advertisers alike, and even more so when they try to talk to them 'in their language'. They don't believe them, because, well, why should they? They see it as coming from some middle aged man who thinks putting a hashtag in front an abbreviated word means he is 'down with the kids', and you know what, more often than not, they are right.
The Young Creative Council is a resource for students, graduates and juniors in the advertising industry. We run events, a job wall, and even a match making service for forlorn Copywriters looking to find that special Art Director in their life so they can tackle the world of advertising together. So let's remove the middled aged man from the mix and get people thinking, the right people, young people and lord forbid those that were born in the 90's. That is where these 50 plus recent grads come in and together with A New Direction and the Young Creative Council we held Bang Bang, which took place in a bright room on a glorious sunny evening in Shoreditch last month.
There were 7 teams, a mixture of students, recent grads, those on placements, those looking for placements. But all came with a fresh take and a desire to work on a real brief, with a real insight and fundamentally get the chance to see their ideas become a reality. Each team had a team leader, thanks to Iris for provided these great minds to us for the evening, and they got to work. The evening went quickly, after all ninety minutes isn't a long time to work on a brief but as we walked around the groups as they brainstormed, you could see the ideas forming, the brilliant started nuggets, the way they all worked together and overall the excitement of working on something on real and possible.
Time was up, the klaxon blew and the teams presented one key concept each. There were ideas ranging from apps, to storybooks, from challenges to dance moves, anything and everything and some very special insights that really excited us. The judges; Shaun McIlraith from Iris Worldwide, Simon Poett from Tribal and Caroline Taylor from A New Direction were ushered off to deliberate. This created a good window of opportunity for the teams to mingle with each other. Some were working, some still studying, numbers were exchanged and advice from peers embraced.
In the end one team was awarded the winning sash. I won't tell you what it is, but it is a good one, and one I hope you'll see brought to life in the next few months. That team will go on to develop that idea with the guys in Iris Worldwide. In fact the top three teams will spend some time with the creatives there and get some hands on experience.
On that hot evening in May, we had a breath of ideas presented to us by young creatives for young people. Adland can be an intimidating place when you are starting out and it really shouldn't be, these minds are ready, they are behind the traps and ready to go the distance.
(Image credit: Young Creative Council)

---
For more information about My Culture My London, go here