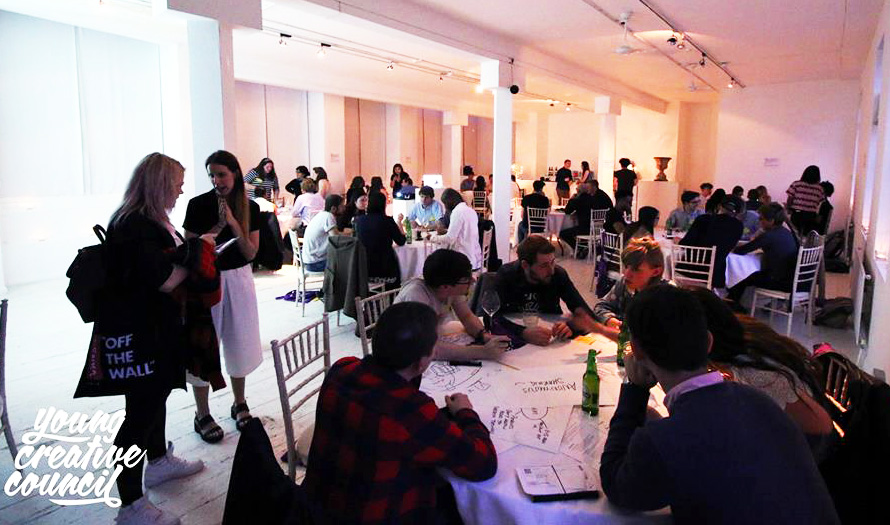 It's Wednesday and I'm sitting at work thinking whether I should go home and watch a couple of Game of Thrones episodes or go to the second Bang Bang. I was excited about Bang Bang 2 (an event that is part of My Culture My London campaign) , but on that particular night, all I wanted to do was go home and find out what happened to Sansa. Luckily, I didn't. Not only did I save myself from the deep GoT-related psychological trauma, but I also met some wonderful people, challenged my creative skills and learned new things about being a teenager in London.
The first hour of Bang Bang 2 was solely devoted to socialising. The first people to arrive (aaah, why do I always arrive on time?) were a bit reserved but very soon conversations about portfolios, studies, deadlines, internships and London life got into full swing. A couple of drinks later the teams were ready to take a crack at the brief offered to us by A New Direction.
How do you encourage young people to be creative? How do you bring art and creativity into London's outer boroughs? How do you make this experience free and exciting, available both on smartphones and in the real world? I guess you could work on this brief for days, nights, even weeks and still be left empty-handed. But we didn't have weeks. Every team had just 80 minutes to discuss the brief, find the best solution and prepare a three-minute presentation for judges from Iris Worldwide.
But as it turns out, the less time you have, the more creative you become. Every team managed to bring fresh ideas to the panel, and several caught my eye as being really strong. The judges, it seemed, were equally impressed. They chose a winner and two runners-up to further develop their concepts with creatives from Iris, including our team!
After a few weeks of thinking about our team's concept further (the creative power of Bang Bang 2 was THAT contagious), I realised how important creativity can be for teenagers - or for that matter, anyone. I remember how difficult it is to be creative and to stand out when everyone else expects you to be a part of the crowd. And this is particularly true in the suburbs.
Hopefully, one of the shortlisted teams will manage to develop their concept further and help London's teenagers to become more creative. Maybe, it is these teenagers who will take part in Bang Bang 3!
(Image credit: Young Creative Council)

---
For more information about My Culture My London, go here