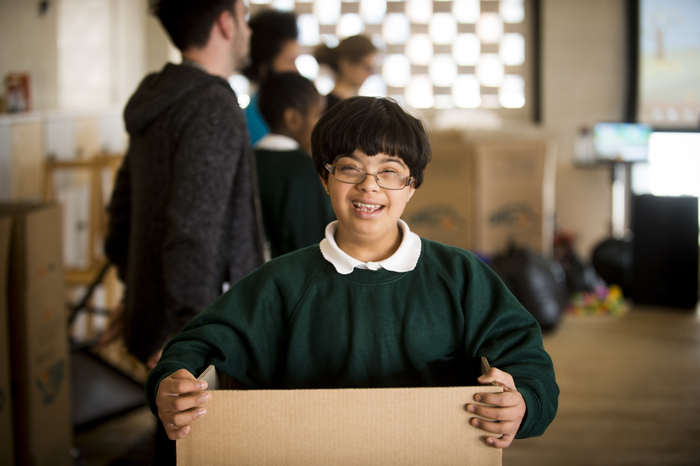 At Westminster Special Schools I have the privilege of working with a very supportive senior leadership team. My role has a particular focus on The West London Inclusive Arts Festival, which I coordinate in partnership with other special needs schools and cultural partners. As a school, we grew increasingly confident and acutely aware of the shifting landscape. I was given the freedom to work with a number of interested networks including A New Direction Advocates programme.
This greater level of connectivity, together with the support of funders who wanted to be a part of these initiatives, meant that Festival grew year on year and went from strength to strength. In its first year, it was four special schools and two cultural partners. In year two we had four cultural partners and nine special schools and it continues to grow both in terms of its reach and its progressive and inclusive practices, driven by a real desire to work together towards a common cause. This is where a conversation started. How could we support others to replicate what we had achieved? What would it look like and how could we make it happen?
It soon became clear that we needed a starting point, a guiding set of principles. This is where the Cultural Inclusion Manifesto started to take form. It outlines a vision of future partnership working and greater connectivity. It looks to be a space to guide, to support and be a bank of best practice to support the on-going drive towards real inclusion. Here I need to thank Rachael Christopides, who with her experience of writing and developing policy within the field of special educational needs helped to craft the manifesto into the document we have today.
At this point, there are 15 politicians from across the spectrum committing to the manifesto and a substantial number of cultural institutions such as The Royal Philharmonic Orchestra, The Royal College of Music London, Graeae Theatre Company, The Royal Collection Trust, Wigmore Hall Company, Eureka! The National Children's Museum and GEM – Group for Education in Museums.
The launch of the Manifesto
The launch of the Cultural Inclusion Manifesto took place on Wednesday the 16 May at The Lyric Hammersmith. It was a fitting venue, as the manifesto grew out of the West London Inclusive Arts Festival - an initiative funded by The John Lyon's charity and hosted by the Lyric.
The launch was attended by a wide-ranging audience comprising representatives from the education sector, cultural sector and politicians, illustrating the wide appeal of the manifesto. It was fantastic to see so many people coming together to help make change happen.
The launch opened with some great speeches, including one from Anita Kerwin-Nye, the lead of Every Child Should. Every Child Should have been campaign supporters since its infancy and are incubating the Cultural Inclusion Manifesto, website and programme of work.
There was also a speech from Dr Adam Boddison, chief Executive of NASEN, who made the point that participation in arts and culture is part of a route to wider inclusion. She made a commitment that NASEN would support the work of the Cultural Inclusion programme nationally. Sian Alexander, Chief Executive of the Lyric, followed - speaking of their commitment to inclusion and drew on their partnership with the West London Inclusive Arts Festival as central to this.
Jean Carter spoke as a representative of The John Lyon's charity and reaffirmed their commitment to both Arts and Culture and Special Educational Needs, and the power of effective partnership working. It is their funding which made the festival possible, without which the manifesto would not exist.
Finally, I spoke about the transformative power of arts and culture as a practising artist, teacher and A New Direction Advocate. I focused on the journey of the manifesto. How the idea was conceived through my professional experiences within the field of special educational needs and through working with a range of cultural partners.

Next steps
Every Child Should are bringing together a steering group to take forward the next steps. The Manifesto is a set of principles and values but it is also a commitment to action – both individually and collectively.
We are collectively working on curating a national Cultural Inclusion conference in the Autumn to explore the Manifesto in more depth.
Alongside the organisations at the core of this work are developing a programme of work to support cultural and heritage settings to develop their offer with special schools, mainstream settings, families and children and young people with disabilities, as both artists and as audiences.
Schools have asked for support in developing their arts and cultural provision for all learners and we will be working with NASEN on how we can reach into the wider school workforce to provide specialist training.
And – of course – we continue to encourage sign-ups to the Manifesto to help ensure cultural inclusion for all.
Exciting plans are afoot and I'm pleased and honoured to be a part of this initiative.
One final thought that I'd like to leave you with: culture is the thing that empowers us, it defines us as individuals, but it is also the glue that binds us. It is our common experience and that should be common for everyone.
To sign up to the Manifesto click here
To hear more about developments and the Autumn conference click here
---
Paul Morrow is Lead Practitioner of the Creative Arts at Westminster Special Schools, and is also one of our AND Advocates. Click here to find out more about him and the Advocates programme.