by Dr Helen Charman
The philosopher Heraclitus supposedly said that all things are in motion, and nothing is at rest. He uses the analogy of the stream of a river, saying that you cannot step into the same river twice. Certainly, in three decades of working in the cultural sector, change has been the norm. I have been lucky enough to work on multiple, successive capital projects in museums and have found each one to create exciting and inspirational opportunities to do things differently, in ways that matter, defined by the needs of audiences, institutions, and key contextual, external factors. For AND's session on dynamism, we focused on drivers for change through the lens of Young V&A, a capital project currently underway within the V&A Learning portfolio for which I oversee content and programme in my role as Director.
Young V&A will open in London's Bethnal Green in 2023. This project is a full-scale transformation of the former V&A Museum of Childhood, from its prior incarnation as a museum of the social and material history of childhood to a completely refurbished and reimagined museum with key elements co-designed with and for children and young people from birth to early teens. Our vision is that Young V&A be a creative powerhouse for the young, co-designed with the young, to foster creative confidence. Here's a render of the central atrium with the three permanent galleries and temporary exhibition space visible on either side and the co-designed stair at the far end, responding to ideas inspired by optical toys in the V&A National Childhood collection working with our Children's Forum at the inception of the project in 2018.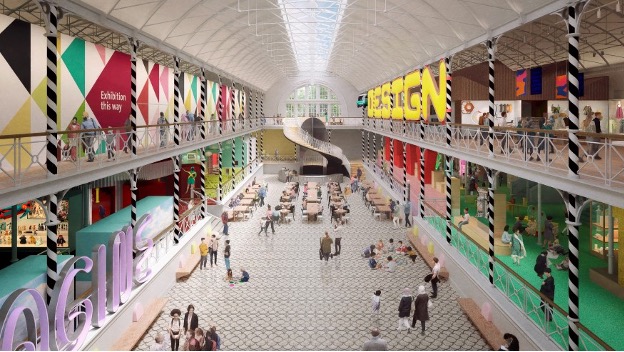 At the heart of Young V&A sits recognition of the vital role of creativity in the lives of the young, woven through three new permanent galleries entitled Imagine, Play, and Design. These galleries will showcase 2000 objects in new, dynamic ways, drawing on the vast V&A collection of art, design, and performance, dating back 5000 years and brimming with the power of imagination and ingenuity to effect positive change.
A recent survey of 'Gen A' (children born after 2015) by Beano Brain, the insights and research consultancy of Beano Studios, revealed a startling 44% of children, when asked what the word museum meant to them, replied along the lines 'boring'. That's almost one in two children telling us that museums are not places for them! Clearly this is a clarion call to rethink the experience of the young in our spaces, to create spaces that are responsive to their developmental needs, that inspire, ignite, and engage, that afford agency to young voices, that welcome the young and say, as did the V&A's first Director Henry Cole in the mid 19th century: 'all of this for all of you'. Our Children's Forum also told us they wanted a joyful museum, a place of optimism and positivity, whilst cognizant of the complexities of young lives today.
For the purposes of the AND session, we identified three drivers for change and transformation in our practice and behaviors that broadly embrace the dynamism principles, that of being connected with and relevant to the needs, interests, and motivations of our communities. These drivers were Audience, Content, and Governance. Given the demographic and rationale for creating Young V&A, at the core of each is the concept and practice of 'Young Voice'. We need to engage with our audience from the outset to create relevant and meaningful experiences. Ensuring that we hear and listen to diverse young voices means their thoughts and ideas will be embedded in our work and represented in what we offer. At Young V&A we are using co-creation and co-design practices to unlock and realise the creative potential of our audiences in this way. The wider external context also informs the new iteration of the museum in Bethnal Green, affording a recalibration and new understanding of the role of the museum in a time of huge global challenges. From Extinction Rebellion to the Fourth Industrial Revolution to the impact of the Covid 19 pandemic, the world is changing, fast. Institutions must necessarily respond: dynamism is the sine qua non for survival - or risk irrelevance. In the context of learning, global bodies such as the OECD and the WEF are questioning the role, purpose, and model of education if it is to equip today's young learners effectively for an uncertain future. Education and life chances will be impacted dramatically through climate change and planetary resource constraints; socio-demographic changes (in the UK for example, a rapidly aging population and an inversely proportionate age/wage ratio); the shifting sands of geopolitics with their concomitant redrawing of boundaries and freedoms; and a continued shift in economies from manufacturing to service and information-driven, with a resultant demand for schooling that teaches new skills and aptitudes relevant for the workplace. And perhaps most challenging when writing from a context of material culture, the digital world with its technological advances which both liberate and threaten freedoms and cause deep ethical and moral dilemmas. In this context, orthodoxies of museum practice may need to be rethought and refashioned, so that learning through material culture retains relevance and purpose and museums continue to be places and spaces for connecting authentically with self, with others, and with the wider world; and with past, present and possible futures.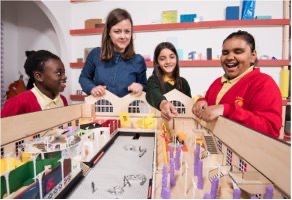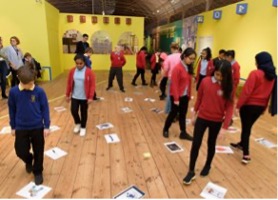 Children's Forum co-design workshop activity, mapping display spaces (pre-closure, 2018)
Following the co-design of internal spaces with children, educators and families, we are currently collaborating with our new Young Collective, a group of 8 – 14-year-olds, to inform the co-creation of one exhibit in each of the permanent galleries. In our PLAY gallery, this will involve whole-family co-creation of 'play hacks' in response to early years developmental theorists Froebel, Pestalozzi, and Montessori, advocating for the vital role of everyday play in the home. In the IMAGINE gallery, we will co-create an installation in a space called 'Living Together' capturing 9-11 year olds' reflections on community and the role of home within this. For the DESIGN gallery, the co-creation of a sustainable clothing exhibit in response to a 'Design for Change' case study. These exhibits will be refreshed on a rolling basis, to keep pace with the interests and motivations of our young audiences.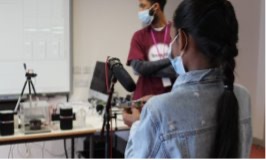 Young Collective working on soundscapes inspired by the Imagine gallery
Developing 'creative confidence' in children and young people is at the heart of Young V&A. We aim to do this through creating content and programmes that encourage idea-generation, problem-solving and curiosity, empowering our young visitors through activities that develop self-belief, risk-taking, resilience, and determination. Connecting audiences with creative people is also essential, enabling collaboration, communication, and empathy. Skills development will be embedded through our learning programme, harnessing and unlocking the creative power of objects on display across art, design, and performance, engaging with play strategies and creative skills building. Young Voice will be represented at our Trustee Committee regularly both through the Young Collective and through partner school initiatives.
Dynamism means being responsive and agile, challenging orthodoxies of practice to connect better with the key communities we serve. In many ways, it is a design-led principle, also articulated as a 'user-centered' approach. In this way we characterize Young V&A as an anchor organisation, meaning it is first and foremost rooted in its locality, serving audience needs across creative, cultural, educational, and civic spaces, initially mapped within a 15-minute walking radius of the museum site. Co-design and co-creation activities strengthen the connections with audience needs. The river keeps flowing and the institution needs likewise to demonstrate its own ability to be fluid and responsive to the changing needs of our young communities.
---
Biography
Helen is a cultural learning professional and passionate advocate for the critical role of creative and cultural education with 30 years of experience across the museum and education sectors. Previous roles include Director of Learning and Research at the Design Museum, Kensington; Head of Learning and Access at the Museum of Contemporary Art, Sydney, Australia and Senior Curator: Education at Tate Modern. Helen is a member of Advisory Groups for the Cultural Learning Alliance and the Arts Council of England's Durham Commission for Creativity in Education, a Trustee for Chelsea Physic Garden, and a Governor at Forest Hill School in South-East London. She holds degrees from Oxford University (BA Hons English Literature) and the University of London (MA History of Art and professional Doctorate in Education).