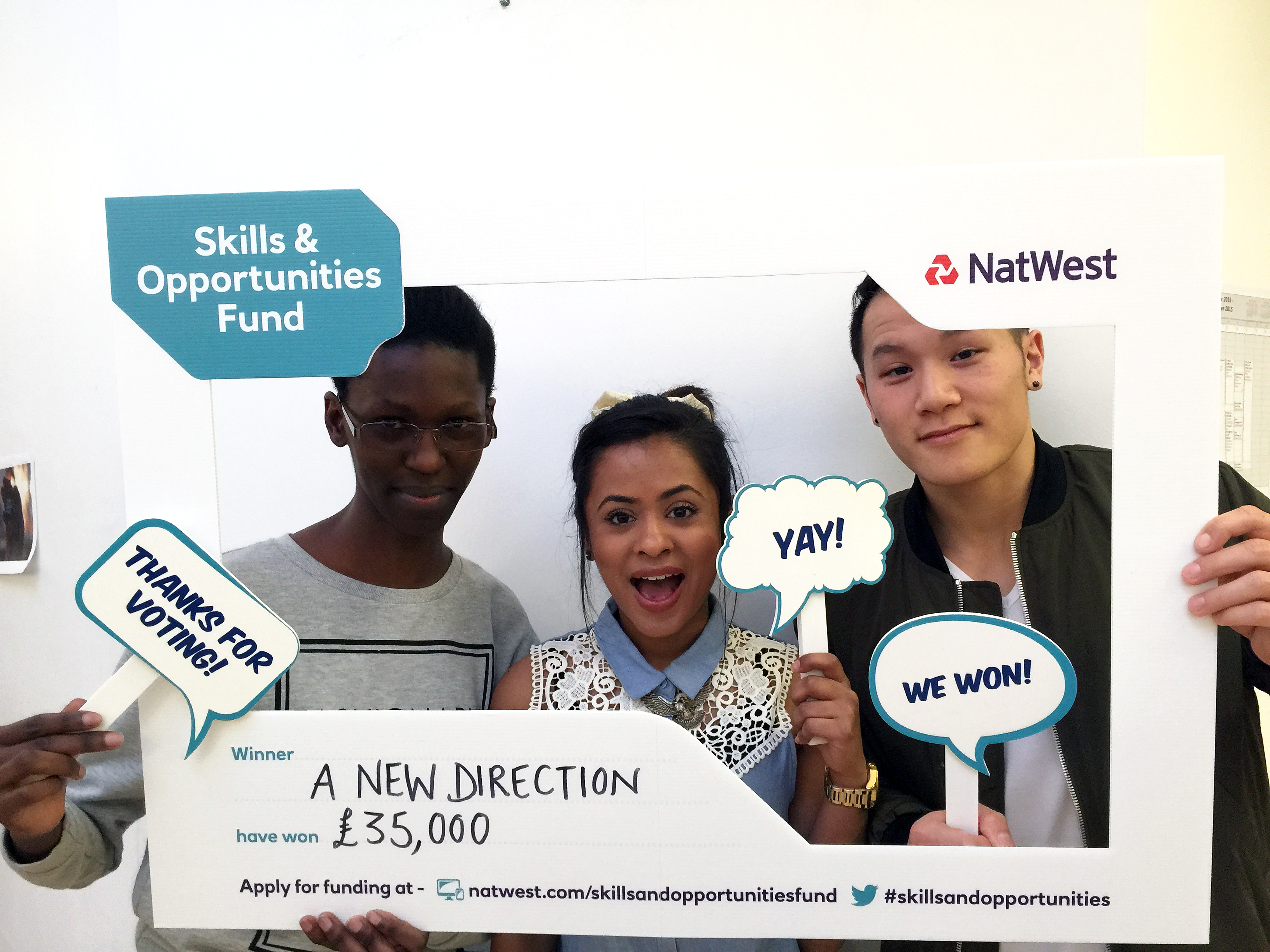 It has today been announced that A New Direction have been successful in securing the full £35,000 of funding from the RBS Skills and Opportunities Fund to support Create Jobs. The funding will support 'Create Jobs: Ambassadors', a new programme to revolutionise recruitment practice in the creative industries and provide 250 young Londoners with the opportunity to enter into creative employment.
Steve Moffitt, CEO of A New Direction, said of the success:
"We are absolutely delighted to have been awarded £35,000 from the RBS Skills and Opportunities Fund to support Create Jobs.

Through this funding we will support 250 passionate and talented young people with the skills, confidence and knowledge they need to start their careers in the creative industries."
A huge thank you must go to the amazing group of young people who ran the campaign for votes which got us to this stage. Without their hard work, drive and determination, we never would have succeeded in our bid – so thank you! They ran a fantastic social media campaign which got the word out about what a brilliant initiative Create Jobs is - and they even got our office dog to vote!
And of course, we would like to also say a massive thanks to all of you who took the time to vote, we couldn't have done it without you. The 'Ambassadors' programme will kick off in January of next year - check our website and sign up to our newsletter to stay up to date on how things are progressing, and you can find out more about what the programme will entail below.
About the programme:
We are aiming for 250 young Londoners to receive career specific, specialised training to develop the skills, confidence and knowledge which are vital for them to take their first steps into the creative profession
We will support small companies to have the confidence to employ local young people, thereby creating a positive change in the arts employment recruitment practice.


The programme is proposed to run from between January 2016 – March 2017, and will include an initial phase of employer engagement and the recruitment of young people onto the programme, followed by practical training, boot-camps, master-classes, and eventually job creation and support for those young people into those opportunities.
The programme has been inspired by Panic! What Happened to Social Mobility in the Arts, a new national survey and season of events investigating the state of the cultural sector in the UK.
Delivered by our project partner, Create, and in association with the Barbican, the Guardian, Goldsmiths University and British Art Show 8, the Panic! survey provided hard evidence for the common impression that the arts sector is a "closed shop".
The survey found that an overwhelming majority of respondents working in the arts (76%) had at least one parent working in a managerial or professional (i.e. 'middle class') job whilst they were growing up and that over half had at least one parent with a degree whilst growing up. When this is paired with the fact that nearly 90% of respondents had worked for free at some point in their career, the Panic! research paints a bleak picture that if young people don't have parents that are able to support them in their pursuit of a creative career then it is an extremely hard to break into the industry.
Benefits of 'Ambassadors' programme for young people
Work experience
Nationally recognised qualifications
Necessary skills for employment, especially in creative commerce

Benefits of Creative Ambassadors for businesses:
Enthusiastic, young people with a thirst for knowledge
A higher scale of energy which can stimulate colleagues and help invigorate the workplace.
Benefits of hiring a young person
Young people (16-24 year olds) are often eager to learn and develop their profession. For this reason, they will push themselves, wanting to make a good and enduring impression.
There is no doubt that young people tend to demonstrate enthusiasm about their first real job by proving what they can do. Their determination to complete their work can inspire their colleagues resulting in a workplace with increased dynamism.
Young people help to develop workforce through their cost-effectiveness. They have fresh ideas and think outside the box which, if you put time and thought into recruiting them, can result in a very positive return on investment.
Find out more about the benefits of hiring a young people.
About Create Jobs
Create Jobs is an employability programme helping young Londoners aged 16 – 24 find work in the creative industries.
Create Jobs is delivered in partnership between two creative organisations, A New Direction and Create.
http://www.createjobslondon.org/
About RBS Skills and Employability Fund
The Skills & Opportunities Fund is one of the many ways RBS are contributing to the communities they live and work in. This year RBS is committing £2.5m to fund projects in charities, social enterprises, community groups, state-funded schools and colleges across the UK and Ireland. The focus for this funding is to support organisations that help people in disadvantaged communities develop, create or access the skills and opportunities they need to help themselves; skills that will enable them to get into work or start a business, now or in the future.