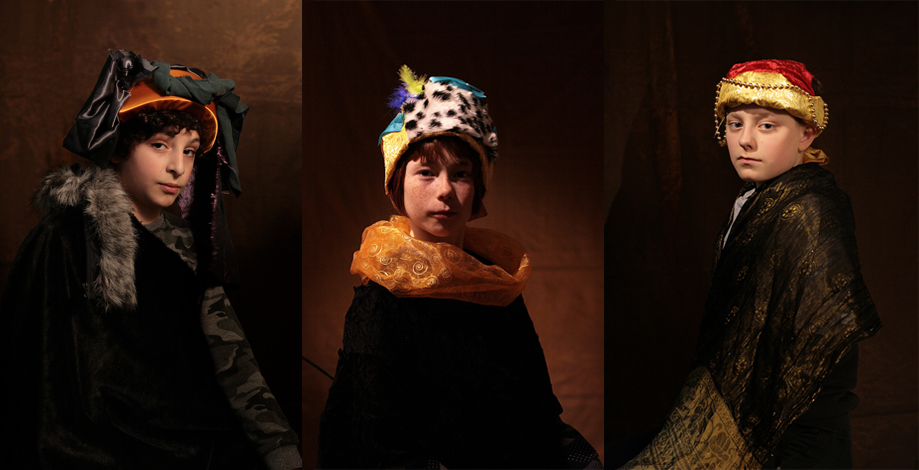 Earlier this month, A New Direction CEO, Steve Moffitt, met with teachers from De Rode Loper op School in Amsterdam. Steve was blown away by some of the arts projects the school had organised, so decided to follow up with some questions. Read on to find out more...
What is the story of De Rode Loper op School? When did you set up and what is your vision, ethos and approach?
Since 2000, De Rode Loper op School has organised art projects for primary schools in Amsterdam. Next year we will celebrate our 20thanniversary and we are organizing the first Amsterdam Kids Biennale!
The projects of De Rode Loper op School allow children to discover their potential and their talents, while at the same time introducing them to artists and their work. They visit theatres, concerts, artists' studios. Moreover, they create their own works of art as well by participating in workshops.
We feel it's important for children to be introduced to art - and to the cultural heritage in their city - at an early age. The Rembrandt's Hat project makes the children look at the world in a way that is totally different from what they're used to. Art evokes a sense of wonder, it opens up new horizons. It liberates their perception and their way of thinking. Rembrandt's Hat is proof of that.

- Machtelt van Thiel, Artistic Director
Tell us more about the Rembrandt's Hat project?
Art teacher Marije van der Hoeven and the Rode Loper op School developed this special project for primary schools in Amsterdam. Marije is specialized in photography with children and wanted to show children how to manipulate images using very simple means. Digital photography is a wonderful tool that enables us to talk about images and the meanings we assign to them. The majority of schools devote little time to looking as a skill, despite the fact that most information comes to us via the retina. For people who live in a complex visual culture, the ability to analyze images should be one of the basic skills taught to children and, in Marije's opinion, it ought to be an integral part of our general education.
Rembrandt (1606-1669) was fascinated by the fact that putting on a hat makes you look like a completely different person. As Marije comments, "his paintings are powerful. I wondered what Rembrandt would have done if he'd had a digital camera. He absolutely would have exploited the possibilities of light and dark. In a way, Rembrandt was a photographer before photography existed – he draws and paints with light. His lighting is a golden, magical formula."
This is the project in a nutshell: kids make their own hat and together with a professional photographer, they make a portrait and go 400 years back in time.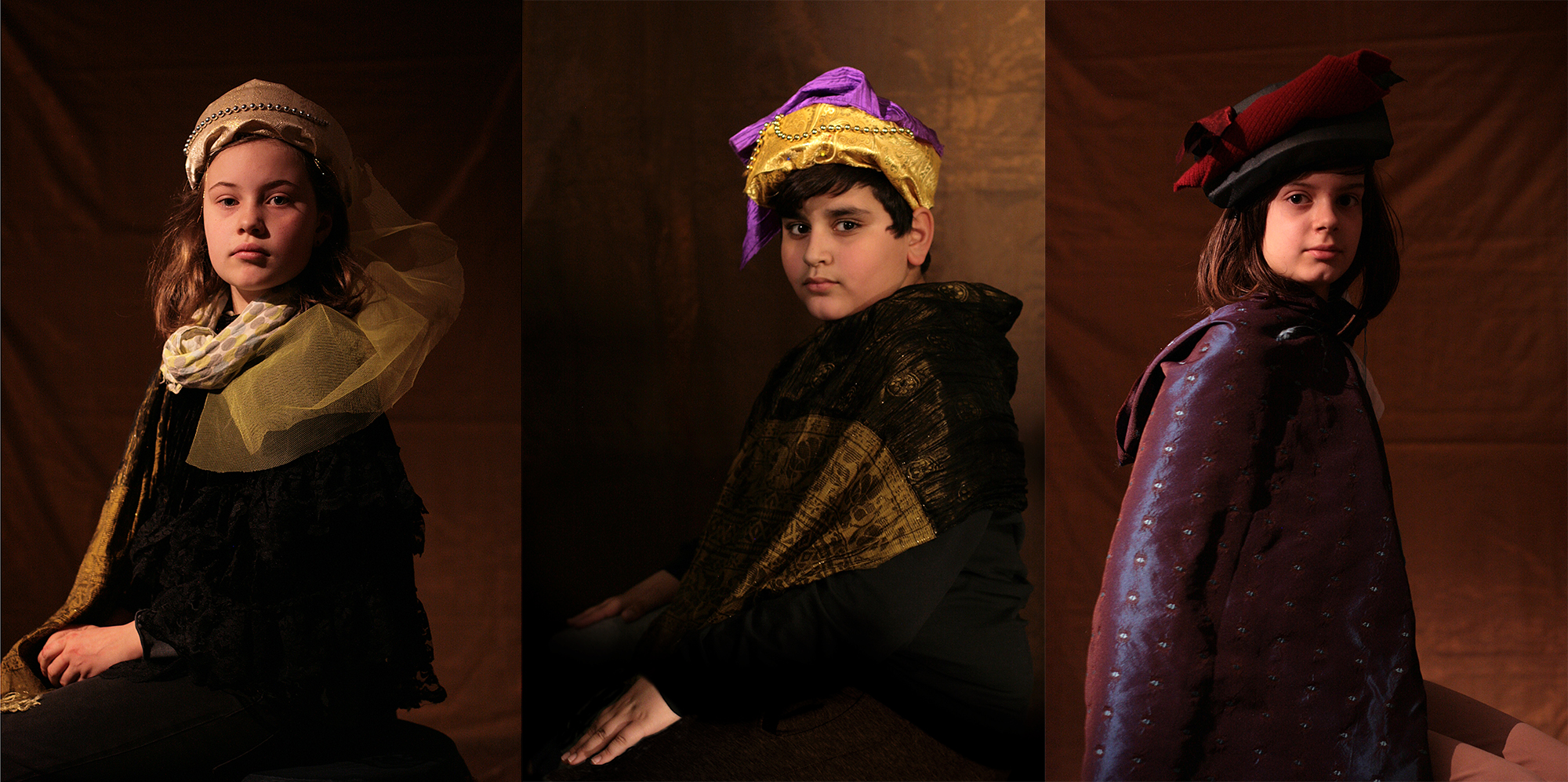 What was the purpose of the project? What do you think is the educational value of the project?
Knowledge of Rembrandt: This project let children join in with an important part of Dutch culture, the rich tradition of portrait painting.
To most children, Rembrandt is just a name. A man from the Dutch Golden Age. A painter who was poor when he died. The painter of the Night Watch, a very expensive painting they've seen pictures of. They have never really looked at any of his other paintings. There are exceptions, of course, depending on the school and the parents.
A few pictures of his work were shown on the screen and four centuries were spanned effortlessly. The children were aware of the fact that Rembrandt's paintings are old, but they looked at them with contemporary eyes, and had refreshing views.
Light: The use of flashlights allowed the children to assist the photographer - a crucial part of this project. The children saw in a single glance the dramatic effect of the light, Rembrandts trademark. They realized that's what actually constitutes a photo.
Expression: Children are seldom asked not to laugh when a picture is taken. Most children had to search for their serious gaze. In a painted portrait, what immediately captivates you is the pose and the expression of the eyes. Facial expressions in portraits are always intriguing. Some of the photos bear a resemblance to seventeenth-century portraits. Timeless, up close and natural, those are the characteristics Marije aimed for in these portraits.
When I saw this photo, I thought: oh my, I'm not that ugly! I kind of liked it later on
- Esra
The look in my eyes is like I planned it, very intense. I'm pleased with that look
- Harmke
Everything is Rembrandt, except for my face
- Dilan
Imagination: The portraits evoked stories and characters, and a surprising mix of personal wishes and desires, fantasies, and historical knowledge. Children transformed into the successor of the sultan, the lonely maiden, the Sun King, Rembrandt's servant, the miracle girl, the golden coalminer and the magician.
I was surprised that you become a different person the minute you put on a hat: a rich seventeenth-century merchant, for example
Cooperation: The children set up the picture by making their hats, and choosing a piece of cloth to cover their modern clothes. Their help with the lighting was also crucial. Together we choose the best result.
The hat made me feel like a top model
- Mourad
Self-confidence: To look at your own staged portrait photo and come up with a story about it is a form of self-reflection. Students' self-confidence grew as a result of the project.
By talking about the photo, I started to think more about it.' The children view themselves in a different light. By putting on a hat, the children changed, and they noticed. Some children said: 'I might be as beautiful as someone in a Rembrandt painting.
- Jordi
How were the portraits taken? What was the process for the children and how did they respond to this?
The children were very committed and enthusiastic. Their reactions were open, frank and full of admiration. The boys joined in very enthusiastically with the making of the hat - with guts and gusto, they made the most amazing hats. The girls' typical approach was slightly more careful and conventional. Nobody made fun of the other.
None of the other children laughed at me, because all of us were making hats
- Nigel
A room is darkened in the school. There is a background canvas, two flashlights and a digital camera on a tripod. The children change between the roles as 'lighter', model and photographer-assistant. The children had to think about the play of light, body-language and gaze - a lot of concentration is required in order to bring those elements together into one convincing picture.
They had never seen a picture of themselves like this before. One of the children, when he first saw his portrait, exclaimed: "I'm falling in love with myself!" Not laughing was a strange experience for many students, as they had seldom posed for serious portraits. Marije and the children chose together what the best photo from the series was. That photo was then printed and distributed in the next lesson. The children also imagined what it was like to live in The Golden Century. They invented a name for their portrait and write about their lives in that century.
Tell us about the partnership with the Rembrandt House Museum?
For several years the project has been a success at schools in Amsterdam. This year, we exchanged the project to Berlin. Over 350 children made a hat and a portrait in the Labyrinth KinderMuseum and at the Carl Humann Grundschule. Next year, we will present the photographs to a broad audience in the Rembrandt House Museum and at the Amsterdam Kids Biennale! Project Manager at Amsterdam Kids Biennale, Wendeline Thole, notes, "everyone benefits from this approach. We provide the children and the artists with a stage, while cultural institutions get to host exceptional exhibitions that grownups appreciate as well." One of the beautiful things about this project is that through the children, their parents are also introduced to works of art and our cultural heritage as well.
We don't know whether the children will continue to be active art lovers in the long run. Right now, however, it is important that they experience that art is exciting and that it can make a profound impression. Intense experiences like these can deeply affect the development of children. That's why we organize new, attractive and fascinating projects every year.
- Machtelt van Thiel
De Rode Loper invites you to the Amsterdam Kids Biennale (September – October 2020). Art is limitless, and it's safe to say our children would love to come to London… If any schools or cultural organisations are interested in Rembrandt's Hat, please do get in touch with A New Direction.