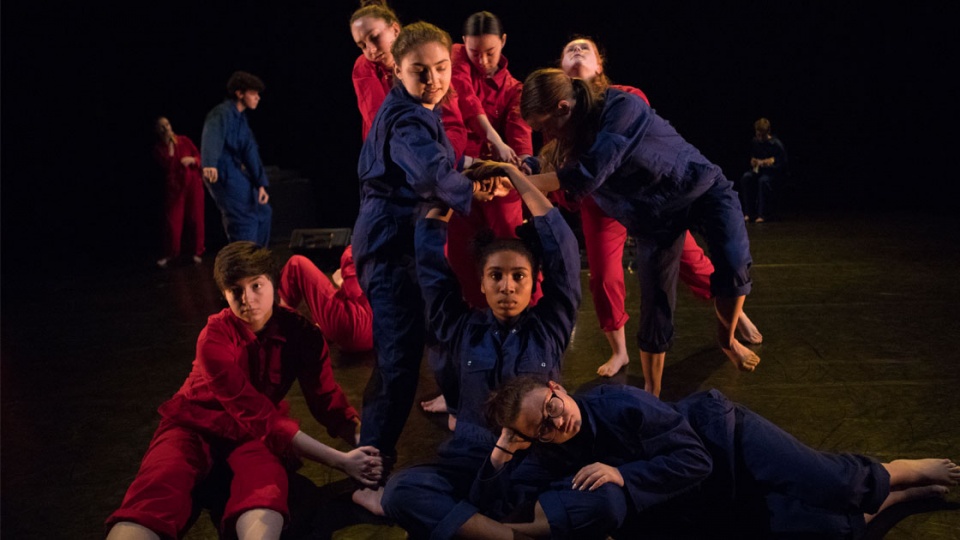 The Place has been a creative powerhouse for dance development; education, creation and touring, for more than 50 years. We're home to London Contemporary Dance School (LCDS), a 288-seat theatre, a range of classes for adults, children and young people, and professional development programmes for independent artists. 
The Creative Learning team focus on projects that make dance more accessible and relevant to new audiences, with a heavy focus on our local community and dance in education. In 2016, funded by John Lyons Charity, we launched the Partner Schools Programme with the aim of building long lasting relationships with local Primary schools in Camden. The programme grew from four Partner Schools to 14 in 2019/20 and today provides a platform for over 700 children, their teachers and their families to watch, create, perform and critique dance over an academic year.
Our Partner Schools reflect the diversity of Camden and the programme increases cultural capital for the children we work with who are typically engaging with dance for the first time. We work alongside teachers to bring dance into schools, looking to genuinely embed dance into their school curriculum and student culture.
How lockdown impacted our work
When the pandemic hit, our organisation, like many others, was forced to stop our usual way of operating. Our theatre closed, LCDS students began learning online and many staff were furloughed, leaving behind a skeleton, remote team.
We happened to be half-way through our Creative Projects for Partner Schools – eight weeks of in-school dance lessons for 28 classes that culminate in performances in our theatre. Though it quickly became apparent that we would not be able to deliver as normal, we felt that it was important to provide some consistency to the children who were suddenly working from home.
We created over 50 filmed lessons led by our artists and got them out to schools in place of their usual weekly lessons as soon as we could. This quick response showed our schools we still had a commitment and desire to support them with a creative and physical education. It also opened up communication between us and the schools which continued to strengthen throughout the pandemic.
Designing activity in consultation with our schools helped us find meaningful ways to develop our face-to-face programme into an online one when needed and get back to face-to-face experiences as soon as we safely could.
How we adapted dance sessions for a digital offer
Usually our schools visit us each year to learn more about our organisation, watch LCDS students in action, and take part in some dance workshops. For our digital offering, we created a film that took schools around our building, using a combination of new and archive footage so that we could reflect our organisation in a normal year (without masks and hand sanitiser!). We also interviewed different people that work at The Place, asking them to explain more about their job. This was a lovely silver lining as we introduced children to people they wouldn't normally meet; our Communications Team, the Costume Department, Dance Science and musicians that play for our classes. We wanted to make this experience as interactive as possible and so showed the film during Zoom workshops that we held with each participating class. Each person that we 'met' in the film finished their interview by explaining a creative dance task which we then explored on Zoom, getting the children dancing at home or at school. This helped enormously to make the session more dynamic and kept the children (and teachers!) engaged throughout.
We had fantastic feedback from teachers and children about these sessions. Looking ahead to next year, we really hope that we are able to deliver our Welcome Workshops in person, but it's also a huge relief to know that we have a great digital option ready to go if this is not possible. This activity also helped us to continue building trust and confidence in teachers that we would be able to deliver the programme regardless of how the pandemic kept shifting.
Our usual Partner School offer is for two classes per school. We realised quickly that teachers desperately needed help with creative and physical education across the whole school and so we developed our activity to offer something for all classes. We created an online dance series, Dancing all over The Place, which took children around the world to explore different places on planet Earth through creative movement. These films were designed so that children could use them alone at home, with siblings, across key stages, in school in classrooms or as part of PE lessons. They also make a brilliant introduction to dance in primary schools for teachers and can be used as CPD in various ways.
Challenges of working during the ongoing pandemic
At the end of term, our theatre was still closed, requiring us to think about a different way to bring performances to our Partner Schools. Solving this problem led to the creation of The Place's first ever Playground Tour which sent professional performances to schools around Camden, popping up in playgrounds for the day for the whole school. Despite the difficulty in planning the tour (managing changing guidelines, quarantines, Covid-19 tests, school schedules, weather and, of course, Brexit challenges!) it was incredibly successful and opened our eyes to new ways of presenting work to schools.
Though we have found ways of delivering activity online, we know that what we do best is face-to-face live performances, workshops and experiences for children and teachers. Zoom sessions where the class is in school rather than also at home were particularly challenging. There were often issues with sound, internet connections and camera quality, meaning that while children might be able to see and hear the dance artist, the artist couldn't see or hear them. It also placed a huge responsibility on the teachers to help motivate and engage children during the workshops and often the children who are less interested choose to move to the back of the room, away from the camera and microphone.
Live sessions have also been tricky. With strict risk assessments to follow, artists have to teach with masks on and stay in their designated space instead of moving in and around the dance space as they usually would. All of this has a significant impact on the teaching approach and requires a huge amount of energy and patience from the artists to keep the class engaged. Some schools also did not want us to promote contact between children in the early stages of the Summer term which again shifted the focus enormously of how to approach teaching dance.
From a management point of view, having to have a rolodex of multiple different plans depending on how restrictions might change or if artists or classes needed to isolate was exhausting. Every element of our programme took infinitely longer to plan because of this and it did become frustrating and demotivating when we had to keep changing tact.
Moving activity online that was meant to be face-to-face was also a lot more frustrating and unsatisfying than designing content to be digital from the outset. This was a powerful lesson as it meant that we looked for ways to capitalise on our new digital environment and do things we wouldn't normally be able to do instead of trying to replicate activity that would have normally happened in person.
What we have learned by working under lockdown
Without the pandemic we would not have prioritised the creation of this kind of digital content, but now we're able to reach more schools nationwide and have found that the series is a wonderful starting point to open conversations with new schools, leading to new relationships.
Being able to meet online instead of travelling to meetings is incredibly helpful, particularly for our freelance artists and we will be continuing to offer this as an option moving forward. Anything that can make life simpler for our incredible freelance team and helps to reduce our environmental impact is a massive plus in my book.
Historically we have prioritised bringing children to our theatre as an important experience to raise cultural capital. While this is still an important part of the programme – excitedly shuffling around in seats as the lights fade to black-out in an auditorium brings about an excitement that is hard to beat – there was also something magical about bringing professional performances to school playgrounds. Bringing theatre to children in their familiar space made it feel more accessible. We could reach the whole school instead of just a couple of classes and the logistics for teachers was much simpler without having to organise transport. There was the added thrill for children this summer of being in the playground at the same time as other year groups that they hadn't been in the same space as for over a year that made it even more special and reminded us all about the joy and shared experience of being in an audience.
I genuinely think that the Partner Schools programme is in a stronger place now than it was in March 2020. We know our schools better, we know our strengths better, and we have a stronger sense of the values behind the activity as well as the impact that it has on the schools that we work with.
Three tips for organisations adapting their offers for online
Flexibility – how can you offer something bespoke? How can you offer options that cater for schools' individual needs at the moment which might differ from school to school?
Experiment – don't be afraid to experiment! Better to try something that doesn't work than not try at all
Relationships – build relationships with your school partners and create in consultation with them so that you know the resources and offer that you are going to be useful to the schools you are creating them for. What do their students and teachers actually need?
Although the Partner Schools programme is only for schools in Camden, we do offer activity for schools across London and beyond, just get in touch. Our online series Dancing all over The Place can also be purchased here.
---
Where next?
More learning under lockdown blogs
Reset – our pandemic response programme
Our work with the cultural sector
Image credit: The Place