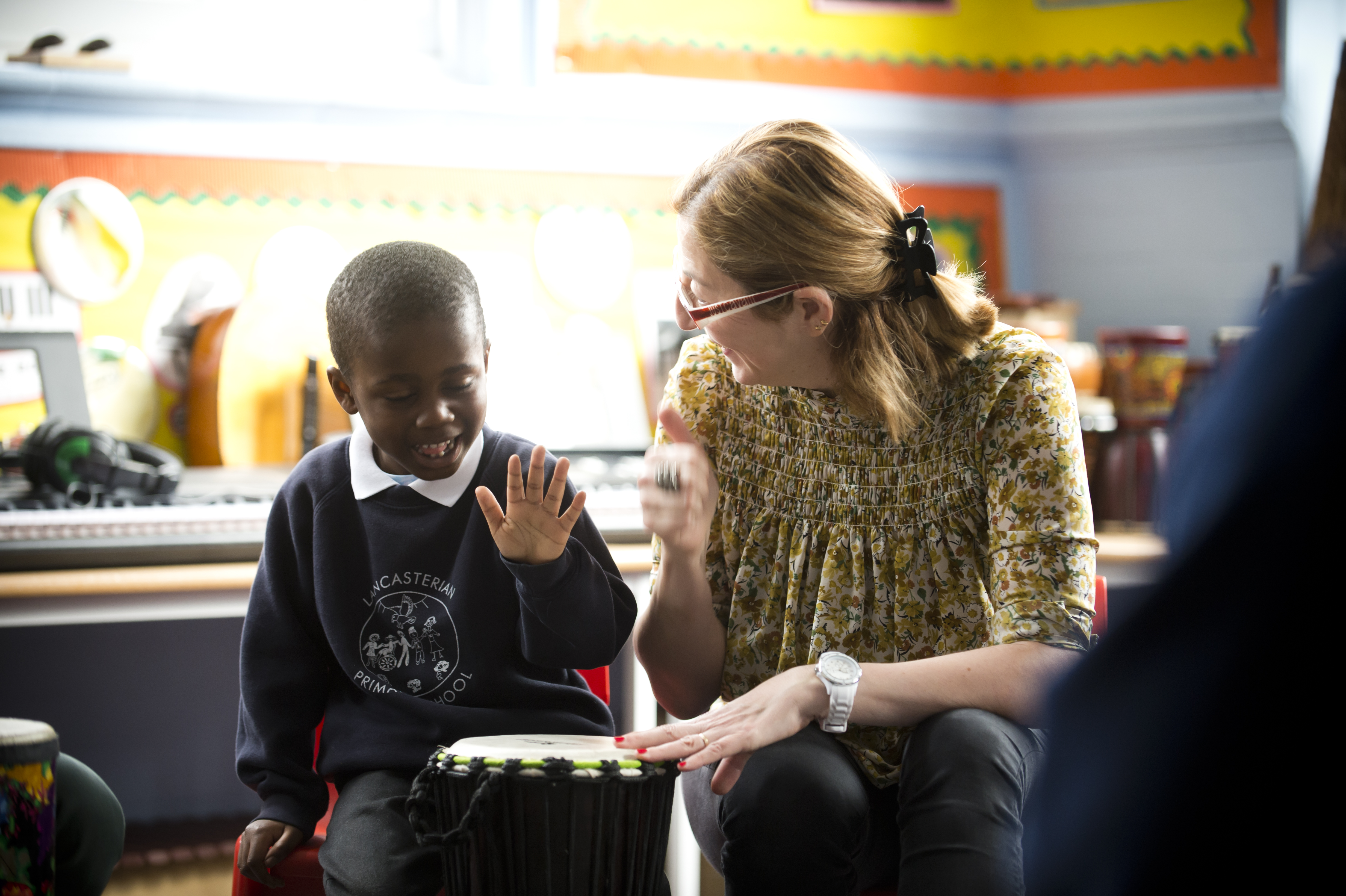 Lansbury Lawrence is a primary school in Poplar, Tower Hamlets. I've worked there since last September. I'm the Visual Arts teacher, working across the whole school. I came to work at Lansbury Lawrence because when I saw the advertisement for the position, I realised that despite the current pressure on schools to focus on the core subjects, tests and data; here was a school that was prepared to invest in creativity. Along with my position, they also recruited a full-time drama specialist.
At Lansbury Lawrence 94% of the children derive from Minority Ethnic groups, with 87% classed as having English as an Additional Language. Access to creative learning experiences, with opportunities to make, helps to develop our children's communication skills and visual literacy. Taking our children to galleries and museums is incredibly important, as this opportunity may not be afforded outside of school. When I first started at Lansbury Lawrence, I conducted a survey of who had seen art in a gallery or museum before… over 75% of the children said they hadn't. When we had discussions about what art was, and if they thought it was important, most of the children couldn't answer. Or they said art was drawing, and it wasn't as important as maths!
Now coming to the end of my first year at Lansbury Lawrence, I'm proud of how the children are beginning to blossom creatively, and are gaining confidence. Taking children to Tate Modern to work with a professional artist, creating a performance piece in the Turbine Hall is one of my favourite memories from this year. Brenda from year 5 said, "This is the best day ever!", and that was before we had even stepped inside! She had awe and wonder just from looking at the outside of the building.
Children at Lansbury Lawrence are now learning that art can work alongside other subjects, including promoting engagement in reading, which I enjoyed researching as part of the Cultural Leaders programme. As I ran the project as an after school club, it was a real test of the children's commitment to see if they turned up each week. These weren't children who particularly excelled in art, and they were even a bit reluctant to come at first. They did turn up though, and over the course of the project they learned to develop their own ideas and create, they visited the Nunnery Gallery, held an exhibition for their parents, and all achieved Arts Award Explore. At the exhibition, one parent told me that her son was now going to continue with art when he starts secondary school in September.
So, how can cultural organisations support schools to further embed creative ambition? I asked my head teacher to answer this question, and he answered with four key points.
1. Expertise – workshops are wonderful, but even better is working alongside a teacher to create something together so that there is more of a legacy. If a teacher can gain confidence through working with an expert, then they are likely to continue developing the ideas within school.
2. Inspiration – widening our horizons as teachers, understanding what's possible. Going back to the idea that art can be much, much more than pencil on paper.
3. Purpose – competitions, exhibitions, audience – something to work towards that the children can be proud of. This is also an opportunity to engage parents, which is particularly important for our community.
4. Sustained Partnership – especially where funding is attached! We're part of the Poplar Partnership of schools and have worked with Bow Arts for the past three years. Developing these kinds of continued relationships and dialogue are of interest to us.
At Lansbury Lawrence we know that it is our duty to engage our children creatively, to develop imagination, self-esteem and confidence. To develop fine motor and critical thinking skills, and to prepare them for whatever they choose to do in their future lives. Collaborating and creating networks with cultural organisations is a crucial part of this vision.
---
Kerri was part of A New Direction's 2015/16 leadership development programme - working to develop senior leadership for cultural education across London. Find out more about the Cultural Learning Community here.