(Original blog adapted from Culture Hive Digital Marketing Academy website)

Yesterday I stood in front of 100 teachers at a conference at the British Library and said into the microphone 'Today I feel like a mad professor, not because of my sticking up hair, but because I'm unleashing something into the world that I've been working on for over a month, and it's not quite finished!' A nervous titter rippled through the room – an odd start…
…and thus http://together.anewdirection.org.uk (#ANDtogether) came stumbling into the light!
Throughout the day (together with UXB London - the fantastic web agency I've been working with on the project) we gathered their feedback, talked them through the site, and filmed their responses – which I'll be feeding into a social media campaign around the #ANDtogether hashtag in an attempt to reach out to other London schools to come and test the site.
When I became a fellow of the Culture Hive Digital Marketing Academy (a seven-month project managed by Arts Marketing Association in partnership with the Audiences Agency to foster digital marketing innovation in the cultural sector), I knew what I wanted to test – I wanted to explore new ways of connecting schools with arts and cultural organisations online.
Over the past year, through our research programme, A New Direction has developed a strong sense of the challenges that London schools face when navigating information, sourcing opportunities and developing partnerships with arts and cultural organisations across the capital.
London's cultural landscape is so huge, schools' time and resources – stretched, and the temptation to contact or work with the same organisations over and over again because it saves time and 'you know what you're getting' is reinforced by the cultural sectors tendency to market programmes and offers to the same schools, because they're receptive and it saves time and resources. In short, if it ain't broke don't fix it… but if the same schools are just presented with the 'off the shelf' offer repeatedly, where are the new ideas, the bespoke, co-constructed projects and partnership, the real learning for children and young people?
Through consultation, time and again the idea kept coming up of an 'online space' that channelled and signposted teachers to new opportunities and partners, and in turn helped arts and cultural organisations market their offer to a wider audience of teachers and schools. I knew it was time to jump in – we could plan and plan, and consult away until the end of our days – I felt we just needed to do it, try something and take a risk. By building something quickly and putting it out in Beta for testing, we weren't claiming to have got it right off the bat.
The idea has existed before, in the form of LONSAS (London Schools Arts Service) an online brokerage site for the same audiences managed by Winona eSolutions in partnership with Arts Council England. I worked on a re-launch of the site in 2006/07, and so had a reference point to begin with here. The Culture Hive DMA experiment felt like the right time to re-visit the idea.
I wanted a social aspect to the site, combining ambient social media content with curated opportunities from AND and other organisations, with an Index of organisations, and a menu of query options to guide schools when contacting organisations.
Schools enter their postcode to find nearby organisations by artform (in time we'll develop the sophistication of the filters), and by mixing the search results up with organisations further afield, we can challenge the notion that you have to go to the theatre down the road, or the organisation in the neighbouring borough – organisations can travel, and so can schools – make it quick and easy to search for new roads to explore.
Through the backend of the site, we'll be able to track which schools search for what, how far afield they're willing to look, and via the query options – whether schools really are most interested in the 'off the shelf' or want to discuss more 'bespoke' options. If these insights prove interesting, we can begin to address our marketing habits, and review our strategies for increasing our reach.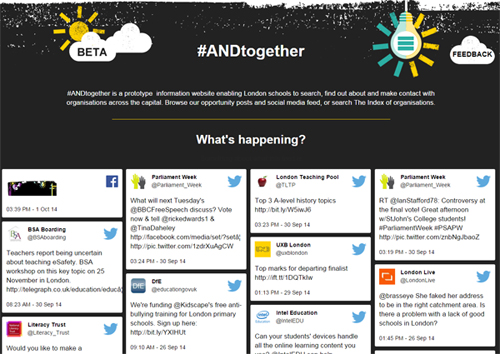 There's always a risk in trying new things, and for organisations embracing digital sometimes everything can feel like an experiment with the potential for failure. Achieving internal buy-in for the value of such projects can be time-consuming and fraught with hierarchical wrangling, as senior managers grapple with ideas they're not familiar with, confident in, or convinced on the benefit of. What if it doesn't work? It's exposing…
But that's the point – no one's the expert, nothing's the 'right way' – it's a crazy science, you just have to keep on trucking with your test-tubes and your apparatus until something goes 'BANG'.
Please take a look around the site, all feedback welcome – http://together.anewdirection.org.uk
@SteveJWoodward / #CultureHiveDMA / #ANDtogether
(Thanks to my mentor DK - an excellent listener, questioner and advice giver.)
---
Why the need for #ANDtogether? This film explains…
(Film adapted from the original Prezi by Thirdperson)