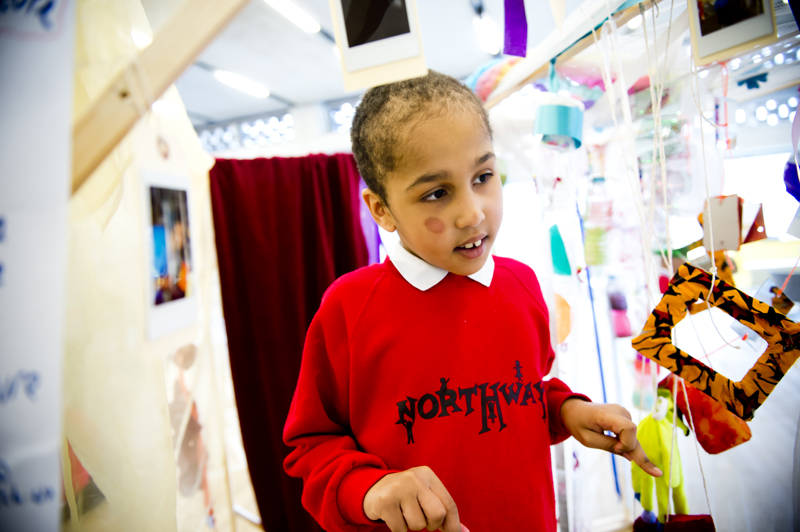 On my third morning at Tate Exchange I was invited to take part in a public engagement session with Garret Park School, a Maths and Computing Specialist School, who are a Maintained School for students with Moderate Learning Difficulties, Autistic Spectrum Disorder and Speech, Language and Communication difficulties based in Wandsworth. As part of a response to the Rauschenberg exhibition, the students created and brought along a giant 3D Papier-mâché spider. Some of the students were a bit scared of the spider because of its size, and so we had to keep it under-wraps until we found a quiet space in the gallery where it could be uncovered.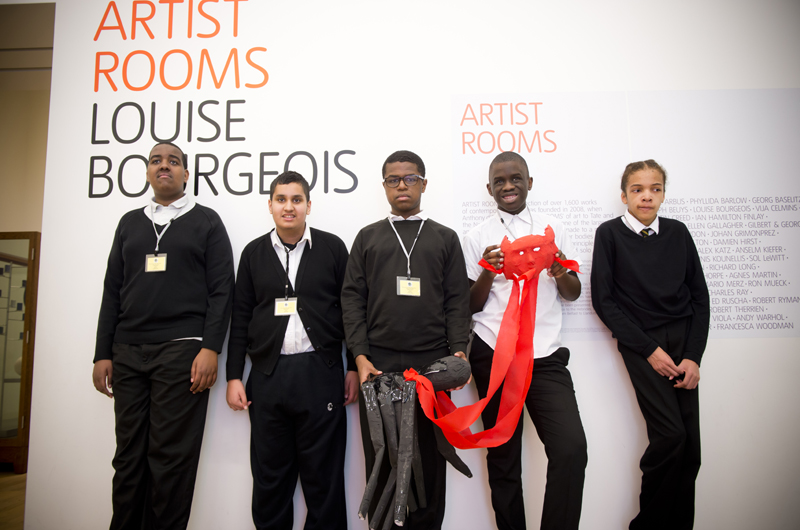 Setting up just outside the Boiler House and the Rauschenberg gallery on Level 4 of the Switch House, Garret Park School ran a public engagement workshop which they had created. Students invited the public to engage in recalling their daily activities by plotting it on a weekly pictorial diagram. Created by the staff of the school, it was a method they currently use as a learning tool. One of the tutors commented,"the way our students learn and communicate is through pictorial diagrams." Zain, a student from Garret Park School, was telling me that his interests are in video making, crime television and attending art workshops. Through using pictorial day-diagrams, Zane could recall a week's worth of activities, each day from morning until evening – saying that he spent most of his week watching T.V. and playing video games. As this was happening some of the students were also having their photo taken with the giant spider whilst their tutors set up the next activity.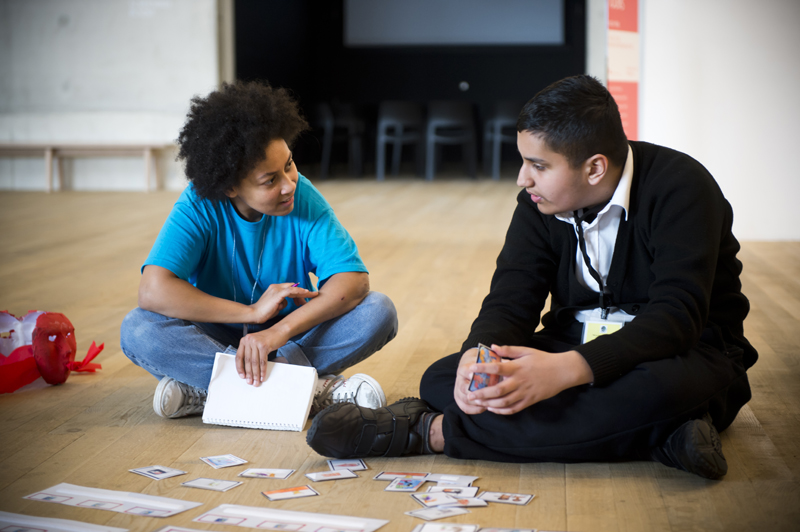 Meanwhile, upstairs The Vale School and Northway School - a special school in the London Borough of Barnet catering for over 95 students with a range of learning difficulties, particularly on the Autism spectrum - collaborated in putting on a music show, linking up with the Vale School's band, Backdrop.
Students from Cambridge School - a small school catering for young people with Speech, Language and Communication needs, Learning and Cognition difficulties and students with complex needs - found the noise of the big band to be too much and so in a quiet corner of the space, where students started creating their own sounds using their bodies by clapping, thumping and quietly tapping. This was a lovely little encounter to be a part of, as when arriving the students didn't know who I was and were quite shy. I had to be careful and quite calm when coming over, or I'd easily scare them. This encounter reminded me of when Queen Elizabeth II Jubilee School and College Park School came to interact with the sensory installation, and how I had to adapt my persona to make them feel comfortable instead of frightened.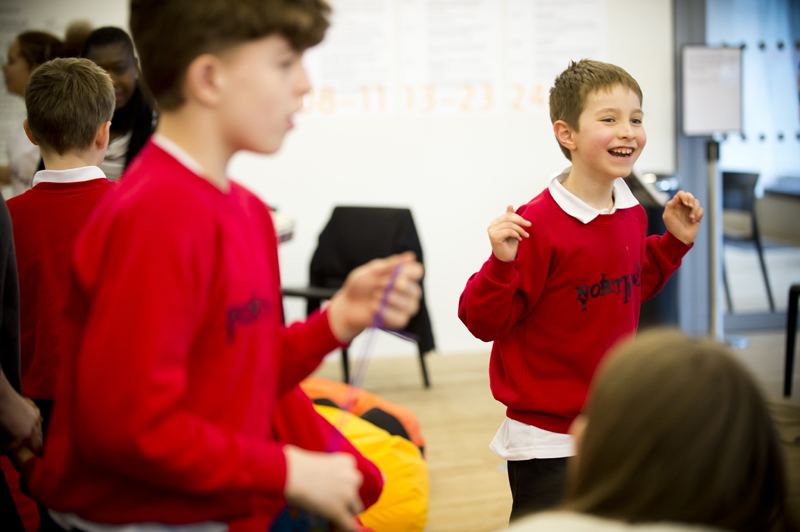 A tutor from Cambridge School was telling me that:
Social outings are incredibly important for creating life skills for our students
Gazing out of the cornered window, and soaking in some inspiration, two students spoke to me about what they thought of their day at the Tate. Gabriella said:
I enjoyed looking around the space and my favourite bit of the day was seeing all the lovely artwork around, I found it to be inspiring
Meanwhile Indie said:
I enjoyed painting with the small toy cars and creating patterns on the floor with them
One of their teachers had a conversation with me about some of the barriers that their students face:
In special schools we give our students freedom to learn and coming out on an outing like this allows the students to explore what would usually be a quite challenging and uncomfortable experience. It's very daunting for our students to even get on a tube, because of all the surrounding noises, let alone travel all this way out of the comfort of a school environment. Coming to the Tate allows the students to explore what's around them and be free in their own way
Hearing this from the teacher it brought home to me everything must be pre-planned and meticulously thought through, even when planning a school outing that's close to the school. This is something that hit me and made me think of how we just take so much for granted and not think about all the other types of barriers people face.
Creating sounds was the focus of the day for Lucy, our sound artist in residence. She was busy piecing together the previous day's sounds in the Gazebo. With an impromptu little performance from students of Cambridge School, it appeared to be a very successful morning!
SEND INSET at the Clore
After a busy morning, there was an INSET day happening in the Clore Learning Space for teachers to learn about Inclusive Dance and Movement, led by Jasmine from Studio Wayne McGregor.
I spent lunch listening to Jasmine talk about inclusivity within drama and music practice. She led on a series of different session activities - for the first of these participants were asked to create a series of shapes using their bodies that formed a circle. Each of them had to connect a part of their body to the person next to them without touching hands. Slowly peeling off one by one, they then had to weave around their neighbour in an interesting way and join the other end of the line. Jasmine explained that they carried out the same exercise with deaf and disabled artists in a school and the reactions from the students were immensely positive - they loved working on the activity.
During the morning's activities, participants also explored drawing lines with different parts of their bodies. They were learning through the addition and subtraction of parts - i.e. make a movement, add an extra movement and then go back to original movement with the added parts. This technique was then put to the test in the afternoon session. Using visual imagery, participants were asked to make a solo performance replicating 6 patterns displayed on cue cards by mimicking the shapes drawn, but just using their bodies.
Generating ideas participants experimented and explored different methods and ways of creating a movement in response to the shapes. Watching participants create new shapes with their bodies, I was reminded of the expressive fluidity dance has. Observing Jasmine's class I can see how dancing also creates a strong narrative and can be used as a strong driving-force, especially in communication.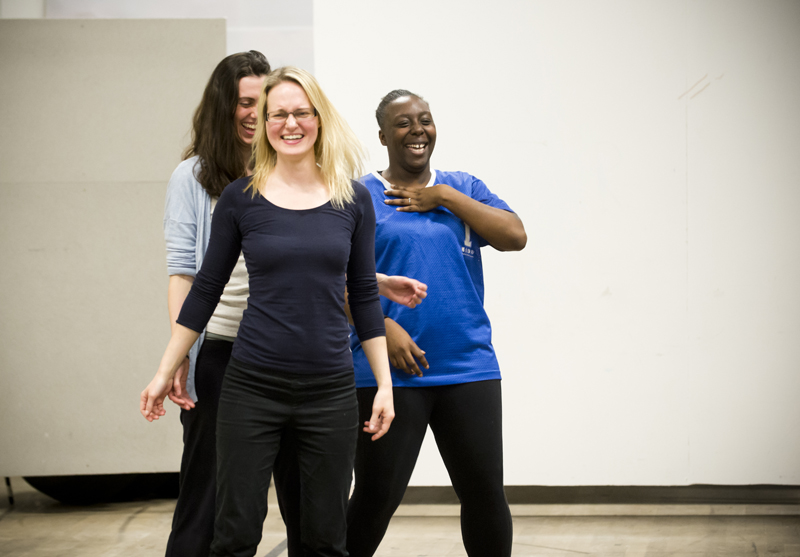 After applying all the movements and choreography learnt from the afternoon's session, the group ended with a fully choreographed dance piece. Afterwards, I spoke with Trina, one of the participants. She commented:

I walked in knowing nothing about dance and not feeling confident and am now leaving with lots of good ideas and I will now put a dance exercise together for my students – I loved it!
Lastly, as part of the workshop, participants were asked to complete a trust exercise by falling back into the arms of their partner. Jasmine mentioned:
For some students, the thought of putting their security into someone else's hands can be very daunting or scary. Using weight bearing activities as an experimental technique, engage participants to learn about teaching and exploring new ways and meanings of what 'security' means, and what the implications can be for students who find it might difficult to put their trust in others. Creating these 'rust'activities for students allows them to feel comfortable with their peers and teachers.
Overall it seemed to be a very successful day with a lot going on and I look forward to seeing what exciting activities the last day brings tomorrow!
Read Jess' summary of Day 2 at ANDInclusive
Read Jess' summary of Day 1 at ANDInclusive
---
Find out more about ANDInclusive at Tate Exchange
Image credit: all photos taken by Roger Brown for A New Direction