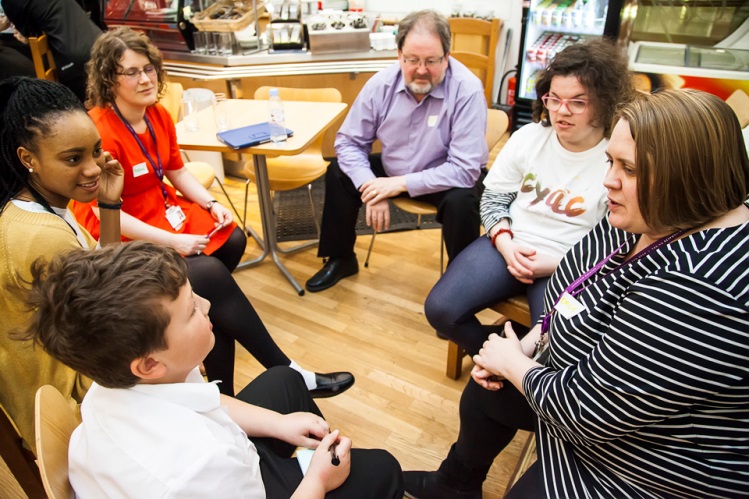 Picture credit: Creative Croydon
The Creative Croydon initiative is steered by a Working Group consisting of three partners: Croydon Music and Arts, the music education service for Croydon, Croydon Youth Arts that forms part of Croydon Council's Early Intervention and Support Service, and Fairfield Halls, a leading cultural venue in the borough. The programme aims to ensure a high-quality cultural education is fostered in Croydon by bringing together partners across the youth, arts, education and business sectors, as the borough undergoes a lengthy period of regeneration.
At the heart of the programme is a group of self-selected young ambassadors, the Croydon Youth Arts Collective (CYAC), who emerged from a large-scale youth arts consultation we delivered in 2015 and aim to have a key role in cultural decision-making.
Over the course of the programme, we will work with CYAC to platform and advocate for the importance of creative opportunities in the borough. CYAC will be delivering their own arts advocacy events that will culminate in a Youth Arts Takeover during the summer 2017 - a high profile platform that will champion cultural education delivered by and for young people.
Since CYAC's formation in September 2015, the group has achieved a number of notable milestones with the support of the Working Group through their fortnightly meetings. Collectively CYAC decided on their name, wrote their mission statement, interviewed and recruited a graphic designer and workshopped with the successful candidate to create a logo and visual cues for their mission statement. Following the consolidation of their branding and identity, the young ambassadors developed the skills to present on their cultural journeys at public-facing events. They also explored provocations around cultural education with adult stakeholders at Local Cultural Education Partnership meetings, asking partners to pledge something in response.
CYAC's journey has developed further through supporting the Working Group to co-design and co-facilitate consultations in schools and alternative youth settings that aimed to gain a deeper understanding of young people's views about youth arts provision in Croydon. They have presented on the value of the youth arts to the Croydon Youth Council and Parliament and have been invited to a consultation about libraries by Croydon Council. In a recent evaluation we carried out to assess the impact of Phase 1 of Creative Croydon, CYAC responses suggest strong feelings of empowerment through the programme.
'I chose to be part of CYAC because'

"I wanted to be a young person's voice for Croydon. I wanted to have my voice heard and to raise the profile for arts and culture" (N, 17years).

'One of the things I hope to achieve through CYAC is'

"Successful regeneration with greater opportunities for the arts… and a procedure for decision‐makers to interact with youth. This is revolutionary!" (E, 15 years)

In April 2016, CYAC officially launched themselves in a public event at the impressive Clock Tower complex that lies in the heart of Croydon. The event was attended by a host of key figures and budding creatives, including over 100 representatives from the arts and culture sectors, councilors, local schools, the youth service, parents and residents.
The evening featured speeches and presentations from the young ambassadors about their journeys as arts advocates and their desires for the future of the arts in Croydon. Audiences were treated to performances from young musicians including Croydon Bloco, a diverse mixed ability carnival youth band led by Kinetika Bloco. Addressing the audience, CYAC member and rap artist Darris stated: "We're making Croydon a better place. We want the arts to stand out. We want a lot of young people to join our group today."
Creative Croydon has so far served to demonstrate the power of the testimony of young people in shaping the effectiveness of their cultural education. Plans for Phase 2 of our programme include the consolidation of our Local Cultural Education Partnership that already has the support of key representatives from the local authority, schools, arts, culture and regeneration. Our ambition is that this group, working alongside CYAC, will drive forward a strategy that promotes the value of cultural education and creates innovative ways of working together.
Further ambitions include the creation of an online platform that centralises Croydon's creative opportunities to young people, a milestone created in response to a prominent need that came out of our youth arts consultation. We aim to grow CYAC membership through the events they are to deliver over the coming year, giving them the tools and skills needed to embed arts advocacy within their communities.
Creative Croydon has faced challenges - from external factors threatening the stability of the Working Group, to the intersecting nature of partnership working that is diverse in needs and agendas, making it difficult to steer. The embedding of youth voice at the core of Creative Croydon has served as a crucial anchor to reinforce the importance of this work and demonstrate it to others.