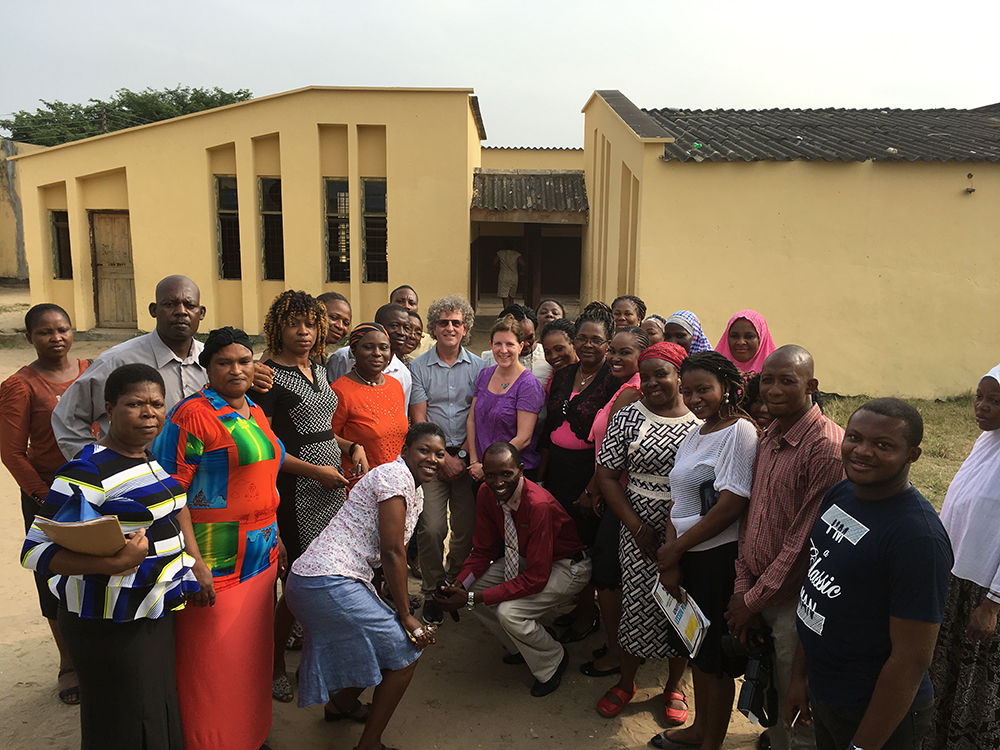 I was delighted to have been successful in my bid to secure British Council Connecting Classrooms funding for myself and colleague Anthony Nicolaou to visit our partner school, Lagos State Junior Model College, Badore. Our partnership started through the Rivers of the World art project and has been extended to include the Senior School through Connecting Classrooms.

Gaining a visa was a complicated process, especially being new to this system. It involved three visits to a processing office in central London (an additional visit needed as I forgot my passport the first time!!)
Sunday 11 February 2018
Picked up at 4.45am for a 7am flight to Lagos with a change at Amsterdam. We were delayed in Amsterdam for about 3 hours and they fuelled the plane for a flight to Cuba, not Lagos! Our British High Commission Facilitator met us and whizzed us through the immigration process and to our car. We arrived at our hotel at 11.30am, rather exhausted.
Monday 12 February 2018
At the British Council offices, we met Ted Fox Joyce, a Curriculum Leader from Langley Park Girls School in Beckenham, along with our link teachers, Lynda Ashaolu (Project Manager, Schools Education) and Olumide Akintunde (Project Officer, Schools Education) and had our security briefing. Every aspect of our personal safety had been accounted for and the organisation was superb. It was great to meet Ted face to face as we had communicated many times via text prior to our journey.
Once we got to our partner school, amid a very heavy Lagos traffic day, we met Emmanuel Soremekun (Mr Sho) the art teacher and Thomas Ogunijimi, who teaches English. They're both very passionate and inspiring teachers and were so welcoming to us. I think the welcome at Lagos Model Junior and Senior State College, Badore, is possibly the warmest welcome I have ever had anywhere I have been. We also met the Principals of both schools, who again were so glad to have us visit.
We had a quick tour of the school grounds, which are vast as the site accommodates a Junior school and Senior school, as well as accommodation for all 2,000 students and staff along with the facilities that go with that. Around the school grounds are many notices promoting their vision and mission statement and positive behaviour for learning. Places at these schools are competitive as this is a state-funded boarding school. We were continually greeted by so many smiles from staff and students.
Tuesday 13 February 2018
We were expected for assembly at 7.45am, but rush hour in Lagos made this utterly impossible. Late again! When we did arrive, the students of the Junior School were all called out of lessons to gather for a second assembly.
To see 800 eager children arriving and stood in their class lines – outside in the heat – was quite a vision. A microphone system was set up and we were welcomed formally by Mr Sho. He reminded the children how fortunate they all are and asked them to share this thought with their neighbour, which they readily did with beaming smiles.
Neither Anthony nor I were expecting that we would have to address the children, but we did and told them how delighted we were to be in their school and we were returned with beaming smiles. We were then treated to a cultural show and a small group of girls sung a song they had written whilst dancing and they were joined by some of the boys who performed a rap they had written. Olumide then got me on the stage to dance along with the girls. Oh my! The whole performance made me smile – on the outside and inside too!
After the performance was over, Anthony and I were photographed and photographed over and over with teachers. I have never been so photographed in my life.

Next stop was a tour of the art department. The outside of the buildings in this area were covered with paintings by Mr Sho and what a bright and inviting environment it was. His classroom was filled with tightly packed bags of students' artworks, examples of beading, tie-dye, instruments made from cardboard and paintings and drawings. He teaches up to 50 students in his classroom and some of the lessons are theoretical to prepare for the practical the following week.

As we left and were driven back to our hotel, I realised I had an aching jaw – must be all that smiling I said to Anthony!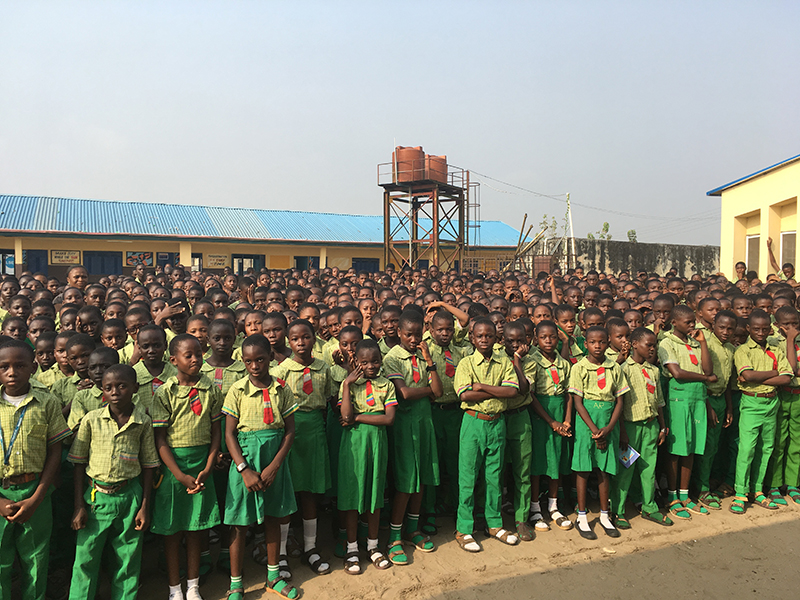 Wednesday 14 February
Today was the big day we taught our art workshop to a range of young artists from the Junior and Senior school. It was so hot - and so much hotter than we are used to teaching in. The teachers at these two schools teach 8 lessons a day in this heat, day in day out. Mr Sho and colleagues, I really do take my hat off to you all.
Students and staff had collected plastic bottles. I had been inspired by Maria Iksnamor, who posted photographs of jellyfish her students made out of plastic bottles on NSEAD Facebook. As our Rivers of the World theme was pollution, and the waterways in Lagos are polluted by lots of plastic bottles, this was a good way to show how they could be re-purposed.
We started off by showing the students some photographs of the plastic bottle jellyfish and flowers and demonstrated how to make them. We then showed them the photocopies of old maps of Erith, showing the River Thames and the area where our school was. I explained that we wanted them to transform the maps into colourful art using shapes they could see in the map, exaggerating those shapes or adding their own. My aim was for the students to become familiar with the close proximity of our school to the River Thames and consider colour and composition. The students were resourceful and found circular objects to draw around, and were very excited to use a range of sharpies to add bright colour.

Whilst they were working, we started some students making jellyfish or flowers. Again, we gave very little direction and really wanted them to have the ability to explore the possibilities of the materials, learn from each other and make mistakes! Students were very creative in the way they manipulated the plastic by folding, rolling, bending and cutting to shape. To add colour, they had the sharpie pens and also Anthony had sourced a large selection of vibrant coloured nail varnishes. Both sets of materials were a great success as the students demonstrated a keen understanding of colour. One young girl was busily applying the most beautiful mix of pink and blue to her jellyfish - it looked stunning and my gasp of "wow, that is gorgeous, you're so creative. Your colour choices work so well together" produced a smile that could have lit the darkest room. My heart melted.
By the end of the 3 ½ hour workshop, students had made a jellyfish and a flower each. We looked at the work together and students were very keen to help me to photograph their artwork on the maps (I wanted to leave them with the originals). They arranged all the flowers and plants they had made on to a table and gathered behind it for a group photograph holding their jellyfish. We then asked them to wave their jellyfish so the tentacles clattered a thrilling tune that really excited the students as smiles abounded. Some had added colour to their uniform accidentally with the nail varnish – sorry Mr Sho!!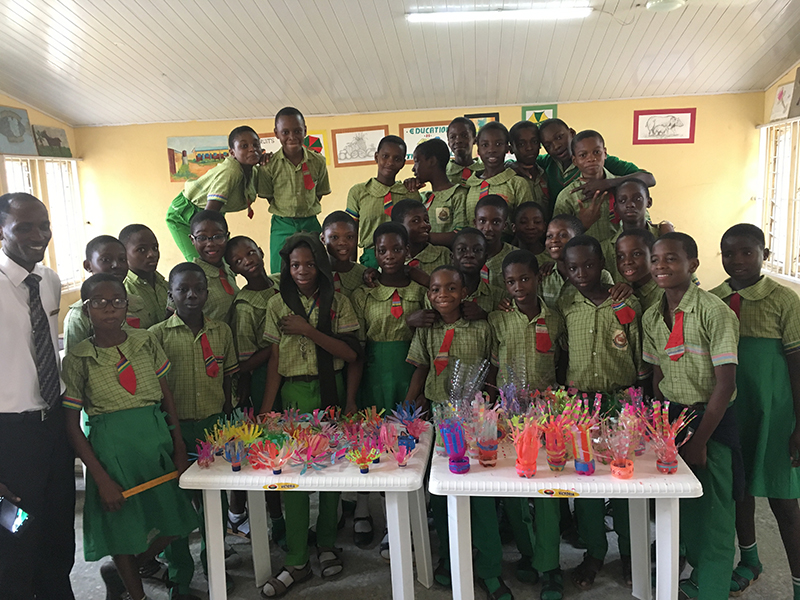 After the workshops, we walked to our awaiting car with a following of excited students waving us goodbye. We were driven back to our hotel and were to be picked up later to be taken to an art gallery. The car arrived with Ted too and we soon arrived at the Nike Centre for Art and Culture. The building is quite imposing with enormous ornate gates and a bright white exterior that really illuminated in the sun.
A step through the gate and we were in a treasure trove of art! Before we were greeted by Gloria, we were greeted by an enormous crocodile made out of tyres, reliefs of faces made out of scraps of metal and a figure from the Eyo masquerade made out of fuses. Gloria took us on a tour of all five floors and told us that there were over 50,000 pieces of art including contemporary and antique artworks. At times, I felt consumed by the art. Gloria was passionate about the artworks and the work of Nike. She answered our questions about the inspiration of artists, the characters and materials used with great expertise and patience.

Not only did we see a plethora of awe-inspiring artworks, but we were also privileged to meet the owner, Nike Davies Okundaye – a truly inspirational artist. The gallery website states: '…she invites you to visit her in Nigeria and immerse yourself in African tradition'. Well, we were well and truly immersed and Nike was keen to know about the projects we were all leading with our partner schools. She herself promotes art and traditional crafts throughout Nigeria and has been responsible for delivering many projects in the community. Nike wanted to see some of the photos of the work our partner school students had created and thanked us for working with the young people of Lagos and inspiring them. I was quick to inform her that they had inspired me.

Friday 16 February 2018
Connecting Classrooms Core Skills Conference is today. I have to speak, and I did not get much notice to prepare as I was only notified by the British Council about two weeks before we left. The audience was to comprise of over 150 Nigerian teachers, School Leaders and Policy Makers – yikes!
As if often the case, not having much time to prepare is often for the best, and I utilised some images of my Year 11 GCSE Art class' work I had already been using. These were photographs of final pieces for their War/Conflict project and they had produced totally individual responses to a broad range of themes including Donald Trump, mental health, the effects of war on children, family heritage, world politics and historical wars.
My students were proud of their explorations and we spoke about the mature topics they had explored and how it would be great to share these visually with the rest of the school. We then had them made into posters to draw attention to the issue they were interested in. My students had clearly responded well to the core skills of digital literacy, collaboration and partnership and creativity and imagination. I really enjoyed sharing the successes of my students. The whole day was a really thought-provoking and I was humbled by the comments of praise about my students' work and the encouragement of them to explore issues they feel strongly about or directly affect them.

That wasn't the end of the day though, as we were whisked to the studio of Polly Alikija, who works in partnership with the schools in Lagos involved in the British Council Rivers of the World project, and had produced collaborative artwork with the students from our partner school. Polly's studio was so welcoming and we were also greeted by her two youth artists John and Tolu.
After some chatting and looking at the work Polly has produced, we were escorted to see her artwork under the Falomo Bridge, which was completed in 2017 to mark the 50 year anniversary of independence in Nigeria. The artwork took my breath away. The colours of the paintings on the pillars on the underside of the bridge were a beautiful cocktail of colours and such a contrast to the start quality of the concrete bridge. Smooth transitions of colours rendered faces of Nigerian Women and transform this stark area into a joyful public space. In an interview, Polly was asked who the women are, she replied,"…they are representations of women as pillars of strength; they are silent, they're strong, they carry this heavy burden."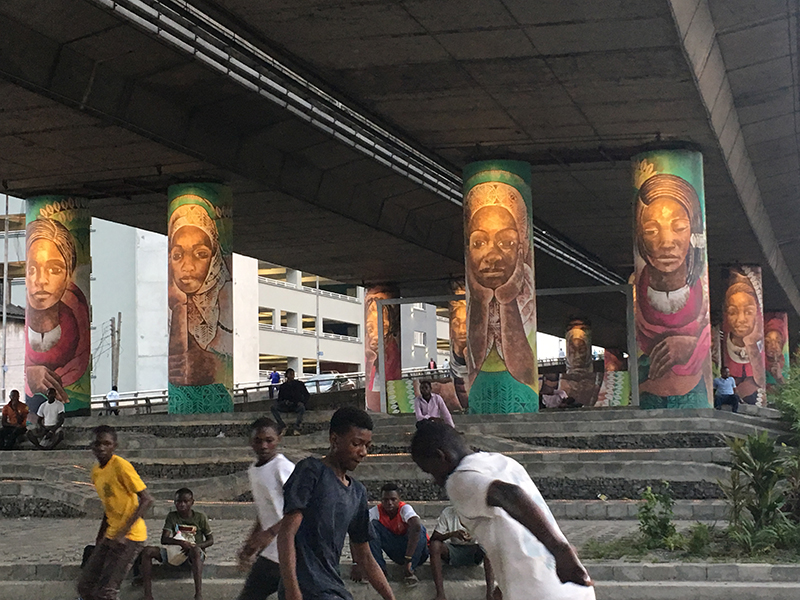 Every day, these strong women are seen by thousands of people who pass under the busy intersection. It is easy to imagine the area under the bridge as an audience space for a public event. Our partner schools made traditional style boats with Polly for their Rivers of the World project and as part of the celebrations, these were hung from the underside of the bridge. Can you imagine how exciting it would be as a young student to see the artwork you created at school hung in such a beautifully transformed public space?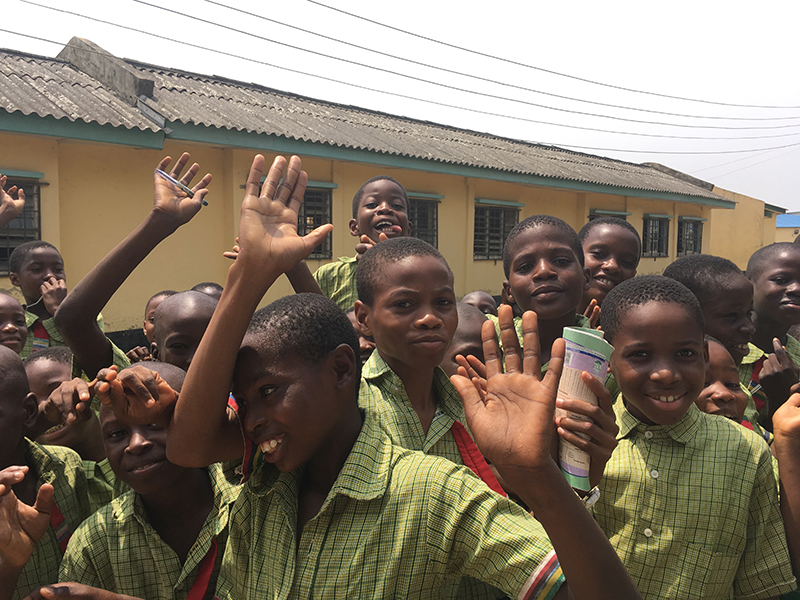 This experience is one of the most inspiring of my entire career, I will definitely work to increase our partnership with the Junior school through art with Mr Sho, and our English department has just started sharing ideas with Thomas. I sent Thomas copies of poems some of our students wrote following a visit to the National Maritime Museum in Greenwich via WhatsApp and have relayed his comments back to our students. We are talking with the British Council about working together to send over art materials to the school and this would enable us to complete similar projects and share the artwork with each other.
It seems the whole trip was one where smiles were aplenty and the word inspiring is I am sure often repeated in my diary here. That sums up my trip to Lagos; inspirational people and jaw aching smiles. Would I go back? If they will have me, I would be back in heartbeat!
---
Lucy Williams is Head of Creative Arts at Erith School, and is also one of our AND Advocates. Click here to find out more about her and the Advocates programme.

Photography credit: Lucy Williams