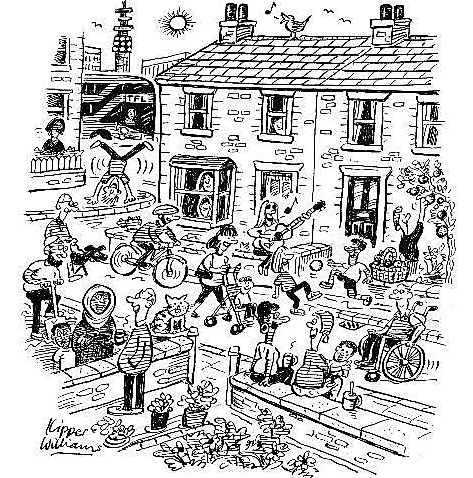 NEWS AND UPDATES
Changing London will help to change lives
A new website has been launched this week to encourage all citizens to join in shaping the capital's future. Read more about the launch or visit the website here
Free school expansion plans launched

The flagship Conservative election pledge to open a further 500 free schools in England is being put into practice, with applications invited for new schools. The government wants to create 270,000 extra places in free schools over the next five years. Read more
Workforce survey calls for fairer access to creative media industries

Over half of respondents found their current job through informal recruitment methods and 48% have done unpaid work at some point in their career whilst just 1% of the creative media workforce came through an apprenticeship route. Read more
Young jobless total lowest for 10 years

In the three months to March, some 943,000 16- to 24-year-olds were Neet, down 20,000 on the previous quarter and 45,000 on the same period last year. Government figures for England show a 174,000 drop on the same point in 2010. Read more
Charity urges five-year plan on Neets

Education and employment charity Impetus-PEF said it is "essential" that the government creates a five-year plan to help young people navigate their journey from school into further education, employment or training. Read more
BBC Ten Pieces project extended to secondary schools

The initiative will be extended to secondary schools from Autumn 2015. A new set of pieces have been chosen to tie into the 11-plus curriculum. Teachers will once again have access to a range of online resources to explore the works in their own lessons, encouraging pupils to respond to the music through composition, dance or art. Read more
Rise in number of children reading for pleasure

A new survey from the National Literacy Trust reveals that 41 per cent of children aged 8 to 18 said they read daily outside class in 2014, up from 32 per cent in the previous year. And the proportion of teenagers aged 14 to 16 who say they enjoy reading has jumped from 37 per cent last year to 43 per cent this year – although overall levels of enjoyment remain lower than for younger children. Read more
'I may never have discovered a passion for theatre without having it embedded in the curriculum'

'As a student of theatre I believe that it's fundamental to any school's livelihood that they invest in their drama department, and I hope to pursue a career in the arts. But with the rate that arts funding is being cut, there may not be a field left for me to enter...', tells a young person to the Independent. Read more
OPPORTUNITIES FOR SCHOOLS, YOUNG PEOPLE AND ARTS ORGANISATIONS

CDN TV Careers Day - Applications Open!
On Wednesday 24th June, some of the biggest names in TV will be sharing their tips on how to make it in the industry with 300 16 - 20 year olds at the CDN TV Careers Day. If you know a 16 - 20 year old who might be interested in attending, apply now!
Taking Steps Towards Diversity

The Free Word Centre will be running a workshop on diversity on Monday 22 June. The training will help you understanding the importance of achieving diversity in your organisation and are excited by the increase in energy, skills, and perspectives it would bring to your workforce and artistic output. Book your place
Trench Brothers

Trench Brothers commemorates the achievements and contributions made by ethnic minority forces. Following an amazing reception from the schools which took part this and last term, Trench Brothers (which is for Year 5 and/or 6 students), is now being offered for the autumn term and will be repeated again in 2016. To apply for the project, go here.
For more information please see the Trench Brothers Website which includes a short documentary about the project.
(Image credit: Changing London website)