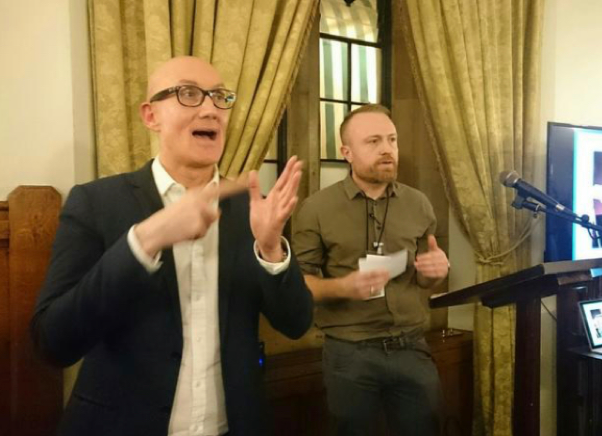 The launch of the Cultural Inclusion Manifesto in parliament on the 22 January was a high point in my career as an art teacher in a special school, and as the co-author of the manifesto. The event was designed to celebrate the 100th signatory to the manifesto - signatories that include arts and cultural organisations such as the Royal Academy of Arts, National Gallery, and Royal Albert Hall, and the Royal Philharmonic Orchestra, as well as many artists, politicians and parents.
The landscape within the field of arts and culture has been shifting now for some time, and a number of networks have emerged to support special schools in accessing high-quality arts and culture. I am a member of both A New Direction's SEND Network and their Advocates programme. I also coordinate the West London Inclusive Arts Festival. In this climate, the partnership between the Cultural Inclusion Manifesto, Every Child Should and NASEN makes perfect sense.
The event itself was kindly supported by 31 Dover and sponsored by the MP Sharon Hodgson, who chairs the all-party parliamentary group on Art, Craft and Design in education, and the all-party parliamentary group on Specific Learning difficulties. As MP's go, she was the perfect fit for the event.
Sharon opened the evening with a speech outlining the intrinsic value of the arts, whilst acknowledging the pressure that creative arts have been under which has led to their well-documented decline. She did, however, comment on how heartening it was to be in a room full of people, "proactively fighting for the rights of those children, and ensuring that they have the access to the arts and culture that every child is entitled to."
Dr Adam Boddison, the CEO of NASEN, followed with a speech about how, "cultural inclusion is a catalyst for inclusion in its broadest sense". Anita Kerwin- Nye, founder of Every Child Should and, incidentally, my mentor on A New Direction's Advocates programme, was next. Anita gave a rallying cry to the signatories, describing her personal journey as both a campaigner and an activist, using the event to declare that, "anti-disablism matters." Anita also called for the Arts Council to have an inclusive strategy.
I followed Anita, addressing the question: why a manifesto? There are, I explained, numerous reasons for the manifesto, and described how the initiative can hopefully lead to a fundamental shift in how we work together. The manifesto offers us that chance - the chance to work strategically across a number of sectors and spaces to effect real, meaningful and sustained change.
Along with the other speakers I made reference to the dismal statistics detailing uneven provision and access to high-quality art and culture, and how the manifesto seeks to answer this call. I had the great pleasure of handing over to Moshtaba, one of my students, who described what access to high-quality arts and culture meant to him. Moshtaba closed the speeches with a profound question: "why should all young people with special needs be included and why is it important? The answer is simple - we are all human and it is a human right!"
To sign up to the manifesto and to see updates including the full speeches, head to: www.culturalinclusion.uk