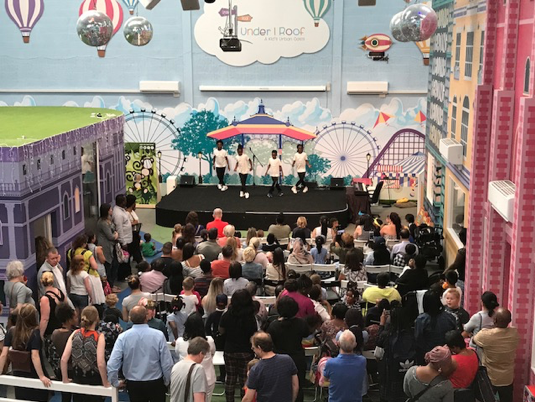 Under 1 Roof is a unique children's centre in Woolwich Arsenal, south-east London. It's been designed to provide outstanding, curriculum focussed arts education with a custom-made theatre, music studio, art room, gymnasium, sensory room and therapy room.
Run and managed by a group of local educationalists and children's entertainers, Under 1 Roof provides space, equipment and subject specialists for classes of children. Schools can come along for weekly lessons, half termly courses, one-off visits, bespoke theatre productions or use our outreach programme which brings the services directly into schools.
Last year Under 1 Roof became an Artsmark Partner. We completed training courses to learn more about the initiative and the processes schools go through to gain their Artsmark. We found out how Under 1 Roof can support schools on their journey by providing performance spaces, creative arts workshops and an art gallery and partnered a local school who are working towards their platinum Artsmark.
At Heronsgate we are in the process of applying for Artsmark Platinum and Under 1 Roof will play a big part in helping us to achieve this. They provide opportunities for our children that otherwise would not have been possible. This collaboration allows us to work with them as a local organisation and with other local schools, both of which are part of the Artsmark criteria. With the help of Under 1 Roof we are able to offer our children an authentic experience of arts learning in various formats.

We have had a performing arts showcase, taken part in a beat boxing workshop and have opened an art gallery showcasing children's work from across the school. All of these events were carried out smoothly and successfully and the children benefitted hugely from having these opportunities.

The staff are well organised, friendly and helpful and communication is always brilliant so that the events we have run collaboratively have always been easy to manage and organise.

We look forward to building on our relationship with Under 1 Roof and recommend other schools take advantage of this local resource.
Susanna Griffiths, Heronsgate Primary School, Woolwich
Schools can showcase art projects at Under 1 Roof using our:
Atrium stage - capacity for 150 people with a lighting rig, glitter balls, sounds board and projector.
Studio theatre - capacity for 60 and a professional light and sound board.
Art gallery - 15 frames of various sizes and a large alcove to display 3D work.
Marketing material - posters and promotion from the Under 1 Roof team
Theatre shows - regular programme of performances and workshops for EYFS, KS1&2
We're here to help in any way we can! To find out how Under 1 Roof can support your school please contact education@under1roofkids.com
---
Image credit: Under 1 Roof