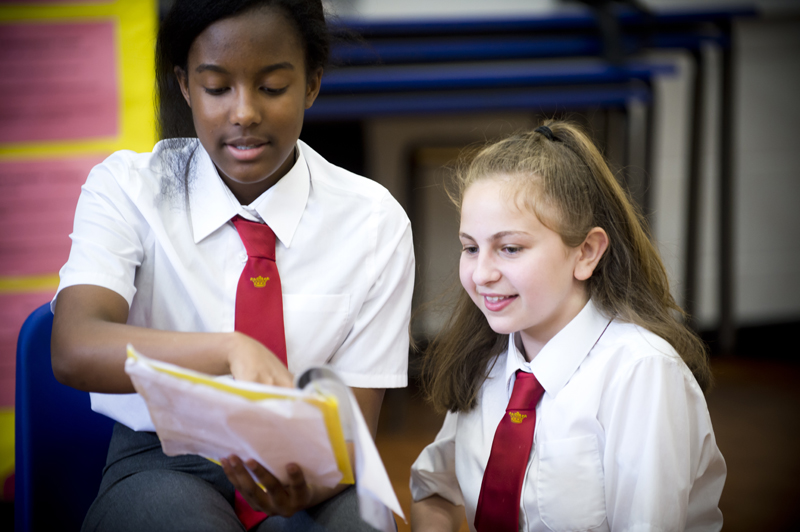 Picture credit: Kingsmead School, photographed by Roger Brown

Last week saw the announcement of a new partnership between the Education Endowment Fund (EEF) and the Royal Society of Arts which will provide up to £2.5m to test the impact of different cultural learning strategies in English schools and early years' settings.
Focussing on areas of high deprivation and low arts engagement, the money will fund trials into the delivery and evaluation of different cultural learning approaches. The research aims to identify those interventions which are most likely to have an impact on academic attainment, as well as skills and behaviours like resilience, self-confidence and creativity. Supported by Arts Council England, the programme has been developed following the conclusion from a recent EEF review that there is limited high-quality research into the impact different arts approaches have on pupil outcomes.
This review - which covered over 200 reports and found that there is little to no solid evidence of the arts having a positive impact on cognitive or non-cognitive outcomes – prompted us here at AND to think about the direction that the research case for arts and cultural education could and might take. As we have previously said, we believe that there is a need for those of us working in arts and cultural education to have an honest and open debate around where the arts position themselves within the evidence-based vs evidence-informed debate.
Without rejecting the suggestion put forward in the EEF review that art should concentrate on describing art's value for its own sake, we believe that there is space to further explore, discuss and debate the potential for arts education to make a tangible case for educational outcomes. This is not an easy task, and as AND's Partnerships Director Holly Donagh discusses in detail in this paper, there are a number of key considerations such as the nature of the logic behind studies of arts impact on education, the standard of study design in the sector and the question of understanding what quality looks like.
Back in September, we posed the question of how the research case for arts education may develop to a range of colleagues from across the cultural and education sectors via a roundtable hosted with Paul Hamlyn Foundation. Amongst other points, the issue of audience was raised. There was a sense that all too often we focus on addressing the research case solely to DfE, overlooking the fact that teachers/leaders, young people, parents, governors are all key audiences. Colleagues also raised the need for greater discussion around what counts as quality evidence and what constitutes quality practice, and expressed a need for new primary studies which may help fill the gaps in existing data and evidence. This new programme offers an opportunity to start to address these concerns.
The attempt to talk to the evidence of what works when it comes to cultural education is, however, not without a number of challenges. Not least of these is the fact that identifying arts education interventions which can be both assessed and replicated can be a tricky task. The RSA themselves have stated that ensuring interventions are not only educationally impactful but also retain artistic freedom is a central concern. They will work alongside the EEF and a range of stakeholders from the cultural sector, schools and higher education institutions to identify possibilities.
Given these challenges, it is incredibly encouraging that the EEF is providing such a platform on which the research case for the impact of arts and cultural education can develop, be discussed and debated. The ongoing emphasis upon evidence-based decisions & policy in education, coupled with the pressure being put on arts education in light of the EBacc, only strengthens the imperative to build a stronger evidence base around the impact of the arts on educational attainment. This, alongside the increased awareness of effective initiatives as a result of the programme, will offer a useful tool for those teachers and leaders looking to plan and advocate for cultural education in their school.
Furthermore, through focusing on areas of deprivation the programme offers the potential for rich insights and learning around addressing issues of equity to access, creating a key support for the sector to work collaboratively to make a real difference in tackling the tendency for disadvantaged children to miss out on opportunities.
Applications for the funding are open to arts and cultural organisations, schools, universities and other non-profit organisations.