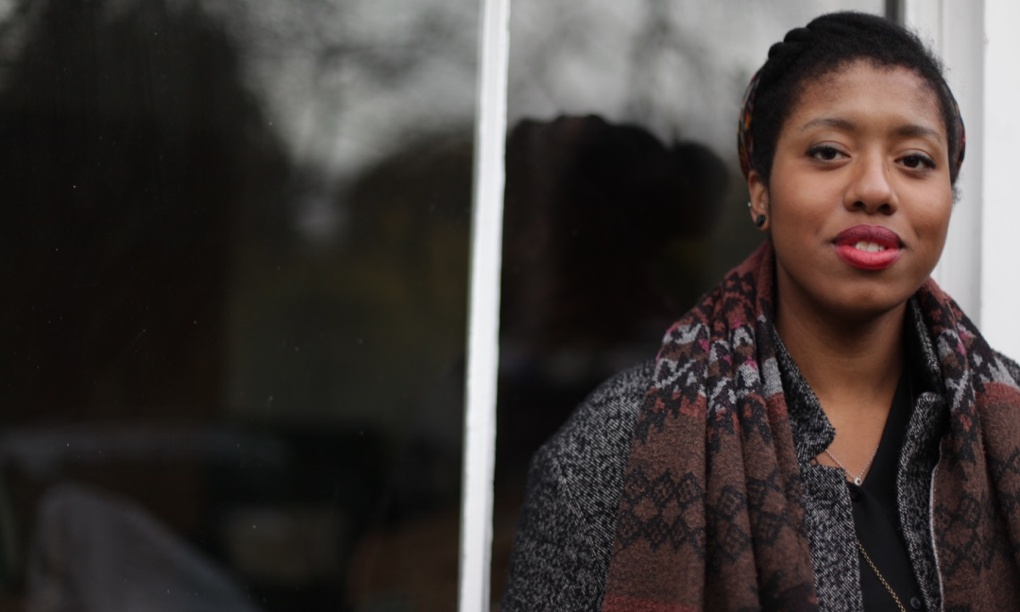 (Photograph: Nadyah Aissa/PR)

A Strange Kind of Beauty is a poem by Selina Nwulu, the Young Poet Laureate for London 2015/16, commissioned by A New Direction as a response to the challenges young Londoners face in engaging and contributing to the creative and cultural life of their city.
Here Paul Sherreard from Spread the Word reflects on the poem and the underlying themes:
---
Let's play a game suggests Selina in the opening of the poem. Let's peel back the skin of this city, and rearrange its insides 'til we have created a strange kind of beauty we don't recognise.
Making a concept, or a place, 'strange' is a good way to understand that place or concept differently. Rearranging the insides of London can help us to see our city from a different perspective – and can help us understand something of the untapped potential that might be released by rethinking how the cultural 'offer' of London is articulated for young Londoners.
My personal 'aha' moment in the poem is this:
Young people are composing digital sonatas in their rooms

And we've taken their roofs off

We've unplugged their headphones

So that those tsk tsk tsk tsks in their ears

Have become a siren of noise

The sky has broken into an orchestra of patois synphonies of

Grime-fused Electro sprinkled with Classical undertones

Rap lyrics chasing Bangra bouncing off of buildings
I'm pretty sure I am not the only person in London who has sat on the bus and silently cursed those tsk tsk tsk tsks that cut through the grey pre-work silence.
But this poem has made me rethink that noise seeping from the headphones of the person behind me. Next time I am on the bus, I know I'll be wondering who made the beats that are tinnily making their way towards my ears. Perhaps it was the person listening to them now. Perhaps that person uses his or her commute to school or college to go over again and again the same phrases and loops they sat up last night perfecting - trying to figure out what is missing, or what is going right, or just losing themselves in what they are trying to express.
At Spread the Word, we manage the Young Poet Laureate for London scheme in the hope that the work that the Laureate undertakes, the poems they create and the professional experiences they have will do several things. We want the poet to have a transformative year in their career as a creative artist. We also want the poet to connect with the issues faced by young Londoners and through poetry tackle those issues. A Strange Kind Of Beauty does this so well. The poem raises the alarm that access to the arts – especially as a career choice - can often be out of reach for many people, not just the young. What talents are going to waste as a result?
But the poem also highlights that all it takes to change the status quo is to alter the perspective. At Spread the Word, we strive to pop up in different parts of London, to run accessible events and workshops, to reach out to talented writers who might be looking to build their career but not know how. It's what we have always done, and we keep trying to learn new perspectives and to do it better.
We are not alone of course. There are a lot of organisations, large and small, that are working hard to try to ensure that the arts and the 'cultural offer' of our city are in the hands of the many and not the few. All over London are great outreach projects and opportunities that seek to bring young people into closer contact with the arts. AND's latest project, ANDtogether, is a new online platform for London teachers and schools to connect with organisations across London's vibrant arts and cultural sector. Which is a great idea. But while there is a lot being achieved, there is always more we can do, and it is important that we keep trying to see things differently, to gain new insight into how things could be. Let's move the Tate to Zone 5 says Selina in her poem. I quite agree.
---
The Young Poet Laureate for London is managed by Spread the Word, London's Writer Development Agency, as part of the London Laureates programme, with generous support from Foundation for FutureLondon.