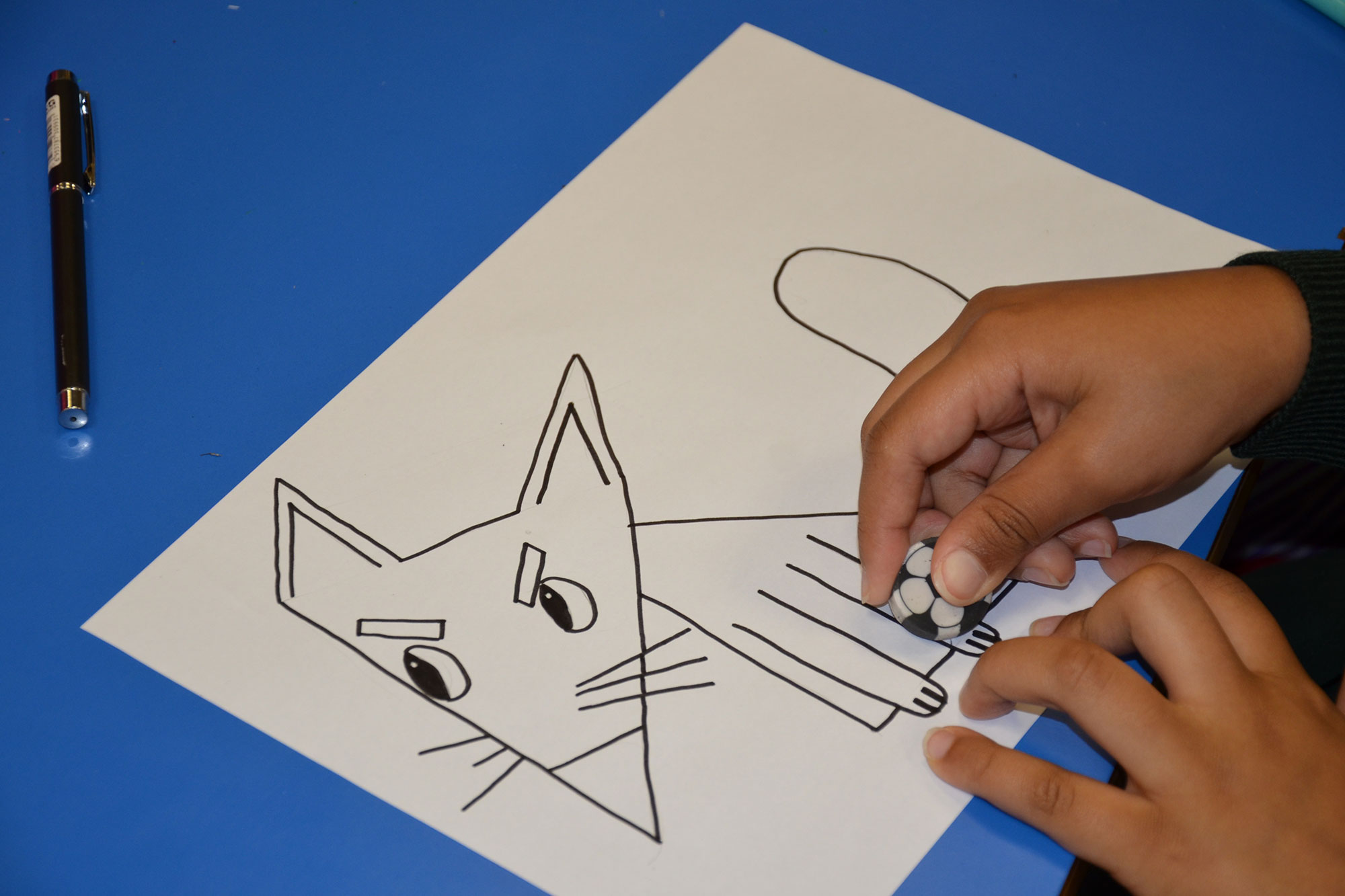 Image credit: Emily Fellah
Drawing is a highly creative, mindful activity which can enhance curriculum topics and lead to better writing and storytelling through character and comic creation. Children love to draw (especially if you mention comics) and isolating pupils can easily be included.
1. Link your creative project to the curriculum
The creation of characters, comics and picture books can be a great way to get pupils excited about their topics and to reflect on what they've learned. For example, if you're covering the Iron Age, the class can design their own Iron Age characters then create a comic or picture book based on everything they've learned so far.
My workshops have tied in with a wide range of topics including Chinese New Year, space, India and heroes. Some topics are easier to adapt than others but the key is to break the project down into sections: inspiration, character creation, and the storytelling element.
2. Take inspiration from illustrated books
Here is a great opportunity to introduce your class to a wider range of reading materials than the usual topic books. If you haven't already, make use of your local public library by getting a teacher's library card which gives you free reservations for children's books. Reserve early from their online stock so that the books have time to reach your branch – some might even deliver.
There are a huge range of children's graphic novels available – including non-fiction – with an increasing range of picture books for all ages, in addition to illustrated novels and exciting narrative non-fiction. Certain topics are harder to find books for, but your local library staff should be able to help by email. Your selection will inspire the class to create their own characters based on your topic and hopefully to read something new.
3. Do some character planning
A character planning sheet allows pupils to think about their favourite characters and genres, then brainstorm and come up with their own original ideas.
Ask the class to name some of their favourite characters from books, comics, films, cartoons, or games, then ask them to think about why they love these characters and how they make them feel. They can also list their favourite genres then write down some ideas for original characters.
At this stage you could ask them to take inspiration from everything they've learned during a topic and put their own twist on it. They should think about the character's personality, the world they live in, what they might get up to in a story.
4. Use character design sheets
A character design sheet should start as a page of rough development sketches. There should be no pressure for this to be a display piece, it's simply a useful process.
Everyone works differently and children often draw their final character straight away. In this case, you can encourage them to draw the character from different angles or to show important character traits such as flying. If the pupils are going to create a comic or picture book, they will need more than one character to tell a great story. They can draw more characters on their sheet such as an enemy, a friend, a side kick or a family member.
5. Encourage them – you don't have to get it right first time!
As you know, children are brilliantly creative and fearless, but they can get to a point where they believe they can't draw. Try to dispel this idea early on by explaining that illustrators, designers and comic creators start their work in pencil because they can't get it right first time and there is often a long process from first sketch to finished artwork.
Encourage pupils to keep the drawings they didn't like instead of screwing them up or scribbling them out as they are part of an important journey. There is no right or wrong with creative drawing and all efforts should be praised. The children's drawings reflect their individuality and everyone in the class should produce something that looks different and unique.
6. Try character 'maths'
This is a fun way to come up with character ideas and it also helps with the problem of pupils drawing their favourite Marvel characters even though you've asked them to create something original!
I display a list of suggested character ideas including lots of topic related suggestions. For example, the topic of 'space' could include a child scientist, an astronaut, a space rover, a planet character and Laika the dog. I also show a list of genres that tie in with the topic such as adventure, myth, legend, manga, and scary. Then I create some 'sums' as examples of mixing ideas to create something new:
Myth + alien = ?
Scary + space rover = ?
Planet + villain = ?
7. Draw shape animals
This is a fun and pressure-free way to create new characters. Ask the group to draw some combinations of simple shapes until they come up with a character. For example, a fox can be drawn almost entirely from triangles (see example above), and an owl can be created from a semicircle. When everyone has come up with a basic character, they can have fun drawing the details including fur and markings.
They could also create a soft textured finish with coloured pencils. You can see some free step-by-step character drawing tutorials on my website.
8. Play a character creation scribble game
This is a quick, fun way to come up with character ideas. I'm sure you are aware of 'The Shape Game' featured in some on Anthony Browne's books. I've developed a character creation version which is ideal for groups of three but can also be done by two or more.
The first person draws a shape or scribble without thinking too much about it. The second person studies it, turns it around and works out how to turn it into a character (or just the face of a character) and draws the eyes and eyebrows. The third person gets to finish the drawing by adding anything they like. The group members can work on separate pieces of paper so that everyone draws a shape, then the pages are swapped for stages two and three so that nobody is left waiting. Once the group have finished, they can start another character wherever they have space on the page, resulting in a sheet full of creative ideas which could be developed into finished characters.
9. Create comics
This is the chance for pupils to bring their characters to life in a story, and children tend to be very inspired by the comic format. There is a lot to think about so I would encourage younger children to create a single page comic, and older children to limit it to two pages. They can draw their own template, or you can download one from my website.
The next thing to think about is the 'world' or setting, which could be historical, futuristic, fantasy or based on the pupil's world. The storyline can be the hardest thing to think of – what is the danger, problem, mystery or quest? Encourage the group to think through the story first – what will go in each panel (square)? As there isn't space for a long build up to the story, can they start in the middle of the action?
Pupils should try to use pictures more than words, but dialogue between characters in the form of speech bubbles is a great way to move the story along. They will have to draw their characters lots of times so they should try to keep them simple and also mix close ups (just the character's face for example) with mid views (whole body) and distance views (the character walking/flying in the distance). And they will need to have good ending in mind - will it end on a twist, a surprise, or something hilarious?
10. Make picture books
Picture books are often studied in class and pupils enjoy creating their own. Illustrating a whole book is a big a task, so I like to use a picture book planning sheet similar to a storyboard instead. You can find a template on my website – page 1 contains the layout for a 12-page picture book and page 2 can be added to make a 24-page book (the standard size for a published picture book).
Picture books should have a small amount of text and the pictures should tell the story as much as the text. Surprises and 'reveals' should always come after a page turn for added impact.
Picture books are such a fun format and I like to inspire the pupils with the following books:
'This Book Just Ate My Dog!' by Richard Byrne – a brilliant interactive picture book without any flaps or folds
'Banana' by Ed Vere – tells a whole story in just two words
'Ernest' by Catherine Rayner – tells the story of a Moose who's too big for his book
---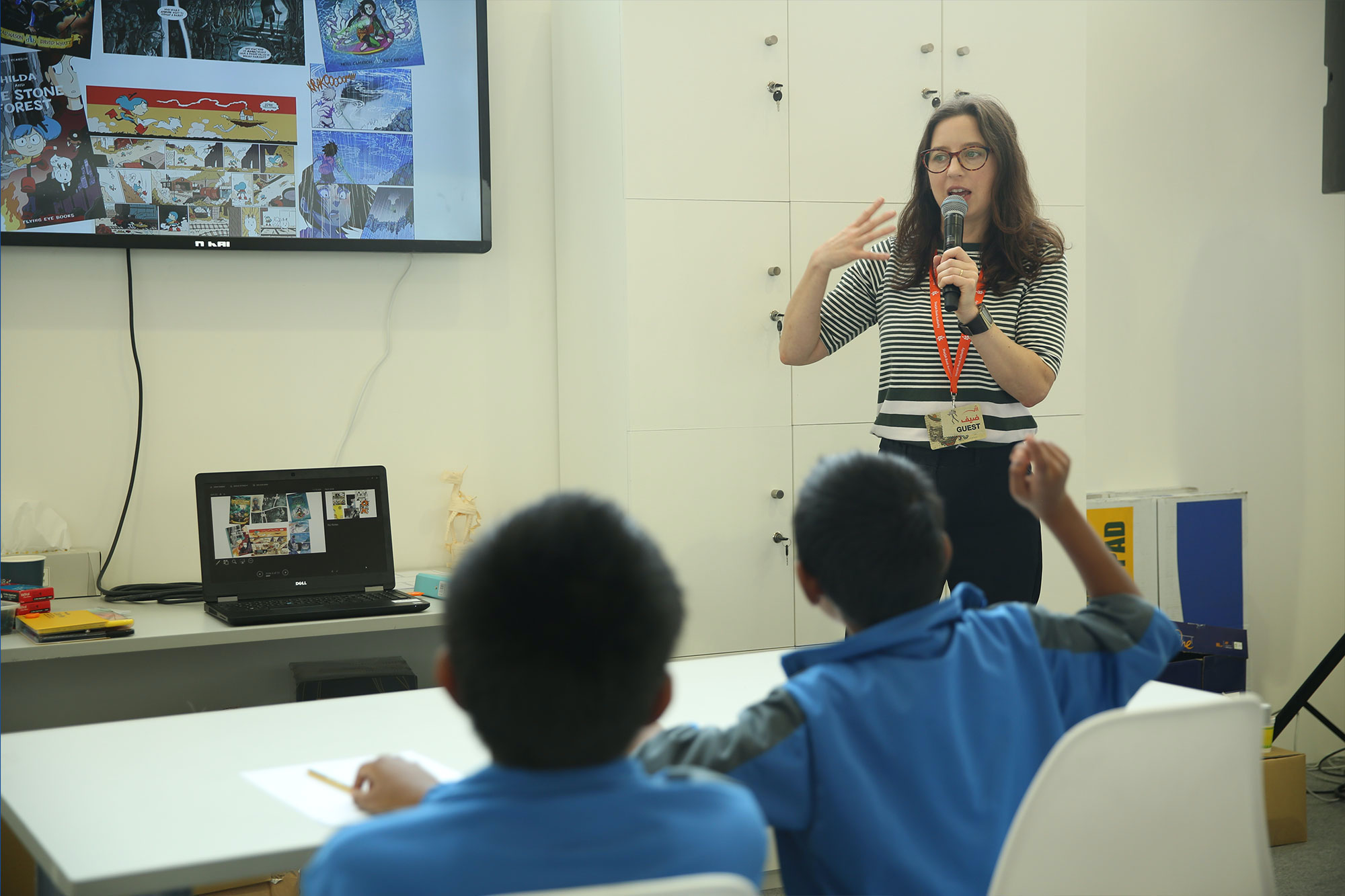 Emily is an Artsmark Partner who runs popular comics and illustration workshops for schools, SEND settings and other organisations. Her workshops are available as online sessions. To find out more and make a booking, please visit her website.
Where next?
More creative tips for teachers blogs
Browse our bank of free resources