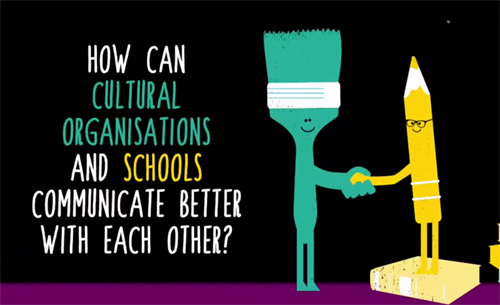 A piece of research looking at how schools and the cultural sector can improve the way they connect, communicate and, ultimately, build mutually beneficial partnerships.
Both our experience in working with schools and our previous research suggests that schools can struggle to find and choose cultural opportunities and, more generally cultural providers that suit their needs. Our London Schools research shows that lack of information about cultural activities available is among the top three factors stopping schools from engaging with the cultural sector, together with lack of funding/cost of activities and transport issues.
We also know that cultural organisations are often unsure about how to best engage schools with their offer. This perceived 'gap' in communication between schools and the cultural sector is the focus of this piece of research conducted by education research agency Edcoms on behalf of A New Direction.
To help us understand more about the strategies that the cultural sector currently uses to connect with schools, we surveyed a group of 115 London based cultural organisations including Arts Organisations to Museums and Music Education Hubs and others. The survey asked them to reflect on the types of schools they engage with, their rationale for engaging with them, the factors that impact on which schools they decide to approach and the types of activities they deliver for them.
We also wanted to hear from schools and understand what is governing their decision to partner with cultural organisations, how they currently go about and do this and, ultimately what can be done to help them in the process. We held focus groups with heads of department and subject coordinators from a range of schools in London at different stages of their 'journey' of engagement with the cultural sector. Throughout the discussion, we tested a range of potential 'brokerage models' – that is, initiatives or mechanisms that help schools and cultural organisations find each other, connect and work together – and asked schools to reflect on the pros and cons of each.
Download the research
You can read the full reports from both the survey and focus groups by clicking on the links on this page. We have also included an overview of existing brokerage models that helped us shape our discussions with schools.
Findings from this piece of research have fed into our conversations with both schools and the cultural sector on these issues.