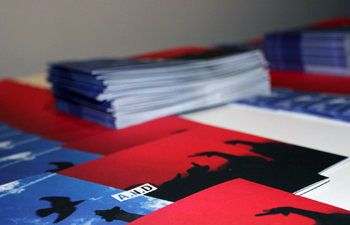 A New Direction is an organisation that exists to offer young Londoners access to arts, creative and cultural opportunities. Through strategic regional partnerships and programmes, the organisation is well positioned to influence and connect leaders from across the arts and education sectors to deliver major initiatives, share knowledge and deliver against strategic objectives.
A New Direction delivers a range of programmes, and is funded by the Arts Council England to deliver its national Bridge programme in London. Schools are core to this work, and Artsmark is a key priority. Through the Bridge programme, A New Direction works to support London schools to achieve Artsmark.

The Artsmark Officer will deliver the new Artsmark 'Introductory Days' for teachers and senior leaders from schools starting the Artsmark process, and provide support and information for Artsmark schools as they progress along their Artsmark 'journey'.

The Artsmark Officer will be responsible for coordinating and delivering the Artsmark 'Introductory days' for schools in London and to support the schools through the Artsmark process. The post holder will deliver Artsmark support surgeries and signpost schools to relevant information, resources and programmes.

To succeed in this position:
- You will have dynamic, positive and creative facilitation skills and act as an effective ambassador for A New Direction.
- You will possess a good understanding of Artsmark and Arts Award as well as London schools.
- You will have good knowledge of the statutory education system and the role of the arts, creativity and culture with schools.
- You will have experience of delivering training and working with teachers and senior leaders in schools and preferably within the arts, cultural and creative sector.


About the role
Location: London
Contract: One year fixed term contract
Hours: 3 days per week
Salary: £26,237 per annum (pro rata)
Applications for this position are now closed.

How to apply?

To apply for this role, please download the application forms below and email them to info@anewdirection.org.uk. If you experience any compatibility issues – please email us.
Download Artsmark Officer Job Description
Download Equality & Diversity Monitoring Form
* We are committed to equal opportunities and values diversity in its workforce. Please note that the successful candidate for this post will be required to complete a Disclosure and Barring Check.