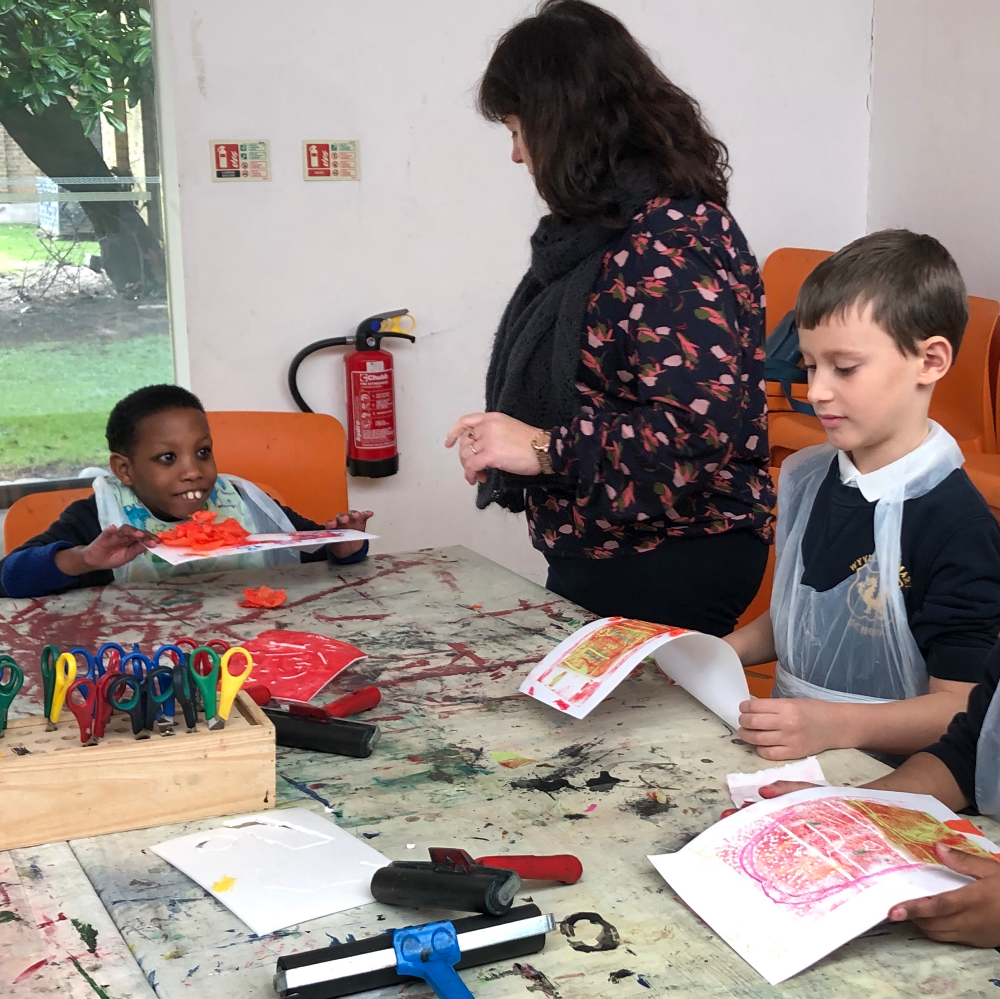 Grayson Perry famously stated that "art can't shock us anymore." But this week I witnessed exactly that - an artwork in a London gallery that shocked ten people, simultaneously. Hands suddenly cupped mouths, eyes boggled and explosive cries of "what?!" and "no!" filled the panelled room. This sound quickly imploded into hush and repressed giggles, and the group regained their gallery-goer's composure.
The artist provocateur in question was Thomas Gainsborough, the work in question was Mrs Elizabeth Moody with her sons Samuel and Thomas c1779, and the public in question were a group of children from Wyvil Primary School and Centre for Children with Speech and Language Impairment. Artist-educator Charlotte was leading a visit to Dulwich Picture Gallery (DPG) to explore three different paintings linked by the theme of 'Love'. The children, who all have special educational needs, were invited to make deductions about the relationships in the portraits. They were pre-armed with vocabulary taught at school expressly for the visit and they readily identified the work as a family portrait. The moment of shock came when Charlotte revealed that the two curly haired and rosy-cheeked children, dressed in white dresses tied with pink sashes were, in fact, boys… and boys of their own age!
I am a teacher and Visual Arts Lead at Wyvil Primary School. Our Centre for Children with Speech and Language Impairment is based on site and provides two classes, LC1 and LC2, where children follow a specialised curriculum adapted to meet their individual developmental needs. There is a strong focus on providing speaking and listening opportunities, and a wide range of extra-curricular activities.
Wanting to organise a stimulating art programme for our Language Centre children, I spoke to the education team at Dulwich Picture Gallery at the beginning of the academic year about adapting a visit to best support the children's language development. I was delighted to be invited by DPG to collaborate on a pilot program to develop their own provision for children with special educational needs. We arranged a series of four gallery workshops for both of our two classes. Each visit would be followed by a dialogue between myself, the class teachers, and Kate - the Schools Programme Manager at DPG. We would analyse what went well, look at the children's responses during the workshops and feedback at the end, and plan further adaptations for the next sessions.
As a starting point, we agreed to tailor the gallery's existing schools' workshops program. Based on four broad conceptual themes of 'Love', 'Identity', 'Nature' and 'Conflict', these sessions begin in the gallery, where an artist-educator introduces the group to a small selection of paintings, encouraging "mindful looking and questioning." Back in the studio, pupils are encouraged to experiment with a variety of materials, processes and skills, while continuing to consider the over-arching theme of the visit. We decided that both classes would visit on the same day; the artist-educator would run the same workshop for each class, and would differentiate the questioning and level of support for the activities.
We set off on a bright and mild December's day for our first visit. This part of London was unfamiliar to most of the children and they were full of excitement as the 185 bus took us on a rollercoaster ride over Denmark Hill. Walking through Dulwich Park the children revelled in the big green spaces. It was lovely to know that they would be making this refreshing and mind-opening journey on three further occasions this year.
For the theme of 'Identity', artist Jo invited the children to look at certain portraits and initiated dialogue about the sitters. The younger children were reticent at first, but one or two of them were confident enough to speak up and, with support, all the eight children present exchanged ideas with their teachers and peers. Jo had planned a lovely workshop: to make a clay coin with a self-portrait on one side and an image linked to the child's identity on the other; something that reflected what they enjoyed doing, something special to them. The children drew into polystyrene blocks to make a mould and pressed a ball of clay between the two blocks. As the mould was carefully removed and the impressions in the clay were revealed, the children were genuinely awe-struck by what they had created. It was here that they really began to use and develop their language as they freely talked about themselves to one another and to their teachers and the gallery staff.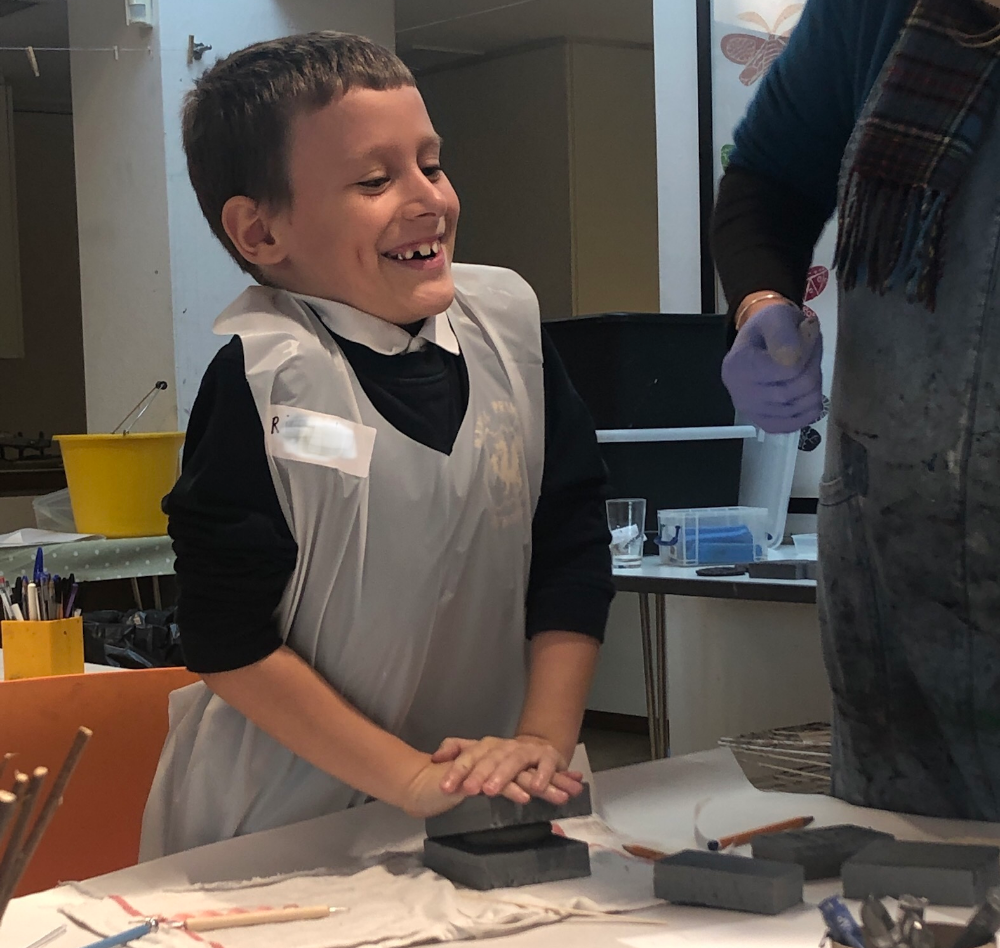 When LC2 arrived for the afternoon workshop, it was clear from the outset that the children had made great strides in their acquisition of receptive and expressive language. Having experienced three more years of the Language Centre programme than their younger peers, these older children were clamouring to contribute to gallery discussions - it was an uplifting testimony to the success of their adapted curriculum.
In our first feedback session with Kate back at school, we agreed that the scope, the theme and practical activities were highly appropriate to the children. We would, however, shorten the gallery introduction for LC1 and extend it for LC2 in response to the older children's increased engagement. There were a lot of new words and ideas introduced both in the gallery session and subsequent workshop. Although we had prepared the children for the visit, we agreed to focus on more intensive and repeated pre-teaching of key vocabulary.
Before our second visit, I prepared a short language building lesson for both classes, with images, words and actions. The children were given the opportunity to 'roll a roller', 'press down', and 'pull apart'. The children looked at portraits of individuals, couples and families. The teachers repeated this with the children twice.
When we returned for our second visit (where we encountered Mrs Elizabeth Moody with her sons Samuel and Thomas), Charlotte gave the children colour wheels as a prop. These were used to explain how complementary colours sit well together, and how they can, therefore, be used to communicate a harmonious human relationship. The children held onto this idea in the workshop, where they chose colours not for traditional representational purposes, but to evoke feelings and memories about those they love. The experience at the gallery was certainly enriching the children's speech and language skills - in particular, their attention and listening, understanding words, building sentences, choosing how to express their thoughts. But they were also learning another language, the language of art; reading images, expressing themselves through colour, line and form, conveying emotions. This is not an alternative to developing their oral and written English, but an additional skill; exploring the power of another language - art - which is sometimes the most precise expression of all of our thoughts.
As we walked back through Dulwich Park at the end of the second workshop sessions, Spring was on its way and I was carrying a bag of beautiful mixed media work. Kate, the class teachers and I will now consider how to further refine the program. I have registered for Arts Award training specifically for children with special educational needs. This means that our Language Centre will be able to extend their engagement with art through project work, share their discoveries and receive recognition.
I'll leave the art historians to debate whether art can or can't shock us anymore, and instead make my own assertion: that children will always surprise us and move us with their honesty and the sheer fluidity of their thinking. After Mrs Moody, Charlotte took us to look at Gainsborough's Elizabeth and Mary Linley, a pastoral idyll of two beautiful young women in a woodland setting. One child deduced that they were sisters, but he was quickly contradicted by another: "No, they're wearing dresses, so they must be brothers!" Grayson Perry gets the last laugh.
---
Sue Armitage is currently part of our Cultural Leadership Community - a CPD programme enabling London teachers to take a leading role in cultural education.
Images credit: Wyvil Primary School