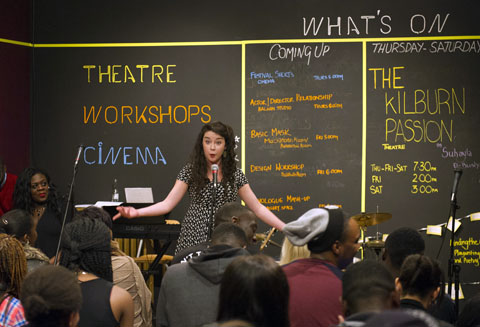 (Image credit: Hannah Cousins)
Early April saw the Tricycle Theatre host our very first Takeover festival, a week of performances and events by young people, for everyone. One month on, we can now catch our breaths and reflect on the success of the Takeover week, and the role our Young Producers played in making so much of it happen. The thing I was most looking forward to was the moment when I could observe the Young Producers watching their events taking place; taking on the role of host and seeing all their work come to fruition.

There have been a lot of 'firsts' with this project:
It's the first time we've organised a Takeover festival celebrating the work of young people and taking over the building.
It's the first time we've recruited a group of Young Producers and the first time we've delivered the Gold Arts Award.
It's one of the first times that young people have listed 'producing' as their new arts practice (Unit 1, Part A of the Gold Arts Award framework), so I've had a lot of support from Trinity (who administer Arts Award) to ensure the criteria fits this project.
We recruited our Young Producers in September 2013 and agreed they would meet once every two weeks at the Tricycle until December and then weekly from January – April 2014. The Takeover was a great success and it's been lovely to see a group of young people engage with the Tricycle in a different way and bring new ideas, work and audiences into the building. However, these young people lead busy lives and have lots of other commitments, and I've found this to be one of the biggest challenges. Whether it's school, university or work, it has been difficult to get everyone along to the weekly meetings and as they were planning the festival together, this has been difficult (and frustrating) at times. The young people's other commitments also meant two of the group had to drop out, so we have four Young Producers completing their Gold Arts Award. The flexible timeframe in which young people can achieve their Arts Award meant that they could fit it round their other commitments such as exams or busy periods at work. The work they had to do for the festival had to be done at a certain time, the other units for the Arts Award can be done at different times, when it suits each individual.

We are looking forward to running the project again next year and continuing to offer the Gold Arts Award. Lessons have been learnt along the way so there is already a lot of planning to make improvements for next year. One thing we will do is to deliver staff training so that Tricycle staff feel confident in working alongside and training the Young Producers and they can work more independently in other departments across the Tricycle.
---
Harrow Arts Centre, Tomorrow's Warriors, Geffrye Museum, Tricycle Theatre, Tiger Monkey and Almeida Theatre are working together to explore innovative ways in which the delivery of Silver and Gold Arts Award can be embedded within the organisations. The programme runs from Sept 2013 to June 2014. The learning from this will be documented and disseminated at the end of the programme. Further information about Arts Award can be found here.
---
Like this blog?
We send out a monthly digest of all our blogs, news and updates - sign up here to receive straight to your inbox - www.anewdirection.org.uk/newsletter
You can also follow us at @A_New_Direction