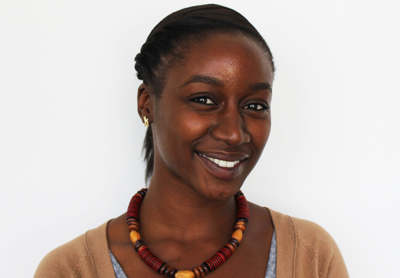 Since I was as young as I can remember I have always had an interest in all things creative, from my healthy obsession with the greatest film musical ever Annie (the original!), to my love for all things Celine Dion…
Since then, my personal and educational journey has been signposted by the desire to be involved in the creative industries.
My secondary school life hugely endorsed this desire. From our annual gym and dance display to our workshop collaborations with Bigga Fish and performances at the Royal Albert Hall, my school environment exposed me to the various 'faces' of the arts and served to reinforce my passion and interest.
I have been fortunate enough to be able to undertake my BA and MA in arts related subjects and personally believe, considering we spend a sizable portion of our lives at work, we should try to aspire to do something we love. Embarking on my MA in Arts Administration and Cultural Policy gave me an understanding of how marketing works, what public policy is and how it affects the local, regional and national arts communities, how economics impact the arts and how an arts organisation is going to budget and balance their books. This all led to a greater understanding of not only the field, but of business and society in general.
So, here I am at A New Direction, seven months into the role of Executive Administrator! I have had to deal with a few frogs of a job before getting here, but all the roles I have previously had have all made it possible for me to do this job well and to recognise what I enjoy doing and for what type of organisation.
Having gained experience as an administrator / assistant in previous roles I had the basic skill set to transfer and build from however, there have a been a few learnings from the past seven months that have been important to my personal career development.
One of the most valuable lessons has been how to employ a methodical approach to my daily work load. The nature of the role of Executive Administrator means that I provide assistance not only to the Senior Management team but also to the wider staff. I am often involved in various projects and tasks simultaneously and so being able to manage my time effectively has proved to be vital.
Another important lesson was recognising the value of building positive relationships with professionals from the wider cultural sector. It is these relationships that allows charities to have a wider reaching impact through collaboration and networking. Which can help projects to flourish regardless of limited funding.
In my younger years, whilst trying to figure out exactly what is was I wanted to make a living from, I feel I would have benefited from appreciating the real importance of getting as much experience as possible in the sector. I did embark on a few internship opportunities whilst studying but underestimated the value of volunteering. As valuable as standard qualifications are in furthering your understanding of a particular field there is no greater experience in my opinion, than actually working in the field even if it is only for one day a week. It's a great way to introduce yourself to your local arts community, to get to know how the organisation operates, and find out if it's a place you want to be. It can really help you narrow down your focus, too. Are you interested in promoting the space, raising money, working with people? Volunteer work can really help you discover what you're good at and what you like to do.
My advice to anyone aiming to pursue a career in the arts is to gain as much experience as possible through education, training and volunteering. Perhaps research short courses that will help you gain an understanding of the field you are interested in whilst volunteering or embarking on an internship.
With the arts and cultural sector continuing to make increasing contributions to our Gross Domestic Product (GDP) there are more courses available than ever before! Alongside this, the cultural sector is beginning to recognise the value of the investment in young people. As I am learning through my time with AND, there certainly needs to be a more consistent approach to paid internship opportunities. The work we do through our Create Jobs programme, is a great example of the ways in which the sector can support young people into finding and accessing careers within the creative industries. Create Jobs focuses on paid internships, apprenticeships and mentoring support for young people in East London; it is this kind of initiative that the sector really needs more of, if we are to harvest and support the talent of young people living in London.
There may be times when you are faced with the disappointment of not landing that role you wanted or struggle to find permanent employment but if you are passionate about the arts and creative industries, you will have enough motivation to keep going until you land the role that is right for you!
---
You can find more information on our Create Jobs programme here

---
Like this blog?
We send out a monthly digest of all our blogs, news and updates - sign up here to receive straight to your inbox - www.anewdirection.org.uk/newsletter
You can also follow us at @A_New_Direction