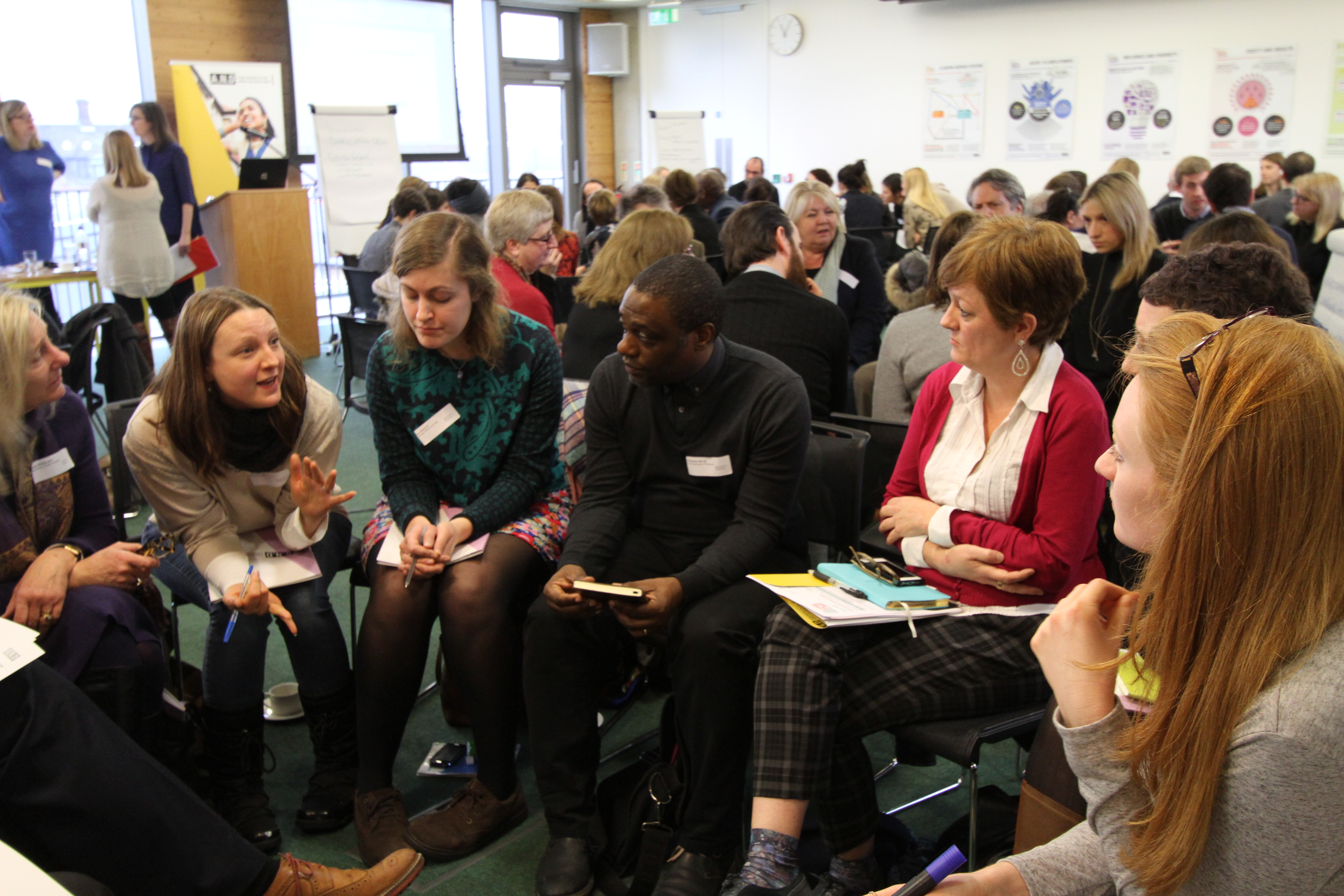 In October 2015, Arts Council England (ACE) alongside the Department for Education launched the Cultural Education Challenge. Focused on ensuring that all young people have access to high quality arts and cultural opportunities, the programme calls for organisations to work together to make this vision a reality in their communities. Establishing Local Cultural Education Partnerships (LCEPs) – strategic groups working for cultural education on a local level - and tools including Artsmark, Arts Award and Quality Principles all form part of the overall strategy.
Between November 2015 and January 2016, AND led three events for partners in London exploring the Challenge and what it could mean for our city. These contributed to a series of events nationally, led in each region by Arts Council England Bridge Organisations. Over 130 people attended the London events representing cultural, heritage, education, youth, public and private organisations. Each session had a different programme but included a chance to hear from senior representatives from ACE, and to discuss the London context, key challenges, and opportunities with peers and colleagues.
Having had time to reflect on the discussions which took place and feedback following the events, we wanted to share some of the talking points and themes which emerged:
1. Understanding need
Every borough and local area in London is different, with its own context and landscape. The key to addressing the Challenge is understanding the needs of our communities – what are the barriers to participation and how can we build on already strong partnership work in our sector to address these?
From our recent research A New Direction has identified six themes significant for young people and the cultural sector in London - these were at the core of AND's own London Cultural Education Challenge launched back in February 2015. Interpreting need on a local level is something some emerging LCEPs in London are thinking about as they begin to plan their partnership structures and next steps.
2. Capturing and sharing successes, challenges and opportunities
Each event included a case study looking at an example of local partnership working. These case studies presented information about the LCEP established in Barking and Dagenham, a recent borough wide consultation and emerging partnership in Croydon, and partnership working at Islington Museum.
These presentations were well received and in their feedback some attendees asked if A New Direction could capture and share more emerging models of LCEPs – specifically to highlight how are they governed and coordinated, who is around the table, what roles individual organisations take, what impact are they seeing from their activity, and how they are sustainable.
We hope to do this over the coming months through Connected London - AND's support programme for LCEPs in the capital. Through this programme we are working with seven emerging and established partnerships across the city. We'll be sharing our learning via our website, as well as via the Connected Network - a group of organisations and individuals interested in this work who come together termly. If you'd like to know more about this group, please contact me.
3. Having the right people around the table
At the first event at the Barbican on 4 November, attendees sat in tables arranged geographically depending on where their organisations are based. Several tables soon talked about other people they'd like to bring into the conversation to contribute certain knowledge, expertise or new ideas. From this it became clear that we need to involve a wide range of people in the conversations about the Challenge to fulfil its ambitions.
One key sector underrepresented at the events was education. We understand daytime events are difficult for teachers to attend and are now working in other ways to ensure schools are at the centre of cultural education development in their area. One example of this is our Cultural Leaders programme which supports teachers in taking leadership roles across London.
4. Keeping talking
By far the most valuable thing people fed back on from the events was the positive networking which took place. Specifically, attendees valued the chance to come together with other organisations from the same area and sector. Several attendees fed back that they would have liked more time to talk in small groups on tables around focused questions, and we've taken that on board for our future event planning.
My overriding impression of the events was the energy and commitment present in the room at each one. 1 in 6 jobs are in the creative and cultural sector in London, and the sector is continuing to flourish. So, there has never been a more important time to make sure that every young Londoner has the opportunity to benefit from the incredible creative assets that our city has to offer. It was an absolute pleasure to be part of conversations at each of the three events.
If you haven't already, please do sign up to our mailing list below - we will be signposting when learning and further resources are available from AND.
If you didn't come to the events and would like to talk more with us, please do get in touch. We'd love to hear from you!