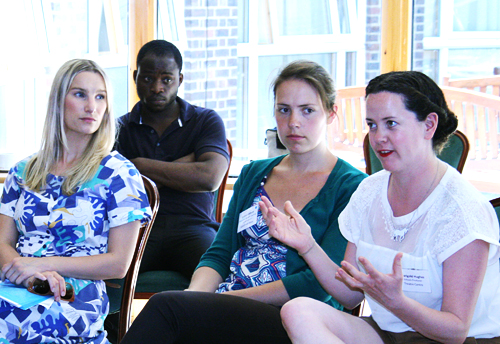 Nearly a year has passed since the first session of A New Direction's Action Learning Programme, in which I was fortunate to participate.
The programme spanned the length of 6 months – and our set continues to meet – and helped us to challenge ourselves as arts educators, cultural leaders and as individuals. It was an energetic, thought provoking endeavour and has left a lasting impression on me.
In addition to the focus on professional development, the sessions were also a platform for a rich exchange of ideas and perspectives on the role of the arts within school environments. These conversations felt urgent and timely at a juncture where the role of arts in education is facing threats on a number of fronts. Our sets provided an opportunity to gather the troops, prepare the battle plan and draw strength from each other.
Drama in secondary schools: its future and our hopes for it
The Theatre Centre's Showcase Performances served as a perfect opportunity to continue these conversations and engage the front line.
As part of the celebrations for our 60th Birthday – we arranged to undertake 5 events – focused around our current production of Advice for the Young at Heart by Roy Williams – across the UK, landing in Plymouth, Burnley, Sheffield, Brighton and Leicester.
In each city, we invited local policymakers, arts managers, teachers, Arts Council representatives and theatre makers to come and watch the production but also to engage in a panel discussion focused on drama in secondary schools: its future and our hopes for it.
As education policy and agendas shift, it's an important time for arts education - particularly the teaching of drama. So it was that at Lipson School in Plymouth, Theatre Centre's Artistic Director Natalie Wilson invited Victoria Allen, the Creative Learning Director of Plymouth Theatre Royal, Lipson Academy Principal Steve Baker and two Year 13 students studying A-Level Drama, Connie and Scarlet, to join her on stage.
Natalie posed the first question of the evening to Mr Baker:
"In the midst of the current governmental pressure to reduce the status of arts subjects, why do you continue to offer GCSE drama and A-Level theatre studies and why is it important for students to be able to study drama?"
Mr Baker spoke about the fact that, whilst the government is allowing academies to set their own curriculum and thereby include drama as a GCSE subject, they are also changing the measures of accountability; drama results are not a quantifiable part of the schools' performance and the results from this subject are set to be excluded from league tables.
The Lipson panellists spoke about the role of drama within the school, not only as an essential method to teach teamwork and communication, but also for "harder" academic values.
Mr Baker cited the necessary skills of analysis and reflection, the understanding of narrative structure – skills usually associated with English, a subject which isn't considered under threat.
He values the subject so highly that - after pausing to look out into the audience and individually name some of the students who are benefiting from pursuing it as a course of study - he stated that he is perfectly prepared to keep it within his portfolio of subjects, even if it means that they the school does not necessarily fare highly in the league tables.
"On the one hand we're free to set our own curriculum, on the other we'll get punished in the performance tables. We've decided to take the hit. We could have forced everyone to take geography and history if we wanted. Sometimes you've just got to take the higher moral ground and do what is right. It will bring our inspection grade down; it will bring our league table position down."
At this point a parent in the interjected to say that Mr Baker had her support, and, in her opinion, the support of many other parents. It's important to note that Ofsted's has previously rated the college as being "outstanding".
Steve Baker continued:
"There are many schools who think they can get by with a music teacher doing a musical, or an English teacher contributing to a bit of drama – I'm not belittling anybody, but it's the drama teachers that have been trained to degree level who've got the knowledge. Drama brings with it a discipline in the written form, in the oral form and in the performance."
Connie and Scarlet spoke eloquently about their right to study the subject that will be the basis of their careers. They discussed the value of the subject as an academic, creative and emotionally enriching course of study and also the fact that they are studying drama alongside their Ebacc subject route.
Both cited Drama as a pivotal influence within their academic and non-academic development.
An ex-Headteacher in the audience noted that in many schools (though not Lipson, for which she commended Mr Baker) only the most academically able students are given the opportunity to pursue arts subjects, after first proving their worth in those subjects held in high esteem by policy makers.
Speaking about the Theatre Royal's relationship with schools, Victoria Allen commented:
"We've had to really look at how we engage with schools because of the changing landscape. There are two things we've done differently: schools are much more individualised, so we've got to spend a lot more time face to face with head teachers to tailor our offer. Secondly, schools have much more power over their own budgets, so we have to be much more enterprising."
That is, they've broadened their offer relevant to make it relevant to other areas of the curriculum, aside from drama. For example, they've used their carpentry workshop to deliver science and mathematics sessions looking at the mechanics of puppetry.
When the discussion was opened to the floor, the ability of drama to educate both academically and emotionally remained central to the debate.
A drama teacher from Heathfields School in Taunton quoted the Dalai Lama as saying that in Western culture the focus is on "educating the mind and not the heart".
The founder of Theatre Centre, Brian Way, famously said the work of the company should "open the doors to the heart, mind and spirit". The study of drama is uniquely placed to develop all three and Theatre Centre continues to produce work with this in mind.
---
A New Direction's Cultural Education Progression Group is a cross sectoral response to the rapidly changing context in which arts and cultural organisations operate. Further information can be found here. We welcome hearing feedback on how arts and cultural organisations are engaging with schools; please make a comment or email us direct if you want to share your work.
Theatre Centre is a professional theatre company and has been touring new plays for young audiences since 1953.Showcase performances and panel discussions are taking place in a total of five schools, in Plymouth, Leicester, Burnley, Hove and Sheffield. Advice for the Young at Heart by Roy Williams is touring nationally to schools and venues until February 16 2013.