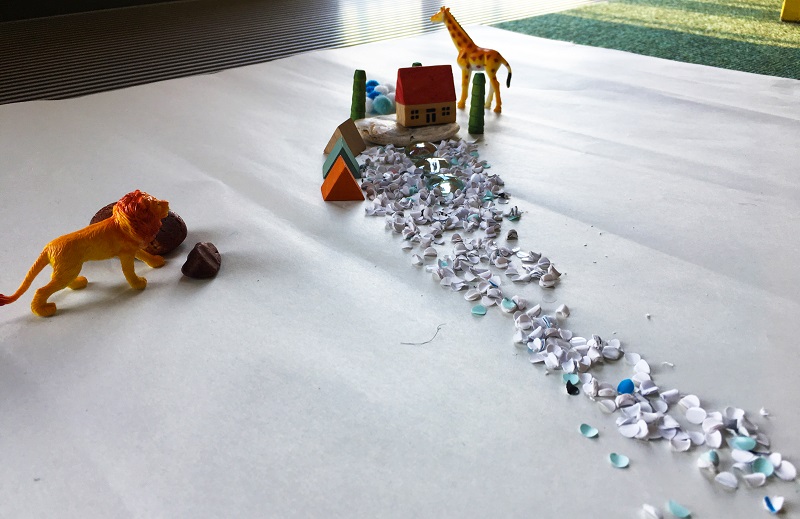 The first INSET session of 2018, led by visual artists Abigail Hunt and Alex McIntyre, was about seeing and re-seeing the possibilities of the everyday as fuel for artistic exploration. Abbie and Alex encouraged the teachers to think again about what they take for granted in their classrooms and schools, and in doing so to open up new horizons for artistic expression.
Responding to feedback from previous INSETs, the morning was focused largely on activities for primary schools and the afternoon was more secondary-focused. Even so, Abbie and Alex designed the day so that teachers working in any school setting could find something of value, whether teachers were looking to further develop existing work or add to their art toolkit. Overall, the aims of the day were to:
Reflect on personal creative experiences and find ways to use and apply this insight

Increase awareness and understanding of the stages of the creative process, particularly the critical voice

Explore everyday objects using drawing processes, installation and sculpture

Play with objects to find new meaning and possibilities

Create artworks and explore artistic language

The morning session began with a silent group drawing exercise, through which Abbie and Alex tried to convey the value of 'changing gears' in delivering art activity, which at primary level in particular can tend to be uniformly noisy. There's a place for loud enthusiasm and sharing, they said, but also for collective contemplation in which communication can happen through the work, not through talking.
Both the morning and afternoon focused on inexpensive and 'found' objects such as paperclips, spools of thread, and ice lolly sticks. Participants were asked to create a sculpture in which they pushed the objects beyond the ordinary perceptions of their use – in other words, to give them a new sense of existence. This activity was a further challenge in that participants weren't allowed to use any fixing agents (e.g., glue, blu-tac, tape).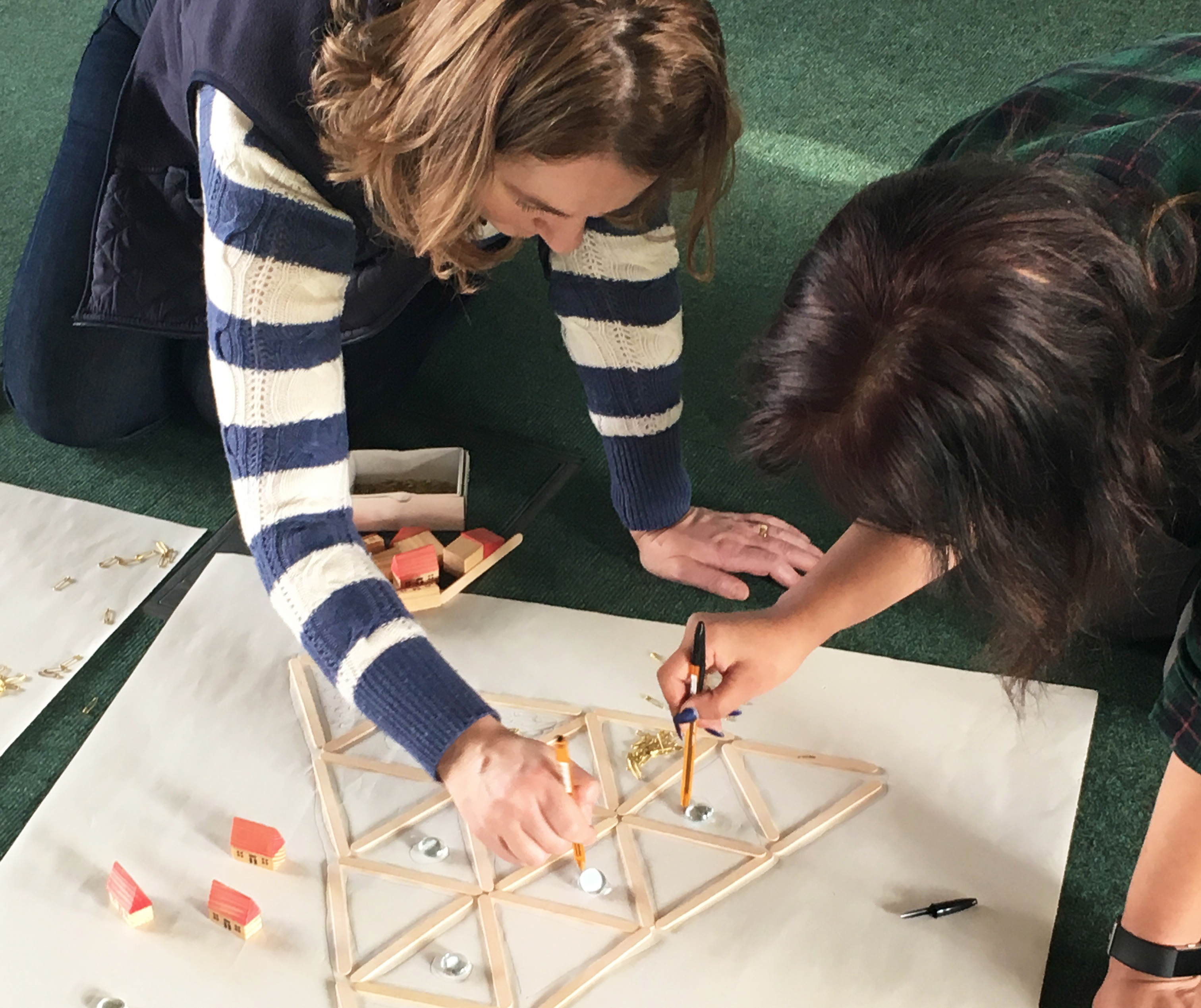 Some teachers said they missed the implied sense of permanence that affixing allowed for. But as Alex put it, ''If I get too attached to something, I will physically destroy it in order to create room for something else. It's a way of not becoming too hung up on the end product and focusing more on what it is I'm wanting to explore and express."
Abbie said she'd used object exercises with children as young as 7 or 8 and also with adults in gallery situations. "As adults we often overthink, but children just go with it," she said. "Where adults can need instruction, often detailed instruction, children see something as a possibility and explore it that way."
The afternoon session began with a drawing activity outside, and then an instruction to turn that drawing into a three-dimensional structure, again with inexpensive and found materials. This combined with the idea of using negative space – the absence of an object, the space it once occupied – as a way of finding new perspective on both the drawings and the objects.
There was an animated discussion about the frustration pupils sometimes feel, whether at primary or secondary, in not completing artworks to the standard they have in mind. Abbie said she felt this was actually an essential discipline for any artist: "to learn from the frustration of imperfection, the inevitable distance between what's in your head and what your hands are able to do."
Teacher feedback focused on how the activities and techniques explored throughout the day could be used broadly in both the classroom and beyond. "The idea of relating objects to events in our lives, as adults, is nice," said one teacher. "I can imagine using that at a staff twilight as a way to bring out interesting perspectives on what's going on in school."
"It'd be fascinating to explore, say, Picasso through objects related to his work or his life," said a secondary school teacher, "so that we're not only working through objects, but thinking through objects." Other teachers were inspired to find ways to sketch historical or literary characters as a way into other topics or to better use their wider school or community as artistic inspiration.
"A lot of teachers aren't confident about teaching art," said a primary school teacher. "It should be like writing, which we do all the time, even though not all of us are necessarily trained as writers. Today shows that art can grow from whatever is around us, and that's a great message to encourage more of it to happen in school."
---
Click here to see all of our upcoming INSET sessions and book your free place.
Pictures credit: Greg Klerkx