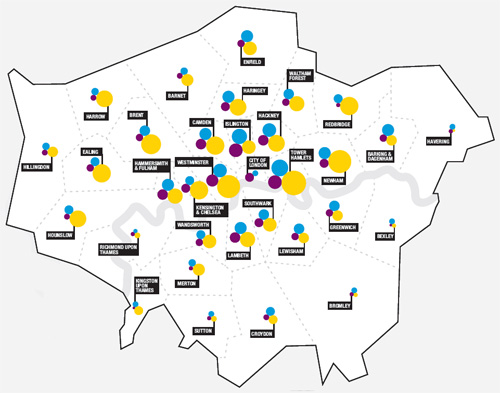 As the capital of the country, London concentrates a broad diversity of communities. This map aims to represent some of the diversity that exists in the different boroughs. In particular it looks at poverty and the amount of pupils registered for free school meals and highlights the complexity of London's cultural diversity by looking at the range of languages pupils speak at home.
Despite London's great wealth (if London was a country it's economy would be the fifteenth largest in the world – twice that of South Africa) more than half the boroughs in London have over the England average for pupils registered for free schools meals and it is not uncommon for boroughs to have double the national rate.

Tower Hamlets, Islington, Westminster, Hammersmith and Fulham and Camden are the boroughs with the highest amount of pupils registered for free school meals. FSM is an important statistic because there is a lot of evidence to show that pupils from poorer background do less well at school and are more likely to be excluded. It is also used to calculate the amount of Pupil premium funding schools can access. In purely statistical terms London's schools are less likely to perform well because of the social make-up of their communities.
However despite this, London schools overall perform well for poorer students as the attainment gap at GCSE for students on free schools is 19% compared to 27% in the rest of the country. Why London schools see to give poorer pupils a better chance than elsewhere in the country? is a key question for education policy makers in London.
London has some of the highest levels of poverty in England, particularly child poverty. 4-10 children live in poverty which is 12% above the national average.
Poverty tends to be concentrated in the inner London boroughs - Tower Hamlets, Islington, Hackney, and Westminster having the highest percentage of children living in poverty – at least over 30%. In Bromley, Richmond upon Thames, Kingston and Sutton the rate is only 15% or less.
Language differences
It is believed that over 300 languages are spoken in London. The GLA data on languages spoken by pupils at home looked at over 100 languages.
According to a 2008 survey the top ten languages spoken in the capital were Bengali, Urdu, Somali, Panjabi, Gujarati, Arabic, Turkish, Tamil, Yoruba and French.

In the boroughs of Tower Hamlets, Newham, Westminster and Brent more than 60% of pupils are speaking another language at home. In Richmond upon Thames, Sutton, Bexley, Bromley and Havering, the rate is less than 20%.
In relation to ethnicity and attainment, Chinese pupils in London achieve a higher percentage of the national benchmark of 5 GCSE grade A-C including English and Maths than any other ethnic group in England.

In an economy that is increasingly global (and eastward looking) London's young and diverse population is a huge strength but it is imperative that some children are not prevented from taking part in this success by the pressures of living in poverty.
To access the full set of infographics click here
Download Economic and Cultural Diversity in London (667.45 kB Pdf)