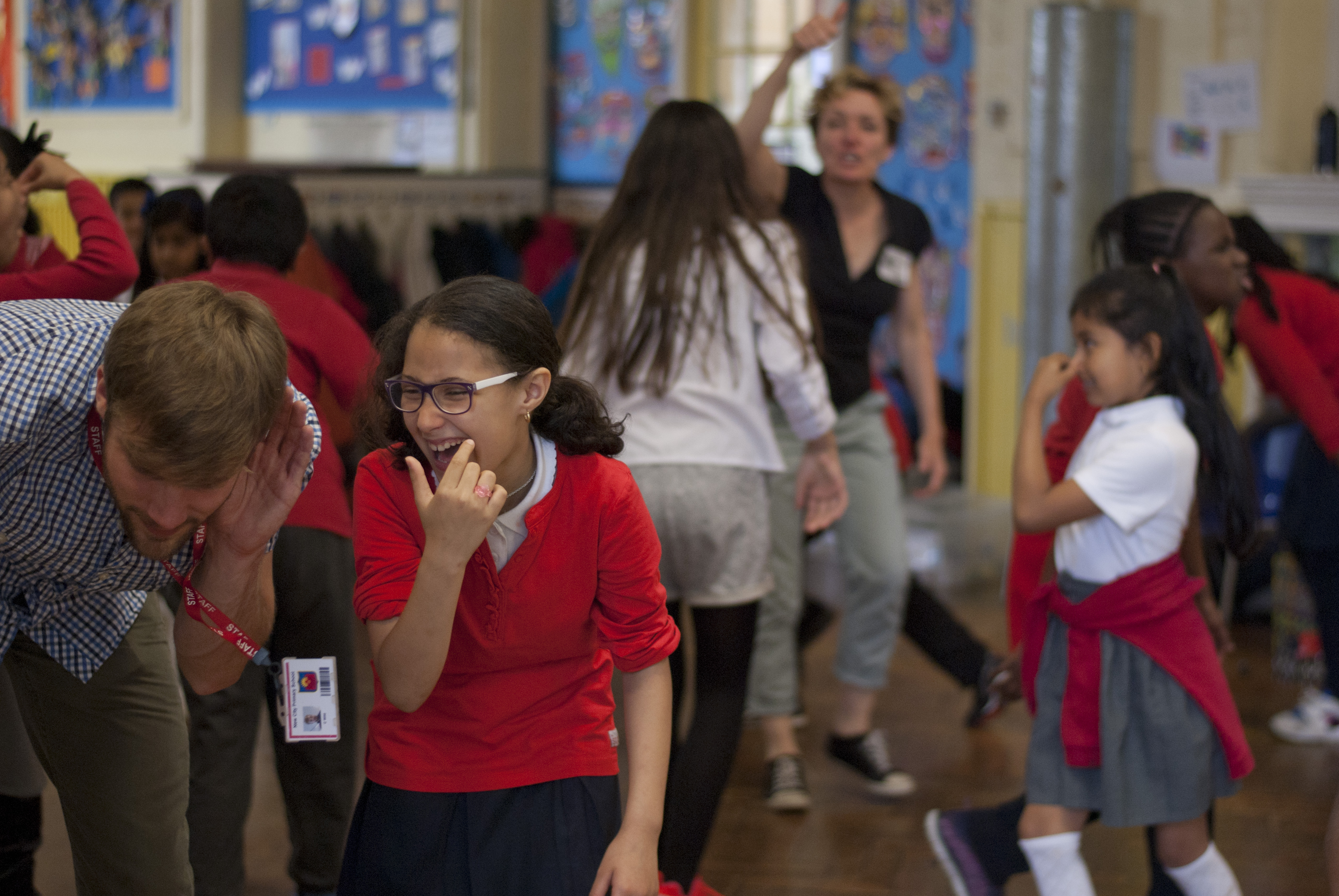 Picture credit: Calise Lewis
For many young people, east London can be a challenging place to grow up, and schools remain a key gateway to arts and culture, particularly for children and young people from less privileged backgrounds.
As home to 100+ arts organisations, east London should be the best place in the country to have a creative education. However, as part of the London Cultural Education Challenge, A New Direction identified that in our current 'super served system' only 23% of London schools interested in doing more with arts and culture report being actively sought out by cultural organisations, resulting in many children and young people missing out.
'Creative Schools' was developed by the East London Cultural Education Partnership, chaired by Barbican Guildhall Creative Learning, in response to this huge untapped demand from schools coupled with the creative, wellbeing and regeneration opportunities transforming East London. By bringing together a critical mass of East London partners, Creative Schools aims to improve the equity and quality of access to East London's incredible arts and cultural offer, through an exciting programme of strategic, joined up action.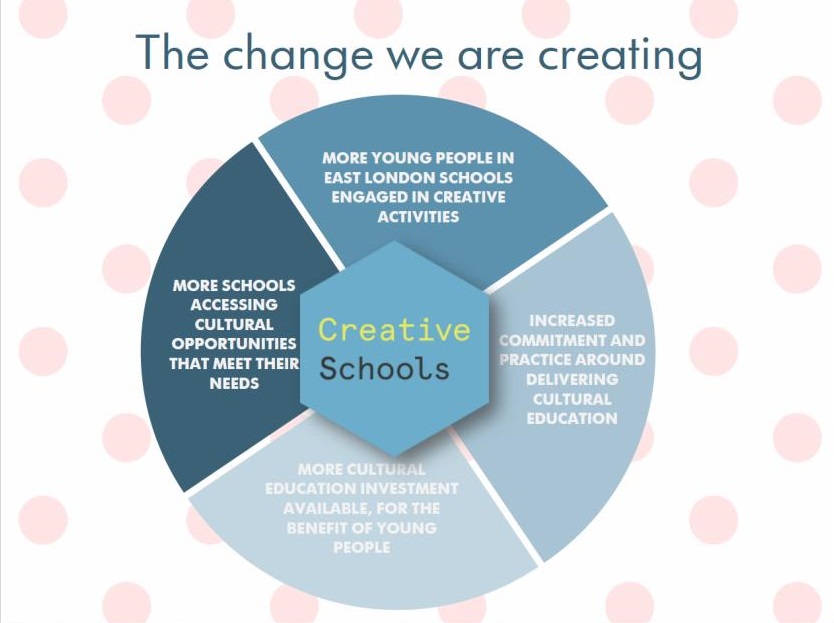 Creative Schools sets out an ambitious programme for delivering our vision across 4 key strands of work:
1. Building new brokerage infrastructure that enables schools to meet their improvement needs through the arts
Our Schools Brokerage service, led by Stratford Circus Arts Centre, is helping to connect schools and arts opportunities differently by looking at school improvement first.
"If you don't have the right links with cultural organisations, you wouldn't know about what they offer"

Teacher, Waltham Forest, 2015
As a Creative Schools Champion, a school receives needs assessment to identify areas of their school improvement plan that can be supported by arts projects. Our needs assessment has been designed to align with the new Artsmark framework and identifies and supports schools on the Artsmark pathway.
School needs can include a range of priorities – a few of the needs identified so far include:
Close the gap of attainment of vulnerable students by improving confidence

Incorporate reciprocal reading (summarising, question generating, clarifying, and predicting)

Up skill teaching staff using arts CP

Enrich children's imagination and experience, targeting pupils from a disadvantaged background.
This year we've been working with schools in Newham and Barking & Dagenham to test and refine our approach - delivering 3 pilot projects and 2 student consultations that have involved 277 young people. We are delighted to be expanding the programme to Redbridge and Islington for the 2016/17 academic year, and will be working with 17 schools across 3 boroughs.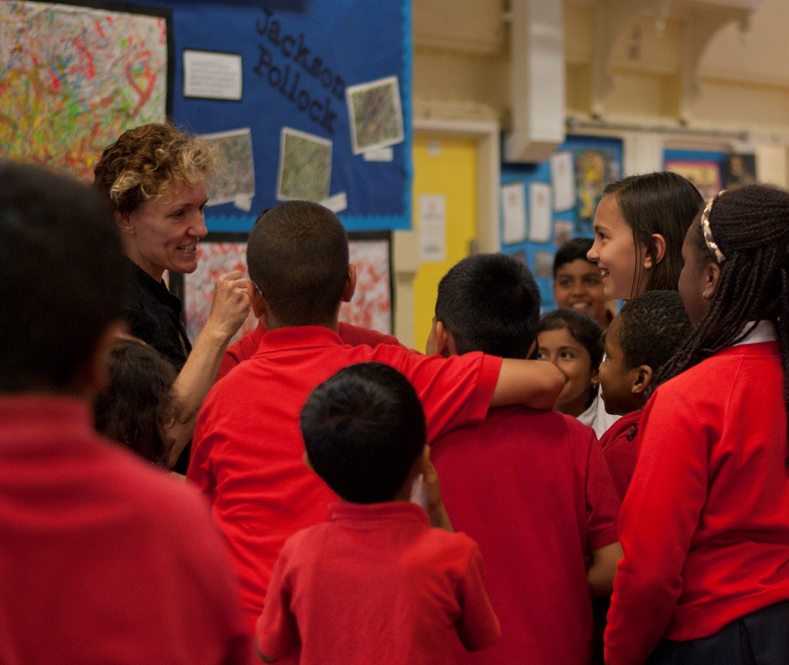 Stratford Circus Arts Centre is working with New City Primary School to support an identified need to inspire creative writing through the arts. The Once Upon A… project, led by Stratford Circus associate Filament Theatre, involves 90 year 4 students. Credit: Calise Lewis
Plans are also underway for our first Creative Schools Symposium, taking place on 7 November at Stratford Circus Arts Centre. Keep up with all the latest developments on the Stratford Arts Centre Blog.
2. Empowering youth voice within the commissioning process through student consultation and leadership opportunities
Sound Connections is leading student consultation sessions as part of the school needs assessment process, exploring what young people see as important to their creative education – including favourite creative subjects, what they learn from these, and what creativity means to them.
Q: Is it important to be able to do creative activities at school?

A: Yes because being creative will help you for learning and your future

Student response during youth voice consultation session

Sound Connections is also leading the training of 6 young co-facilitators to lead student consultations in schools, and form the basis of a youth-led project in 2017.
3. Strengthening practice and maximising efficiencies between organisations through enhanced collaboration and partnership opportunities
Since launching the programme at Redbridge Drama Centre in April 2016, Creative Schools has engaged 100+ organisations through a series of learning events, partnership activities and pilot projects – including 51 schools and 63 arts and strategic partners.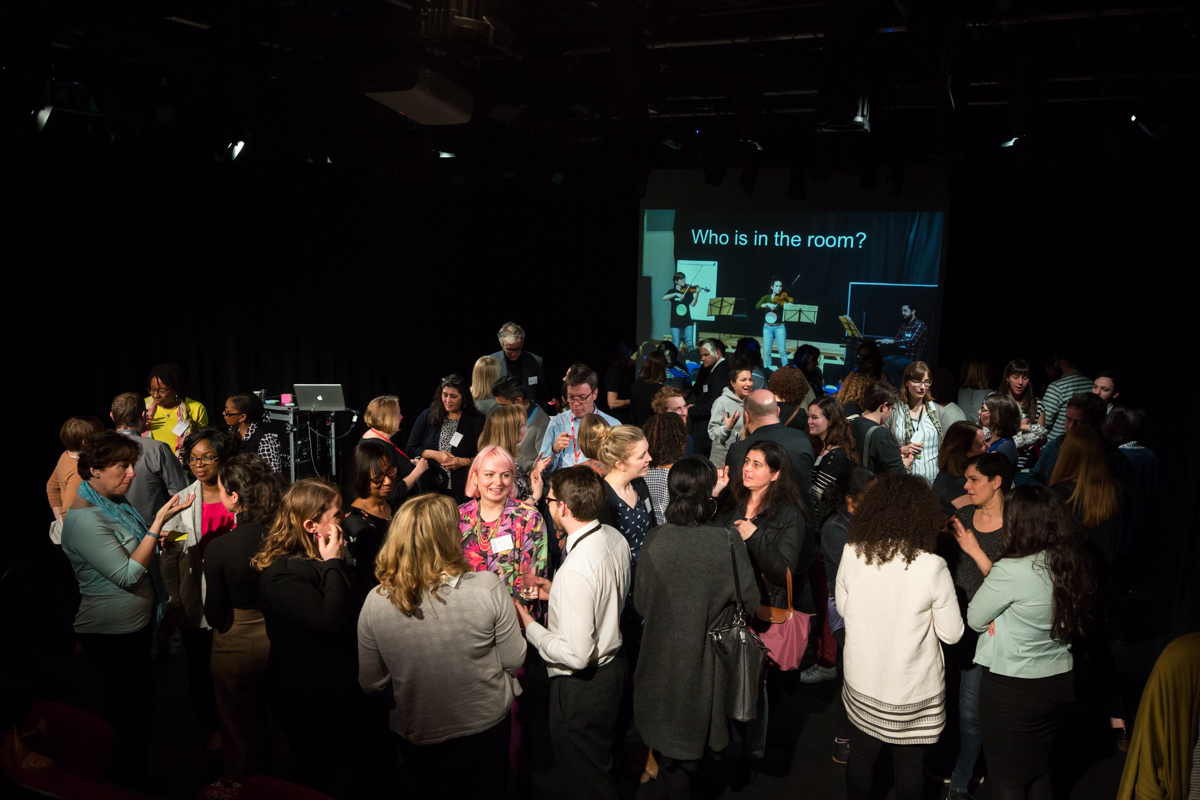 The Creative Schools launch event held at Redbridge Drama Centre in April 2016 brought together 42 cultural organisations and 28 schools from across East London. Credit: Ollie Harrop
Our Collaborative Learning programme, led by People Make it Work, is supporting culture sector professionals to strengthen collaborative practice through structured learning, dialogue and experimentation. Monthly sessions bring Cultural Leaders together to develop new ways to work strategically with each other and with schools.
"I'm excited that we're all coming together to create this exceptional professional development opportunity, and can't wait to get stuck in to some, inspiring, challenging and practical learning with my fellow East London Cultural Leaders…"

Louise Dennison, Serious

Some of the topics we have been exploring together include:
Empowering Youth Voice / Sound Connections

The Choreography of Collaboration / Studio Wayne McGregor

Learning through Innovation / Redbridge Drama Centre

Digital Evolution / Therein Digital Strategists

Developing Shared Vision and Commitment / Theatre Royal Stratford East

Trends and opportunities in cultural education sector funding / Paul Hamlyn Foundation
The two-year curriculum will build on these sessions with structured activities and tailored resources including an upcoming action learning set focusing on engaging School Governors. .
4. Exploring new business models that contribute to long-term investment in cultural education.
A key priority of the Creative Schools programme includes exploring new funding sources and revenue models that will support the scale, growth and reach of the programme in the long term. This includes research into emerging opportunities and drivers linked to the investment and regeneration plans impacting many parts of East London.
Creative Schools has been designed as a membership programme in which all partners contribute towards long term sustainability through annual subscription fees.


Reflections and key learnings from our first year
Establishing distributed ownership and a collaborative approach
It has been critical from the outset of the programme to establish a commitment to collaboration and partnership working by embedding principles of distributed leadership and co-creation within delivery, management, and decision making structures.
A range of organisations have taken on a leadership role within the governance and delivery of Creative Schools including:
Barbican Guildhall Creative Learning, Barking & Dagenham Music Service, Bow Arts, Eastbury Community School , East London Dance, Foundation for Future London, London Borough of Barking & Dagenham (& Cultural Education Partnership), Nelson Primary School, Newham Music, People Make it Work, Rosetta Arts Centre, Sound Connections, and Stratford Circus Arts Centre, Stratford Rising.
Accessing local intelligence
Working in different local contexts has led us to establish core elements of our offer while also developing a tailored approach in each local area to ensure maximum impact of resources.
Testing and refining our approach
Having the responsiveness and flexibility to test and adapt our business model has helped us unlock support and engagement from partners as we pilot new ways of working in partnership.
Want to find out more about Creative Schools? Check out our website www.EastLondonCEP.co.uk, find us on Twitter @EastLondonCEP, or email Victoria.patrick@barbican.org.uk.