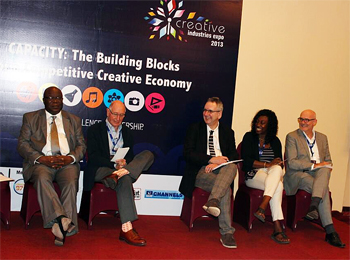 (Images credit: British Council Nigeria)

With recent shocking media coverage of 200 girls and young women kidnapped by Boko Haram – Nigeria has been in the news every day for the last 2 weeks. Despite security challenges posed by the militants in the north east of the country, Nigeria's economy is currently experiencing unprecedented growth and it is predicted that it is the third fastest growing economy in the world. Africa's most populous country with more than 160 million people and whose Gross Domestic Product has grown at an average of 6% since 2006 according to the World Bank.
In November last year I was invited by the British Council to speak at the third Nigerian Creative Industries Expo, in Ikeja, Lagos. The programme was produced by Enterprise Creative and was facilitated by Nkiru Asika, their CEO and founder. Nkiru has a background in publishing, journalism, television production, events, training and marketing communications. She is a leading thinker on the creative economy and the development of creative industries in Nigeria and was an excellent host and compere.
Ojoma Ochai, Assistant Director of the British Council Nigeria, described the purpose of the Expo as to create the opportunity for stakeholders to explore how best to build "the skills, capacity and confidence of talent in the Nigerian creative industries." The conference format involved a combination of British and Nigerian key note presentations and panel discussions.
Tom Fleming has been working with British Council Nigeria on supporting the emerging creative economy for the last 3 years – and he was the person who suggested to British Council I get involved.
Creative Education and Young People
I was given the task of talking about Creative Education and our work at A New Direction. Although delegates were incredibly generous about my presentation I am still not quite sure how relevant my contribution was. I attempted to present the argument that young people are the drivers of any creative economy – as consumers, participants, contributors and future innovators.
Any investment in the capacity of the creative industries sector needs to consider young people as stakeholders in the future – and the pathways and progression routes to engage them ideally need to be constructed and coproduced by them. I am not convinced that the argument was as clear as I wanted it to be - but as with any visit to a new environment it was great to be part of a dynamic conversation.
I'd read about the school system before attending the conference and although accreditation and qualifications are hugely valued by Nigerian people - I didn't fully understand how low status a profession school teaching was until I was in Lagos. My conversations with colleagues revealed the lack of opportunities of the state education system, a restricted curriculum, lack of resources and limited arts and cultural infrastructure.
I hadn't been to Africa for many years; my previous experience was in the mid-nineties on a not very well planned 2 week visit to Senegal with a group of Newham Youth workers. There were many exciting adventures on that trip starting with Peter Gabriel buying a round of drinks on the plane to Dakar, getting caught up in the landing of a fishing boat full of cold and wet young men on a stormy Kafountine beach, to meeting and shaking the hand of one of my favourite singers Youssou N Dour – all slightly exhilarating and probably for another blog somewhere else - but the Creative Expo was my first professional engagement in an African country.
My first impression of Nigeria
I was excited to arrive on Arik Air and on landing I was immediately reminded that Africa is like nowhere else in the world. The energy and life of the continent embraces your every muscle as soon as you arrive – it is a visceral and sensory reaction – dry heat, penetrating light all intensified by the air conditioning not working in the newly refurbished baggage hall. I was met by a colleague from the British Consulate only to wait anxiously for 30 sweaty minutes for my bag to be the last off the plane. After negotiations regarding my Yellow Fever card I left the airport, to be handed over to the British Council, and greeted by a driver and his companion and I was quite shocked to see a rifle in his hand. Nothing quite prepared me for this. I had signed a risk assessment, taken out additional insurance, read information about the possible threat of kidnapping but I was not prepared for the cautionary measure of an armed guard. From this point on there was no way I would be able to leave the compound of the Sheraton Hotel without a driver and my new friend and his gun. Any freedom to explore the place was now removed which informed how I engaged and experienced Nigeria..
The first thing to hit me about Lagos was the size of the city and its lack of infrastructure. A three mile journey to the Hotel (from the Airport) took an hour and thirty minutes. It was early afternoon, not even rush hour and I wasn't travelling across one of Lagos' three bridges with their huge traffic jams. Getting across Lagos by car is one of the key challenges of living in the city. Rush hour can last for 5 hours. It's hard to imagine navigating this every day. In London we moan about the tube, the buses and the overground – yet the cost of getting around the city and this infrastructure is in place. I think we Londoners take our public transport system for granted!
In my limited time in the city I saw very little public space. There didn't seem to be any concept of public space. No places in between buildings, no roundabouts, no green spaces for kids to play on – hugely naive of me to think there might be any –but I had no real sense of streets. Houses all seemed to be based in compounds with high fences and gates. After the conference we managed to persuade our driver to take us to a bar to hear some music – we went to a gallery bar called Bogobiri – where most of the conference delegates were hanging out and saw and listened to a great group of musicians. It was so good be somewhere else.



Highlights from the Nigerian Creative Industries Expo
Back to the conference - the content of the 2 days was great. Inspiring speakers from TV and fashion included Mo Abudu CEO of Inspire Africa and Ebony Life TV and Folake Folarin Coker from Tiffany Amber.
I was particularly impressed with the clarity and passion of Jason Njoku, CEO of Iroko Partners. This British born selfconfessed computer geek was a strong presenter and has built a successful business portfolio by streaming Nollywood movies on line attracting in excess of 2 million viewers. What excited me was his vision and fearlessness as an investor to support emerging young internet companies, as part of his company Spark:
"We are not a fund and we are not an incubator; we are a company that builds companies. We focus on Lagos, Nigeria as the gateway to Africa. We focus on well defined and scalable revenue models."
All of the companies Jason was supporting although not necessarily creative industry organisations were focussed on making life easier for Nigerians – and were in place to address a need or to make life a little less complicated. Examples included: http://www.bus.com.ng,http://www.tolet.com.ng,and http://www.hotels.ng.
Other Brits who contributed were Yemisi Mokuolu independent producer and consultant and Robin Auld from CC Skills. Much of what they talked about was transferable to the Nigeria context, Apprentices, new models of work related learning in the creative industries and the value of networks and partnership.
Whilst I was in Lagos all the Universities in Nigeria were closed. On the plane out the lady sat next to me told me about her nephew and how his engineering education was currently on hold. All lecturers were on strike and had been for a number of months which meant that all students were at home. Many attended the Creativity Expo and there were a host of distinguished professors speaking and contributing, including: Professor Oye Idiapo-Obe OFR, Vice Chancellor, Federal University Ndufu-Alike Ikwo, Professor Emevwo Biakolo, Dean, School of Media and Communications, Pan Atlantic University and Professor Emman Danduram President International Theatre Institute, Nigeria. Although not a speaker Ejemen Ojeabulu, Project Coordinator of the African University of the Creative Arts, a new yet to be built university - made her presence felt by asking each of the various speakers challenging questions – she was known at the conference as the lady in red – because of her stunning red dress.
The presentation that really "wowed" me was from Professor Robin Baker. His story of Ravensbourne (formerly Bromley Technical College originally located in Chislehurst) and its move to a new purpose-built campus on the Greenwich Peninsula in September 2010 with a shift in focus and emphasis to digital and partnership with industry was truly inspiring. He was not only a charismatic speaker but his clarity of Ravensbourne's ethos; values and offer were both seductive and enticing. He has recently announced his retirement but I am sure the spirit of the man will permeate through the walls of Ravensbourne for years to come.
Nigeria regained democracy in 1999 ending almost 33 years of military rule. This change and transition must surely have had an impact on its people. Nigeria is a emerging successful African economy, (beyond oil) experiencing extraordinary population growth with huge challenges and inequalities, including creating a state education system that is fit for purpose for the 21st century.
The generation of young entrepreneurs at the Creativity Expo have lived only through 15 years of democracy and without belittling the massive weight of Nigeria tradition and heritage there was a feeling of a "newness" and optimism in the room about what their country could be. I was struck by a group of people gathering to understand and build an awareness of who they are – what could be collectively possible - who they might become and what place in the world is theirs for the asking and taking. Throughout the Expo many individuals came up to me and asked how cultural education could build a new understanding of Nigerian young people's heritage and culture. So maybe my presentation did strike a chord – and there was a value to my contribution.
'There's a huge potential for the Nigerian creative economy'
Three Nigerian women have worked for A New Direction since 2008 and have all actively engaged in building the organisation. Without meaning to generalise or sentimentalise – there is energy drive – a get up and go - and a life force to Nigerian people and I felt that energy at the Creativity Expo. The room was full of young dynamic driven ambitious people wanting to build their creative businesses - many of which were focussed on socially engaged outcomes.
The population in Africa has grown rapidly over the last 40 years. It has an incredibly young population, with more than half of the populace under 25 in some states. At the Expo I was to learn that 65% of the African continent's population are under the age of 35. Nigeria is set for one of the biggest population booms in world history and it's expected to increase by a factor of eight in just two or three generations. This is massive growth. I believe young people create disruption (in a good and positive way) and disruption can be creative or can lead to creative outcomes. Disruption and creativity – with a plan - can cause change and make change happen.
Based on my limited experience at the Expo there was plenty of creativity and disruption in Lagos – and I would say there is huge potential for the Nigerian creative economy and it was a pleasure and a real privilege to have been part of this.
---
Like this blog?
We send out a monthly digest of all our blogs, news and updates - sign up here to receive straight to your inbox - www.anewdirection.org.uk/newsletter
You can also follow us at @A_New_Direction