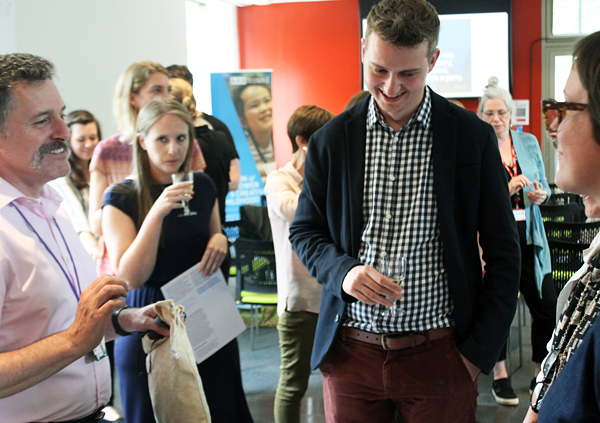 On Monday 4th July members of our SEN network came together with representatives from the cultural sector for an afternoon of presentations, activities and... jam! This was a chance for members of the network to showcase all of the fantastic work they had been doing throughout the academic year, and also for cultural sector to hear first hand how their organisations can make more of their connections to support SEN teachers and students.
The afternoon began with a presentation by Paula Manning on her research into best cultural education practice in the SEN sector - highlighting areas where schools and culture can work together to build on and celebrate the innovative and inspiring work that is already taking place. She stressed that greater collaboration is needed, and often inclusion can actually feel more like exclusion for students. She illustrated this with a story of how she'd taken a class of SEN students to the theatre, but that the trip was ruined for the students when they were segregated in a box which the theatre had generously provided for them. You can read the executive summary of Paula's research here.
Ryan McClelland from The Bridge School then revealed his innovative plan to turn his school's art room into 'The Factory' for the duration of the next academic year. Starting with a traditional manufacturing process, he explained that students will make one component piece of an artwork in groups, and then be encouraged to revolt and overthrow The Factory, culminating in a celebration of their work at the end project. It's safe to say everyone unanimously loved the idea!
St Giles's school representatives Paul Pearce and Victoria McGlaughlin then introduced the exciting and inclusive event they coordinated to celebrate the Queen's 90th - featuring some brilliant photos of students dressed up in their finest queen costumes.
The room then heard from Lucy Pook, Art Teacher at Richard Cloudesley School. Lucy's presentation focussed on how her students were engaged by the scale and transience of Land Art.
Following the presentations, our guests had time to mingle and meet with other teachers from the network. Jonathan Cassels from Jack Tizard got people involved in an on the spot photo montage, Victoria Bower from The Holmewood School and Kat Durrant from Spa School displayed photos and stories of their students, Beata Chryszczanowicz from The Sybil Elgar School had a collection of mosaics and art, while David Nelson from Linden Lodge demonstrated a sensory activity with everyone delving their hands, blindfolded, into trays of jam (pictured).
A New Direction's Chief Executive, Steve Moffitt, and Jasmine Wilson, Director of Creative Learning at Studio Wayne McGregor, then wrapped up the event with a brief introduction to where we will be going next with the network, linking into the Tate Exchange partnership. More info on this soon...
We would like to say a massive thank you to this year's cohort of teachers for their continued enthusiasm and invaluable input into the research. If you would be interested in joining the 2016-17 SEN Network please email schools@anewdirection.org.uk.

"... an excellent source of networking opportunities for someone working in quite an isolated solo arts role within an SEN school. By taking part in the research project I was able to focus my investigations into differentiated arts learning in a really unique way, sharing and learning from good practice delivered by other facilitators. It was a really relaxed environment which allowed for open and honest questioning and fluid in it's arrangements that allowed our research to adapt and change as we developed both our arts practice and pedagogy"

Lucy Pook - Richard Cloudesley School
"... very useful in sharing resources, opportunities and ideas that I wouldn't otherwise have know about. The sharing event was fascinating, informative and inspiring. It's extremely useful to see what is going on in other schools and share best practice. I'm looking forward to discovering what the next year holds for the group."

Victoria Bower - The Holmewood School