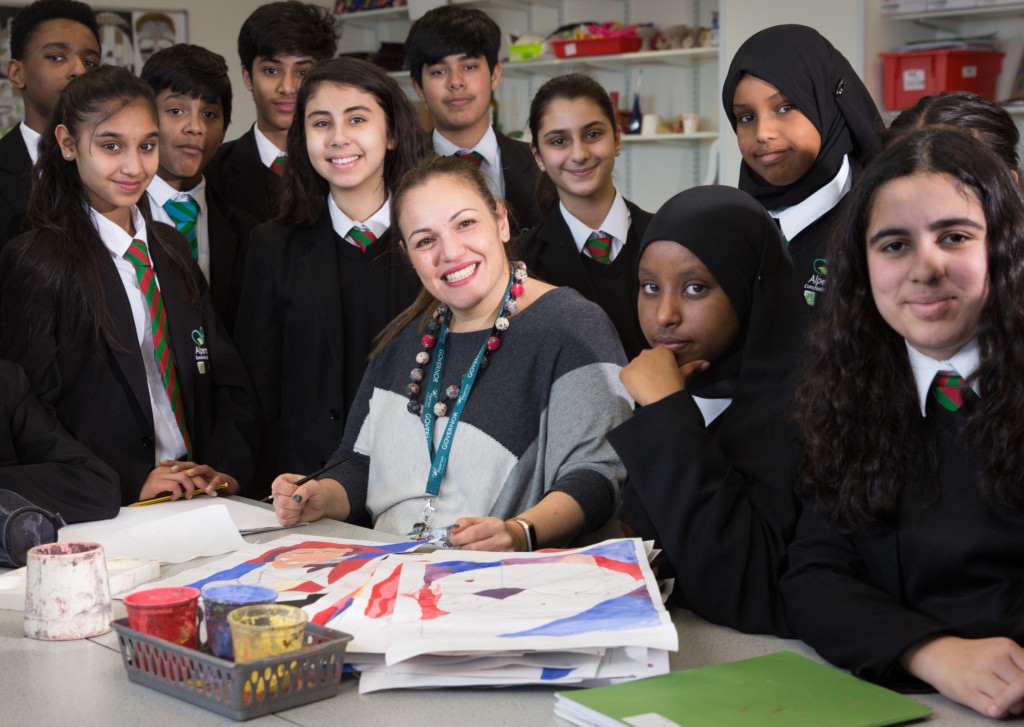 Andria reminded me why I got into teaching and what I stand for, helping children to be the best that they can be and make the most of their unrest.
This is a quote from a Headteacher who attended a recent breakfast hosted by A New Direction focusing on the new Ofsted inspection framework, at which Andria Zafirakou gave a keynote speech. Over the last few months, I have had the privilege of getting to know Andria - the Varkey Foundation Global Teacher of the Year.
I'd heard about Andria when she won and the prize – there was a flurry of press about her achieving her new status, and I'd seen numerous articles about her in the Evening Standard. A New Direction had even worked with her school, Alperton Community School, as part of the Creative Partnerships initiative - but I'd never met her or seen her speak. We had our first meeting in January, principally for me to introduce A New Direction and our work, but also to offer advice and support for the emerging plans for her charity Artists in Residence (AiR). It didn't take long for Andria to weave her magic and for me to be totally immersed in her positivity, passion and view of the world. I have since started to get to know and become a real supporter and advocate for her work, her thoughts, her energy and her views - particularly at this pivotal moment in her life and career.
The Varkey Foundation is a charity focused on improving the standards of education for underprivileged children. Created in 2010 by businessman Sunny Varkey, the founder and chairman of GEMS Education (55 schools across 3 countries), the foundation's focus is on improving global teacher capacity by training tens of thousands of teachers and principals in developing countries; providing access to education via a variety of programmes and projects; advocating for change and conducting research that can help develop, education policies worldwide. The Global Teacher of the Year is awarded to a teacher who has made an outstanding contribution to the profession.
This annual prize was launched in March 2014 to highlight and celebrate the profession, while giving greater recognition to the work of teachers all over the world. There have been 3 previous winners, with Andria being the most recent in 2018. An Arts and Textiles teacher in Brent, Andria was born in north-west London to Greek-Cypriot parents, and went to school in Westminster and Camden. She worked as a textile designer prior to undertaking her PGCE qualification and has since taught for 13 years at Alperton Community School. She is now Associate Deputy Headteacher, leading on staff professional development, and has set up her own charity, AiR.
Andria sees art as a language-free method of communication. Her art room is a place of safety; a place for young people to explore who they are and what they think about the world; a sanctuary of expression and creativity. Her work and her approach to her work are very much extensions of her personality - always positive, solutions-focused, and finding the best in everything. Working in a complex, economically deprived and challenging part of the city, she has created space for children to work after school, and has introduced classes on wellbeing for staff and students. I sent Andria a few questions via email – she replied on early morning from a rainy South Africa where I imagine she was on one of her many speaking engagements.
Since winning the 2018 Global Teacher prize what have you learned about yourself?
I think the thing I have learned most about myself is I that am not alone in believing that the arts are an integral part of every child's life. Being Global Teacher of the Year has introduced me to a network of people all over the world and I have loved learning and meeting like minded people who are as passionate about the same things that I am passionate about. I have also learned that I do not need as much sleep as I thought I did! There are really not enough hours of the day to get everything done... I thrive on other people's positivity which I get from the feedback and energy from speaking at events.
What has changed in your life?
The direction of my life has changed dramatically. My world was school, home and back to school. My world was small and so was my impact. Now I have a wider audience and a platform, and I know that I have so much more to do, not just in my school but beyond. This is an extraordinary opportunity for me. I have been pushed out of my comfort zone. I have had to be brave and take on new challenges. But I am also so lucky to have had the support I have had and, as a result, it has been worth every minute.
What's the best thing that has happened since you have won?
That is hard to answer. It is impossible to suggest just one. Every day is different. I have met and continue to meet the most amazing people, however I am very proud of the birth of AiR and the impact that it has had in our schools even after a few months.
Where have you been who have you met? Do you have any particular highlights of the last 12 months?
Lewis Hamilton, Alesha Dixon, Melyvn Bragg and HRH Catherine Middleton coming to my school, and seeing the students and staff love every minute.
What have you enjoyed?
Everything - mainly meeting new people who have the same passions as me or are interested in listening to my experiences and views as a teacher.
What has been the biggest challenge?
Not having enough hours in the day to do everything that I want and having to say no to invitations and opportunities as I do not have the time.
What do you think are the biggest challenges for the arts in schools and cultural education generally?
The impact and drive of EBacc and how this has created a perception that the arts are not priority subjects. As a result, our students will be deterred from choosing the arts as they feel that they would not benefit them in the future. However, on the contrary, it has been suggested in a report published by World Economic Forum called Future of Jobs that the skills required in the future are that of creativity, problem solving and critical thinking that are mostly developed in the arts subjects.
What are your longer terms aspirations for AiR?
I want AiR to be the "go to" organisation for helping schools to bring arts and cultural experiences into their settings.
How do you see the organisation growing over the next 10 years?
It is only going to grow and get stronger and become a beacon, a champion.
What do you think is the future of cultural education in England, but more generally across the world?
I am concerned for the UK. With the focus on creativity being the key skills required in the future workplace across the world, how are we going to do this if schools, our curriculums and our governments do not see the arts as a priority?
---
I am a huge fan and I wish Andria every success with the future growth and development of AiR. Within this challenging period for arts and cultural education in England we need new inspirational and aspirational voices – voices based in the classroom, who understand the context and challenges of young people lives, the value of partnership and impact of real-life learning, and who know how to work with and get the best out of professional artists and practitioners.
If you haven't seen Andria speak I suggest you do as soon as you can. She will be delivering the Arts and Media School Islington Trust Lecture on Thursday April 4 at Turle Road, London N4 3LS. The annual lecture brings together educators, innovators, academics and artists, and this year the Trustees are keen to hear Zafirakou discuss the challenges and rewards of creativity in the curriculum with Sean Gregory, Director of Learning and Engagement at the Barbican.
If you would like to find out more about AiR and whether you would like to sign up to participate or support, please visit the website: www.Artistsinresidence.org.uk
Image credit: Brent & Kilburn Times