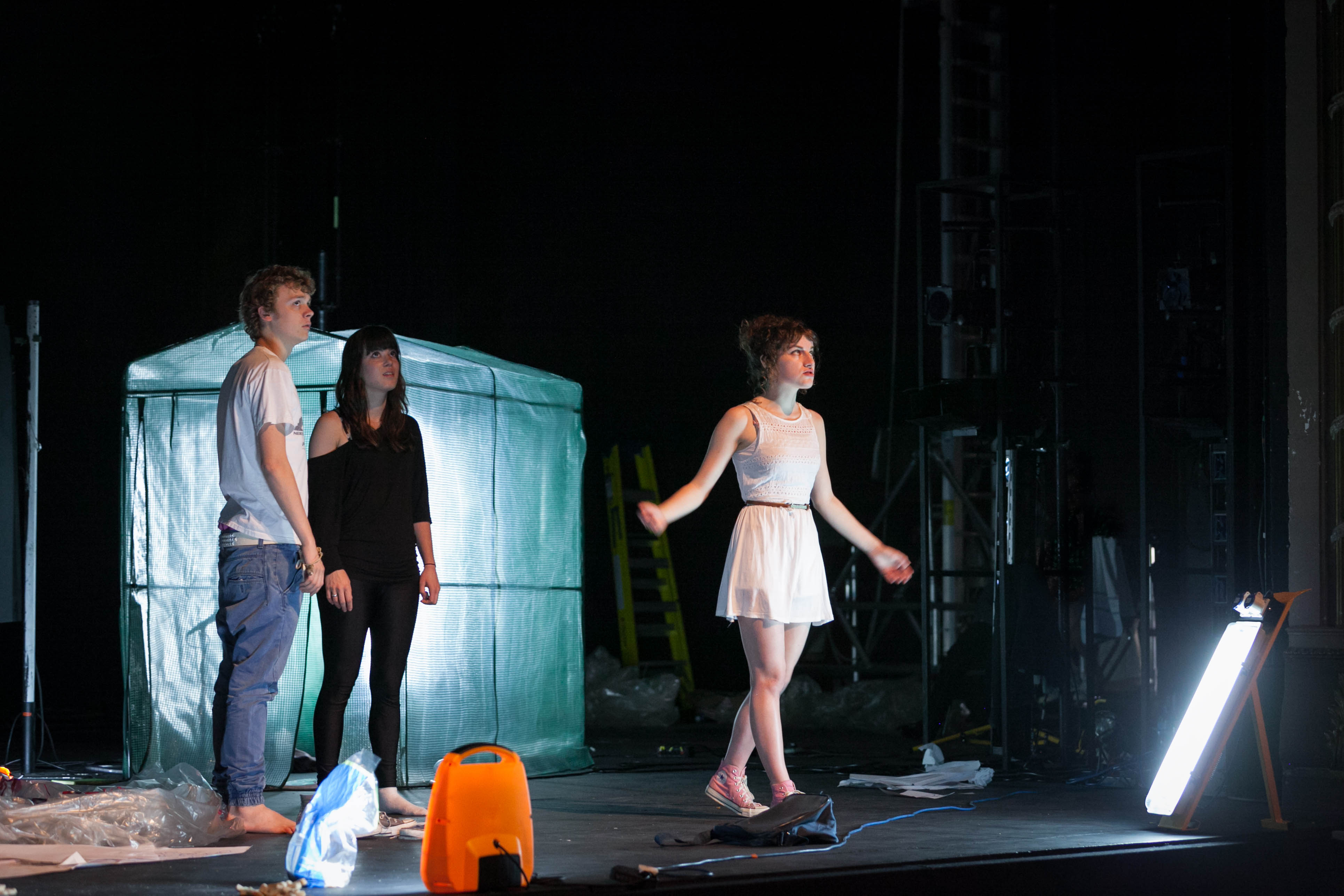 Picture credit: Morning by Simon Stephens - Ted Reilly (Stephen), Joana Nastari (Cat) & Scarlet Billham (Stephanie) - photo by Marc Brenner

I have been involved with helping to deliver the Creative Skills Initiative here at A New Direction since May 2016. It's a great place to work, with a sense of innovation right at the heart of delivering real opportunities for young people to connect with the world of the creative and cultural industries. I've worked in the industry for 20-years now, and if there is one thing that I have learned is that no two days are usually the same – and adaptability along with a willingness to try new things really goes a long way.
Saying that, nothing quite prepared me for the afternoon I spent with Kazzum in June! Under the direction of Artistic Director, Heidi Vaughn, 20 young people from City and Islington College were given the opportunity to workshop, produce and then present a new piece of theatre for children.
Taking the basement of Shoreditch Town Hall as inspiration, the young people worked tirelessly to present a magical underground world, and amongst the brick walls and partial lighting worked together to create a site-specific immersive production aimed at children and family audiences. Titled 'Cliffhanger' they came up with an inventive piece where children were set a mission to find the teddy – surprising the audience with clues and tasks along the way that would release the next riddle.
They worked with a range of different artists who helped to animate their ideas, and gained invaluable experience in understanding all aspects of the production cycle – from concept to delivery, technical to lighting, through to marketing and promotion, and of course performance.
And as a member of audience myself, I can confirm it was a fantastic experience! On that warm June afternoon, I found myself in the basement of the dimly lit town hall basement, and along with other audience members I was given headphones to wear that set down the challenge: to rescue the teddy. We were given riddles, and each task enabled us to release our next challenge, including one where we had to cut our best shapes in a pseudo dance-off. Not quite the day at the office I'd planned!
The production was a tremendous success – fun, full of ideas and technicality. All the participants put so much into this work and achieved Arts Award Bronze as part of the process.
And as an added bonus, I got to dust off my dancing shoes!
See what the participants thought of the experience:
About Kazzum:
Kazzum makes playful work in unusual spaces. The company is interested in theatre – the live experience – which they believe works as well in a festival field as on a traditional stage. In a classroom as well as in a car park. So they approach theatre-making in different ways.
To find out more, head to their website here: www.kazzum.org