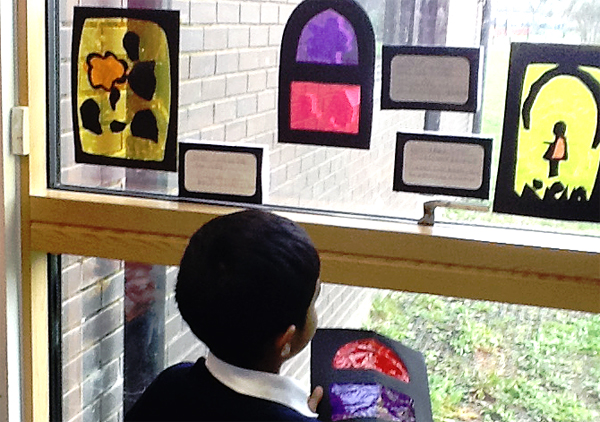 This was part of Museums and Schools, a programme building on some of the key recommendations outlined in the Henley Review of Cultural Education to engage young people with arts and culture. For this particular section of the programme, the Arts Council set ambitious targets for the delivery of Arts Award as an integral part of the visit programme.

What did they do?
Valence House
Valence House is the only surviving manor house in Dagenham. It holds a unique archive with photos, maps and records of the borough.

Their Arts Award programme was designed to give children an insight into the work of a museum curator, alongside arts activities and showcases of their work in a self-curated gallery. Two year-one classes from Five Elms Primary School in Dagenham took part.
The sessions included:
Exploring drama as an art form with the use of costumes and role play

Meeting the curator, Leanne Westwood

Talking about art forms represented in the museum

Curating an exhibition of art works inspired by work at Valence House, and also by a visit to the William Morris Gallery in Walthamstow.
Bruce Castle in Tottenham was also introduced in a second phase.

Bruce Castle
In 1993, a painting of Bruce Castle by the artist Wolridge was found in 37 pieces in the building's attic. Conservator Jim Dimond worked on the piece for over 450 hours, and the restored work now hangs in the museum. This was the inspiration behind their Arts Award project, piloted by two year-four classes from Bruce Grove Primary School.
The children made two visits, with the second focusing on the Arts Award elements. It included:
An artform trail

An interactive game where children explored the role of the conservator
A practical art activity where children created their own interpretation of the restored painting

A structured and facilitated sharing activity where they talked about what they had observed, learned and enjoyed.


What were the successes?
Museum staff and teachers working together from the start to design programme content and agreeing roles and schedules that included planning, delivery and assessment.

Creating an attractive resource that was museum-specific and that showed a clear pathway through the Arts Award elements.

Ensuring all children can access the activities and log book by including many visual prompts, stickers, and opportunities to respond non-verbally.

Organising the session(s) so that the log book or sheet was completed 'as you go'. Don't leave it all until the end.

Scheduling opportunities for sharing along the way e.g. pair work, feedback stickers etc.

Thanks are due to the museums and schools that took part and to bridge organisations and museums in other regions notably Barnsley, Pennine Lancashire and Norfolk and Norwich.

---
For more information on Arts Award click here.