ANDtogether
ANDtogether is a new online platform for London teachers and schools to connect with organisations across London's vibrant arts and cultural sector.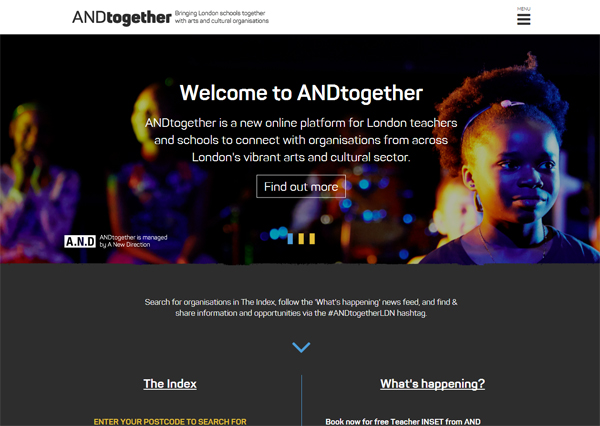 What is ANDtogether?
ANDtogether is a site designed for London teachers to connect more effectively with information and organisations from London's thriving arts and cultural sector.

The site shares opportunities and news via the What's happening? section, the #ANDtogetherLDN hashtag, and The Index, a searchable showcase of around 600 London arts & cultural organisations (and growing).
Go to www.andtogether.london
---
Why the need for ANDtogether?
Schools find it hard to access and explore the breadth of information available about London's cultural offer

Google is too big for time-stretched teachers, who are looking for opportunities or partners, but might not be sure what they're looking for to begin with
ANDtogether aims to give a breadth of information, based on provision London-wide, not just in local areas - although all search results display distance from your postcode location. We urge teachers to look for the more suitable, interesting partners, rather than the closest... and likewise, organisations to go out to schools, particularly in Outer London boroughs
Organisations often market a set offer to a relatively small pool of schools, based on those they have worked with or had contact with before - this perpetuates a 'super-served' system where the same organisations talk to, and end up working with the same schools.
ANDtogether aims to improve communication from both sides, and help open up new opportunities for all young people in London schools.


Find out how to register, edit and update a profile page on the ANDtogether.

Want to try something new? Find new partners? Got an idea for a creative project, but need to find the right partner to held deliver it in your school? Perhaps you're just interested in some quick win cultural visits, performances or creative workshops? Check out ANDtogether now.