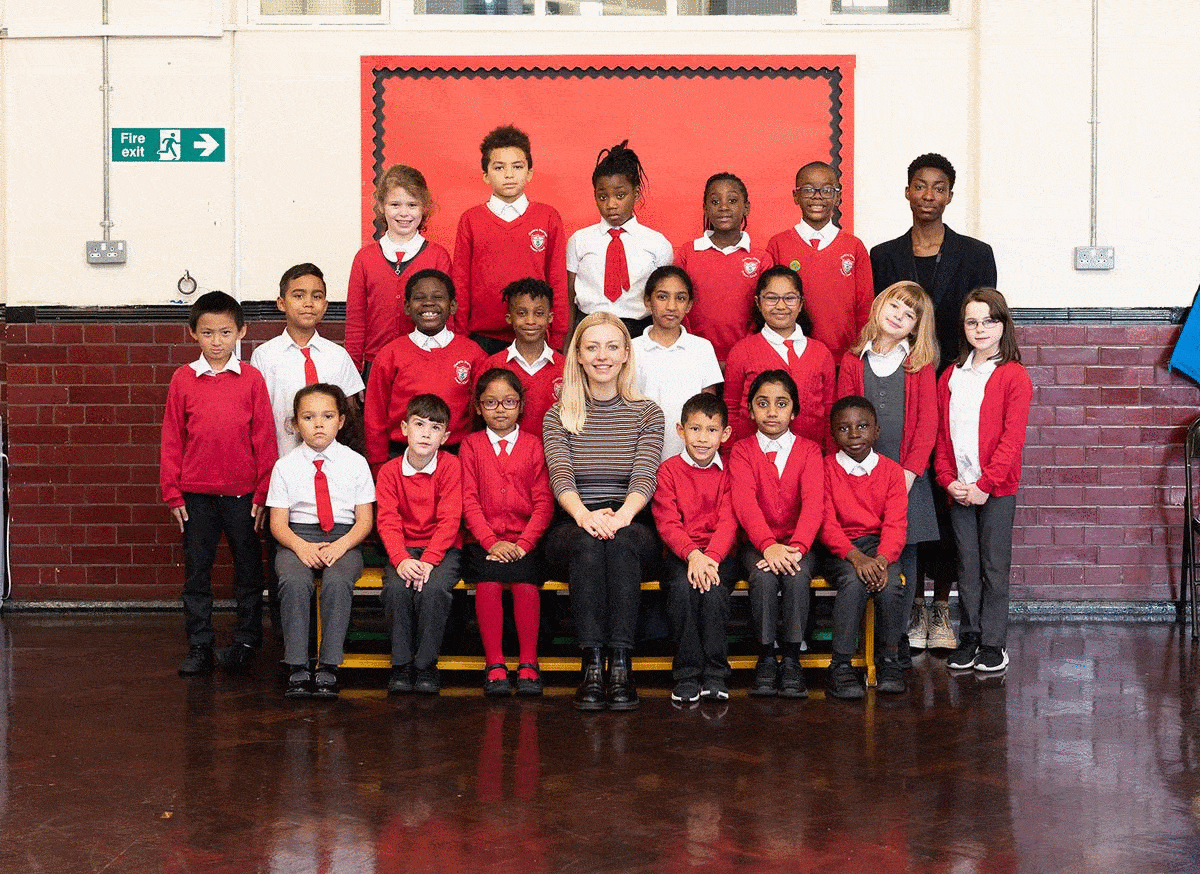 Year 3 Class Photograph. © Steve MᶜQueen and Tate
Steve McQueen Year 3 was a partnership between Tate, Artangel and A New Direction.

About Steve McQueen Year 3
In September 2018, as part of an ambitious project created by London-born Turner Prize-winning artist and Oscar-winning filmmaker Steve McQueen, partners Tate, Artangel and A New Direction invited every primary school in London to be part of a giant collective portrait, capturing tens of thousands of Year 3 schoolchildren in a milestone year in their development. The photos would come together in a major new artwork as an epic picture of the city's present and an intimation of its future.
Year 3 is considered a milestone year in a child's development and sense of identity, when 7 and 8-year-olds become more conscious of a much bigger world beyond their immediate family. Steve McQueen's project captures this moment of excitement, anticipation and hope through the medium of the traditional class photograph, with rows of children sitting or standing alongside their teachers.
Ahead of the opening of Year 3 at Tate Britain on 12 November 2019, class photographs of Year 3 schoolchildren were displayed on over 600 billboards across London's 33 boroughs in a city-wide outdoor exhibition organised by Artangel.

Steve McQueen, Year 3. A partnership between Tate, Artangel and A New Direction. © Steve McQueen & Tate. Courtesy of Artangel. Billboard photographed in situ by Theo Christelis
If you encountered one of the #Year3Project billboards, or have heard about the project via press or social media, you will have heard about us - A New Direction, the creative education specialist organisation that helped engage schools in this monumental and unique project.
---
What role did we play in Year 3?
A New Direction played a key role in the delivery and realisation of Year 3, working alongside our partners Tate and Artangel. We have been instrumental in realising the scale of the project, taking responsibility for engaging schools in photography sessions across all London boroughs.
Our experience, relationships with, and in-depth knowledge of schools across London has been essential to making this project work at scale. We understand how schools work and what they need, and have worked to support them at every point along the way to ensure an exciting, safe, positive learning experience for the schools and pupils taking part.