Brent 2020 Education Programme
A New Direction is leading the education programme for Brent, London Borough of Culture 2020
Over the next two years, we will be working intensively in the borough, collaborating with the Brent 2020 team on a range of creative and cultural education opportunities.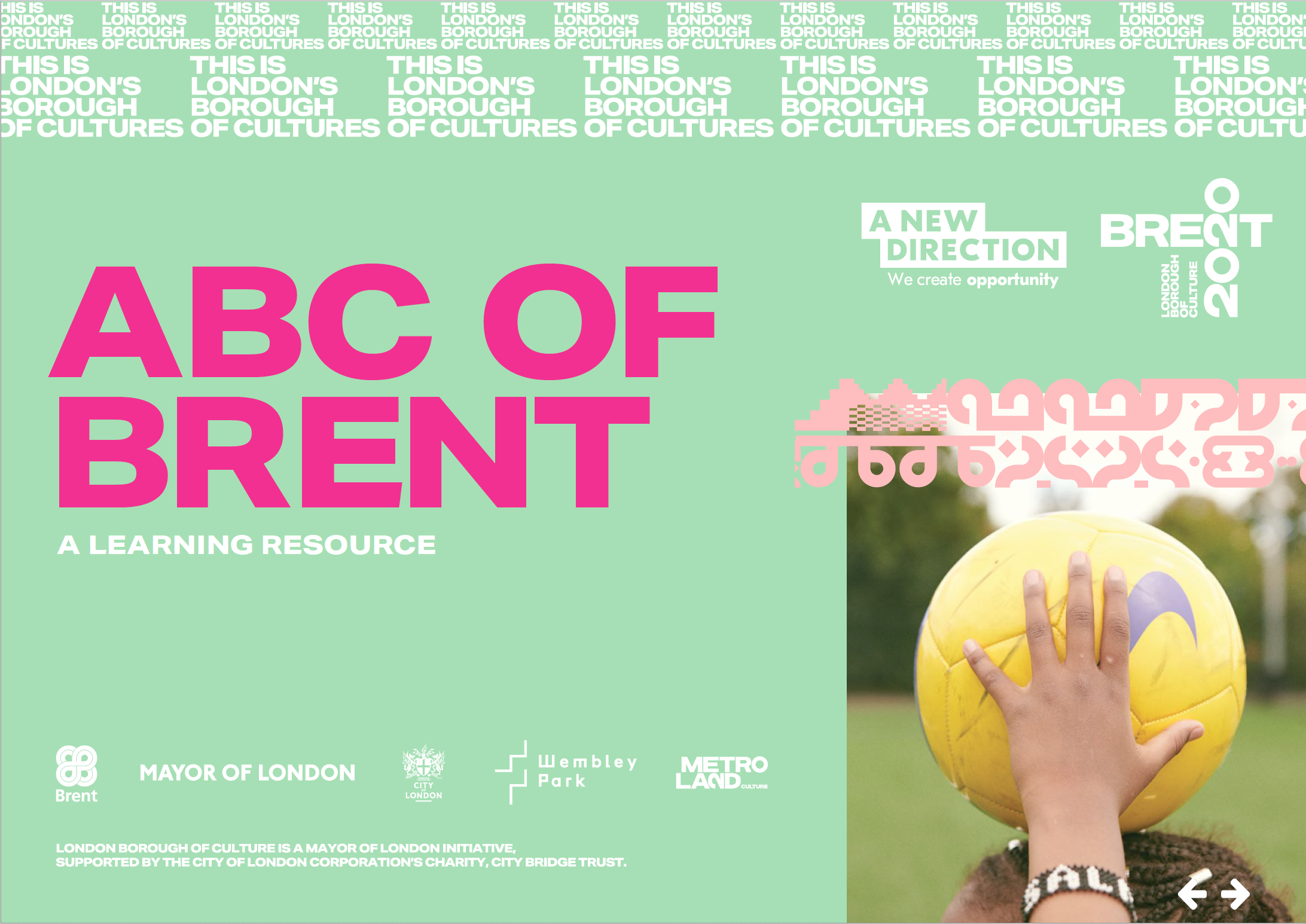 The London Borough of Culture is an initiative launched by the Mayor of London, aiming to bring Londoners of all ages and backgrounds together through culture in the local community. As the London Borough of Culture in 2020, Brent will launch a range of programmes, performances and events exploring life in the borough.
The education strand will link learning with creativity, bringing Brent schools and settings a range of ways to engage with the arts close to home and across the capital, connecting the cultural sector with educators. The year will be full of chances to learn, take part and find ways of working together to make things happen! Book onto one of our free CPD sessions, or download the learning resource.
Ways to get involved
We will be offering the following opportunities to Brent educators and schools:
Brent 2020 learning resources

The ABC of Brent

A New Direction have produced a learning resource in collaboration with the Brent 2020 team and educators from schools and educational settings across Brent. It contains creative activities designed to help educators connect children and young people with their local area, their heritage and their hopes for the future.

---

If you would like to dive deeper into the history of Brent during the London Borough of Culture, visit Brent Museum and Archives' website to find out more about the history of Brent, and access over 20,000 images of Brent via the online catalogue. You can also find details of assembly presentations, workshops and loans box hires to support your London Borough of Culture learning opportunities.

Cultural Connections sessions

A series of events running throughout 2019-2020, bringing together educators, organisations and artists working in Brent.

A space to share ideas, opportunities, network and make things happen!

A series of professional development sessions tailored for groups of Brent educators (Early Years, KS1-2, KS3-4) that will support them to develop age-appropriate and inclusive Brent 2020 opportunities for their children and young people.

As part of the Brent 2020 Education Programme, we are offering bespoke Artsmark Award support for Brent educators. Over the course of the year we will be running a series of Brent Artsmark Surgeries for those schools who have registered.

The next session will take place in Spring 2020 - date TBA.

If you have not yet registered for Artsmark and would like to find out more, please contact us or click here for more information.

Become a Brent Cultural Champion

Our ambition is to have every school and setting in Brent engaged with the London Borough of Culture. To achieve this A New Direction are inviting every school to nominate Cultural Champions.

Cultural Champions will be invited to training, events and to connect with the Cultural Leads in their local hub school. This will ensure they stay up to date with opportunities and that Brent 2020 reaches every child and young person in the borough.