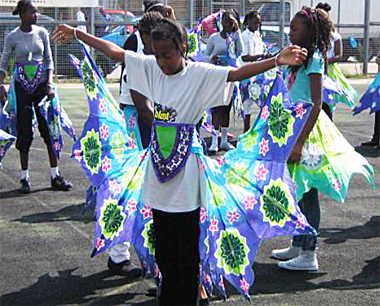 (Image taken from BOP's report below)
In debates about art and culture for and with children and young people we often talk a lot about what the Arts Council would call 'CYP, or GOAL 5' work – that is content / engagement produced by publically funded arts organisations and museums. We also discuss 'cultural education' about the place of art in the school curriculum, creative learning etc. What is often missed-out is a large part of the activity young people actually do – Saturday arts club, Friday night drama class, choir, photography at the youth centre...the list goes on.

It's interesting to consider why a lot of this activity is taken for granted, is it because it is often funded by parents? Is it because it is so diverse, varied in quality and offer, and extensive that there is no coherent way to even talk about it? Or is it simply not considered significant enough to be part of the conversation?
I was pondering this question at the launch of an interesting new report* sponsored by BOP and written by Julian Sefton-Green looking at what they term the creative 'non-formal learning sector'. The authors make a strong plea for the centrality of democratic spaces, like WAC, Paddington Arts, Midi Music - which nurture the creative and artistic interests of a wide variety of young people.
The report also suggests that this sector has been hit hard in recent years as a result of local authority cuts, and that this is starting to have a real impact on the diversity of young people able to make it into work and higher education in the creative industries. Whilst they weren't talking about the totality of youth arts provision they highlighted an important part of the ecology and raise a critical issue for the arts in general – who is getting access to what?
Whilst richer parents may be able to afford to support their children in any creative activity they choose – what is the choice for poorer parents? While many young people will find a route to the arts (and careers in the sector) through school and higher education for many it is the informal sector that will be crucial, how is this being nurtured? What responsibility does the wider arts sector have to ensure thriving youth arts provision?
This part of arts and creative provision for young people is particularly vulnerable to local authority cuts, changes in parent buying power. The lack of regulation also creates opportunities for poor quality or even dangerous providers.
In these challenging economic times we perhaps need to give more thought to that part of our sector that is often central to young people's lives but absent from strategic discussions.
* Download BOP's report below
Download Now we are 10… Supporting Talent into Enterprise (1)
---
Like this blog?
We send out a monthly digest of all our blogs, news and updates - sign up here to receive straight to your inbox - www.anewdirection.org.uk/newsletter
You can also follow us at @A_New_Direction