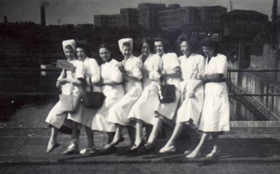 Image Copyright: Eastside Community Heritage
Stratford Explorers is a new project in which primary school pupils in Stratford will investigate changes to the local area since the Second World War. They will find out about the enormous changes in the area, from rebuilding after the Blitz, to the construction of the Olympic site.
Working with Eastside Community Heritage, pupils in Year 4 or Year 5 will learn oral history interview techniques and visit Holden Point Community Scheme and Community Road Community Centre to interview local people about their memories of the area. In workshops with illustrators Mark Long and Mark Oliver, pupils will turn these gathered memories, along with research gathered during visits to the Museum of London in Docklands and the London Transport Museum, into an illustrated heritage map of Stratford which will be distributed to residents and visitors during the Olympics.
Watch this space for details of the launch of the map in July, as well as an exhibition related to the map in September.
This project is funded by the Heritage Lottery Fund, www.hlf.org.uk