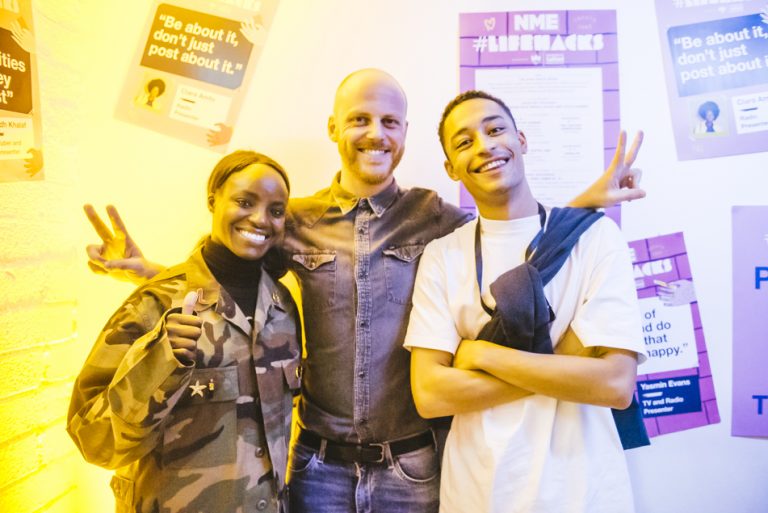 23 November marked the day that everyone at A New Direction had been waiting for, NME #LifeHacks!
After last year's #Lifehacks success, A New Direction's creative employment programme, Create Jobs, got together with NME and University of Salford to put on another day and evening full of activities to help kick-start young people's careers. There were inspirational speakers from the worlds of media, design, fashion, film and music who shared their advice on careers and life in the creative industries, as well as hosting workshops and networking sessions. There was even free food from Sub-Cult and Doughnut Time and free drinks from Ugly Drinks and Karma Kola. Then of course, in true NME fashion, the event culminated in an amazing set from singer/songwriter Tom Grennan.

In the run-up to the event, we once again ran the NME Graphic Design Challenge, with the winner being given the opportunity to create the visuals for the NME #LifeHacks campaign. 10 young designers were shortlisted, 4 from Create Jobs and 6 from the University of Salford. NME's Creative Director, Simon Freeborough, set the brief and worked with the young designers throughout the process to help develop their ideas (click here to see the final designs). Kelly-Marie Roberts, a member of the Create Jobs alumni, was chosen as the winner and her beautiful work was plastered all over the venue!
On the night, keen and passionate young people queued up in the cold to be one of the first 200 to get through the door and get their hands on an exclusive free goody bag (see below).

The event boasted an incredible line-up, and the young people were instantly wowed by the headline speakers: Mercury Prize-nominated musician, Loyle Carner, and Chelsea Women's Footballer, Eniola Aluko, who opened the event and started the discussions.
Attendees could also visit the Hack-Space, complete with a Create Jobs space where young people could sign up to our programmes, meet our Talent Scouts, watch some of our programme videos and even make a badge. The other spaces were occupied by Mission Starts Here, who ran mindfulness workshops, and TRAID who had a screen-printing section and a greenscreen catwalk, as well as a vintage wardrobe to choose from. Amongst the stalls, there was also a #LifeHacks section run by Create Jobs' young people, where attendees could get their Polaroid taken courtesy of Instax and then write their own #LifeHack up on our wall.
Our first panel was 'Effecting Positive Change' with Paula Akpan ('I'm Tired' Project), Paris Lees (trans rights activist), Josie Naughton (Help Refugees) and Alex Manzi (BBC 1Xtra/Dreamer's Disease), which ran alongside The Content Generation workshop put on by advertising and design organisation, D&AD.
Our second panel was 'Skills to Succeed in the Digital Age' with Ibrahim Kamara (GUAP), Niran Vinod (Instagram), Lauren Thomas (General Assembly) and Lyndon Saunders (University of Salford), which also ran simultaneously as the Gamelab workshop ran by University of Salford.
After a short 15-minute break, our main panelists were set to take the stage with the 'What I Wish I Knew at 18' discussion. It included Kanya King MBE (MOBO Awards), Liv Little (gal-dem), Jonathan Badyal (Universal Music UK) and Dr Kirsty Fairclough (University of Salford). The panel was seamlessly woven into Network + Chill which allowed the young attendees and all the event panelists to mingle, talk about mutual passions and, of course, network.
Similar to last year's event, the headline gig was kept a secret until the very end. Everyone grabbed a bite to eat and listened to BBZ's brilliant DJ set before heading up to the gig space to wait in anticipation for the artist to take the stage - the artist being the talented Tom Grennan! The 22-year-old singer-songwriter belted out a number of songs that both soothed and wowed the crowd.
The NME #LifeHacks event sold out again, with over 400 people attending, all 16+. Here's to next year!
Watch a short highlights film on the NME site here.
All pictures taken by Andy Hughes