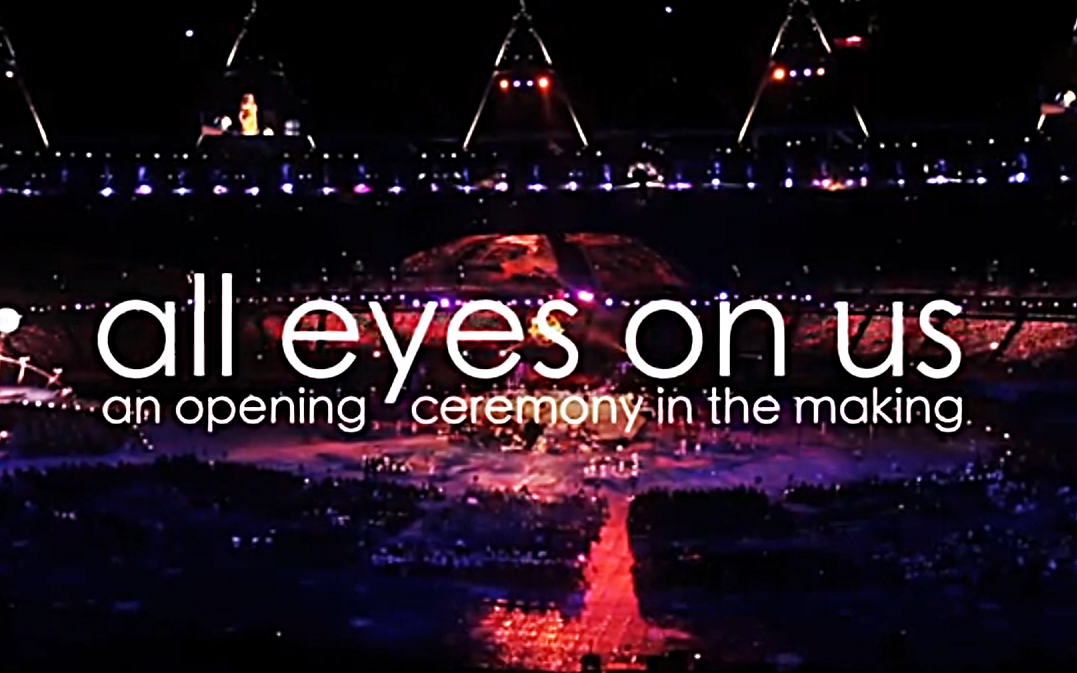 In the spirit of the coming film screenings and photography exhibitions of all eyes on us, we interviewed Artistic Director of Graeae Theatre Company and co-director of the opening ceremony of the Paralympic Games, Jenny Sealey.

You have asked lots of questions around the legacy of the Paralympic Opening Ceremony, particularly around how disabled people are represented in the arts and on TV. What are the outcomes of some of your conversations?

I have been asked to have a one to one with the commissioner of Undateable's and I have had a very positive meeting with Tabitha Jackson at Channel 4 re the need for a whole diversity of representation of Deaf and disabled people across the programming.
We discussed the issue that, TV not only has the social responsibility to inform the politics of what is happening to disabled people re government cuts, but also that Deaf and disabled people are a core part of society so the TV dramas and films should reflect this.
It was a very positive start of what I hope to be a series of conversations which will hopefully lead to more intelligently made documentaries and real inclusion across the programming.

What has really changed? What would you like to have changed?

What I wanted was for my 42 glorious professional cast to be snapped up and working where they rightly belong – with in the arts, TV, film etc etc. I mean why is Nickie Wildin who was our Miranda not inundated with work?
Can I confess I also hoped that it might kick start the possibility of my Reason to be Cheerful cast who did Spasticus Autistics with Orbital going to number one and our production of the same name being on at the West End. A girl can dream!!

I wanted us to continue to be so visible because with the lack of representation it is day to adopt the 'out of sight out of mind' attitude towards us. The Paralympians have more opportunity to be out there thank goodness and will continue to inspire a whole generation of young people of what is possible.
I want the arts to have that same platform and all in all it is what I have been advocating for 25 years and it so often feels like pushing water up hill…. But I like a challenge me!!
It is not all doom and gloom and Arts Council England have announce Unlimited 2 Disability Arts Festival, Graeae is working with 4 major regional reps (New Wolsey, Birmingham Rep, West Yorkshire Playhouse and Nottingham Playhouse) on the Threepenny Opera which will be a glorious ensemble of Deaf, disabled and non disabled artists.
People will be re-visiting the park during the anniversary of the Paralympics - What do you want people to remember?

I want people to remember how fabulous it all was, how celebratory and joyous. Remember how brilliant London was and the spirit and smiles of the volunteers who supported everything was extraordinary.

What relationships has she continued with the cast since the ceremony?

I have kept in touch with most of my professional cast, creative teams and some volunteers.

How did you get to involve Stephen in Graeae?

Bradley asked me to create a new outdoor production based on The Rite of Spring for GDIF 2013. I had the research and development with two of my disabled veterans who were part of the opening ceremony cast and three other disabled veterans. We worked with an artist called Mark Storrer developing a narrative about sacrifice and war.
I then continued to work with the two cast members and bought in Stephen Bunce and 7 other members of the professional cast and created The Limbless Knight – a story of Rights Reignited. Stephen is my Limbless Knight. It is a beautiful aerial piece and because our darling Paul Burns died just before rehearsals the other army boys from the research and development came to my rescue and Paul's story is cemented within the production which is essentially about 'what does it mean to be alive'. It is on at the Queen Elizabeth Park on 7th September 2pm and 5pm.
Why do you think people should see the film? What do you think is the message you want to take away?
The film is for everyone who likes a good story and recognises that the experience of 2012 was a once in a life time thing for each and everyone of us.
The film gives some insight to what it was like behind the scenes and is a very honest portrayal of an extraordinary time.
I just want everyone to see it as IT IS GOOD. It is made by young people who deserve to be applauded for their excellent work. They are the next generation of filmmakers and we need to be encouraging them to take on the world.
For information about upcoming film screenings and photography exhibitions of the film go here