From workshops to courses, events and festivals, young people will have the chance to immerse themselves in the exciting world of arts & culture in London this summer.
Our selection includes:

1) Grand Union Residential Summer School 2015

The Grand Union Summer School is an exciting opportunity to meet and work alongside experienced professional musicians and meet and create with like-minded young musicians and make new friends. The School has extended their application deadline for the course to Friday 3rd July and that those who wish to apply for a bursary can do so until this Friday the 26th June. More information
2) London Youth Choir's Singing Summer School
The summer school will be held on 20 and 21 of July and it will be a unique opportunity for five choirs to meet talented singers from around London, spending time learning new repertoire in different styles, enjoying small group vocal coaching, having fun at special guest workshops and enjoying some social time together. More information

3) Chickenshed summer workshops

The theatre company has a few activities lined-up for this summer. Take your pick!
Space Race Workshops with the Tales team
Dates: Week 1: Mon 27 Jul - Wed 29 Jul
Week 2: Mon 3 Aug – Wed 5 Aug
Times: 10am – 12.30am
For ages: School years 1-6
Price: £50 each week
Description: These half-day workshops will give children an exciting backstage experience. Using music, drama, puppetry, movement and more, come along and create your own stories from the world of Darnaby and his amazing space race. More information
Summer Shed

Dates: Week 1: Mon 27 Jul – Fri 31 Jul
Week 2: Mon 3 Aug – Fri 7 Aug
Times: 10am - 4pm each day
Price: £130 (50% sibling discount)
For ages: 5 – 12yrs (from school year 1)
Description: Participants at this week-long event will explore and develop a wide range of performance skills through workshops that involve drama, dance, singing and story-making. Everyone is welcome regardless of experience. More information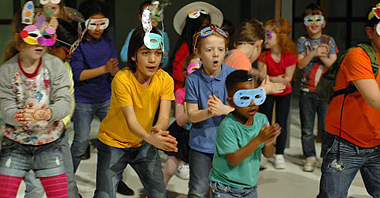 (Image credit: Chickenshed website)
4) Musical theatre courses
Musical theatre and much more!
A series of masterclasses, workshops and drop-in sessions for Londoners aged 11-21 including Musical Theatre. The programme of courses will be running at the Lyric and to take part in these, you must be a member of the Lyric Young Company, which you can join for only £10. More information
Roehampton Summer Skills - The Red Shoes

A week-long residential courses aimed at developing acting, singing and dancing abilities. They are open to anyone aged 11-21 looking to create and perform a brand new musical. More information
5) Holly Lodge's summer Shakespeare Workshop for children

Daily drama workshops, games and art culminating in an outdoor performance. The workshops will take place from the 17th to 21st of August in Highgate and are aimed at kids aged 7-14. For more information, contact Lisa Rose on 0208 617 9679 or email her.
6) Summer Holiday activities at the Stage Talent Academy
There will be loads of fun and exciting holiday clubs for children aged 4-16 years old living in Ickenham. Activities include: Drama, Singing, Dance, Musical Instrumental Play, Group games, Arts and crafts. The activities are taking place at the end of July and beginning of August. More information
7) Young Film Academy courses

The film academy is running a good range of courses from the 20th of July until the 28th of August including Four day film school, Make film in a day and Animation courses. For more information about the academy, please visit their website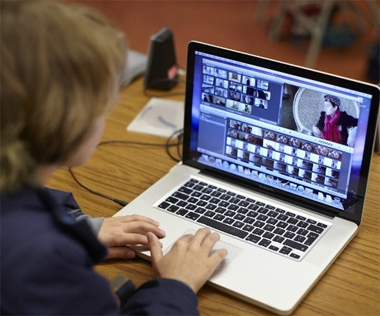 (Image credit: Young Film Academy website)
8) Mousetrap Summer Stage- Performing Arts Summer School

Mousetrap is running two, week long performing arts summer schools for 13 to 17 year olds, particularly to those who have little to no drama experience. Summer Stage is an opportunity to create an original show with theatre, dance and music professionals and to perform in a central London theatre. The week includes a west end theatre trip. More information
9) Screen & Shout: A four day screen-printing course

Create your own designs and print them on clothing that you get to take home or sell in our pop up stall. The course will be run by the Holborn Community Association at the end of August and will take place at the 1A Centre. For more information please contact Teanne or call 1A ARTS on 020 7405 2370 (opt3).
10) Folk music courses at Cecil Sharp House
Fun with Folk
A fun-filled day of folk dance, music and song for children aged 6 – 9 years old. This course is designed to encourage physical confidence and creativity, but most of all to have great fun with folk dance, music and song. Children will be introduced to a variety of traditional dances, songs and music, with previous courses including morris dancing, molly dancing and even broom dancing. More information
Get Your Folk On!

Aged 12-18 and interested in folk music? This course is aimed at young people with varied levels of musical experience, from improvers to advanced players. No previous experience of folk is needed , players of all instruments welcome. More information
There's also a folk course aimed at children aged 9-12. This is an exciting introduction to folk music and dance. More information


(Image credit: Cecil Sharp House website)
11) Siobhan Davies festivals and performances

Next Choreography Festival. Saturday 4 July, 2pm – 8pm.

Siobhan Davies Dance present a new festival co-curated by young artists and choreographers from Next Choreography. The festival explores choreography through live performance, installation, film exhibitions, talks and participatory events including: film screenings, five new works created by Next Choreography participants including performance pieces, an exhibition and a research presentation and much more. More information
Darkened Room. Monday 27 – Friday 31 July. Performance 1st August.

Darkened Room is Siobhan Davies Dance's third summer youth commission, this year in partnership with The Photographers' Gallery. All levels of performers aged 16–21 are invited to work with professional choreographer Frederick Opoku-Addaie to create a new live work that will be performed at The Photographers' Gallery. The piece brings together choreography with the gallery's permanent camera obscura, exploring how a dance work can be viewed in different ways both live on-site and through the lens. More information
12) Animation workshops at Hampton Court Palace

Get animating at one of Hampton Court Palace's hands-on workshops looking at a different technique and a different period of history. The workshops give you the chance to explore the palace, create a short film and learn new skills to use at home. Take your pick from stop-frame, greenscreen, claymation or film titles. The workshops are suitable for 11-14 year olds. More information

13) Kinetica Bloco Summer School
At the school you will learn new skills or develop existing ones and join together with over 100 other young people to play music, steel pan, drum, dance or tricking, make costumes and put together a spectacular show that tours to events like Notting Hill Carnival. More information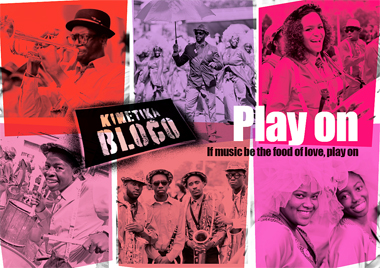 14) Filmmaking workshops at Chocolate Films

Go-pro and Parkour Filmmaking Workshop
Mon 17 - Fri 21 August, 10am - 4.30pm
Watermans Arts Centre, Brentford
Ages 12 - 18
An exciting one week filmmaking workshop using Go-Pro Cameras to film Parkour Artists at work. More information
Documentary Filmmaking Workshop - Nine Elms Past and Present
Mon 3 - Fri 7 August, 10am - 5pm
Chocolate Films, Stockwell
Ages 15 - 24
Work with professional filmmakers from Chocolate Films and learn how to shoot and edit a short documentary using Canon DSLR cameras and Final Cut Pro X for the flagship online web series 1000Londoners.com. Also a chance to gain a Bronze Arts Award. Contact Laura for more information.

Islington Summerversity: 1000 Londoners Documentary Filmmaking Workshop
Monday 17 Aug - Thursday 20 Aug - 10am - 4pm
Friday 21st Aug - 10am - 1pm (half day)
Venue: Platform, Islington
Ages: 15 - 19
If you have ever imagined yourself as a documentary film maker then this is the course for you. You will learn the basics techniques of filmmaking using the latest professional equipment and software and produce two high quality short documentaries on the theme of Islington. The film will be showcased online as part of Chocolate Films' award winning online series 1000londoners.com. Contact Laura for more information.

Creating and Exhibition and Archive- Nine Elms Past and Present
Monday 27th July - Thursday 30th July 10am - 5pm
Chocolate Films, Stockwell
Ages 15 - 24
Design an exhibition for a new collection of archive material with expert advice from Wandsworth Museum. The exhibition will include films, audio recordings, photographs and objects recalling the history of Nine Elms. A great opportunity for anyone with an interest in a career in Museums, Exhibitions or Heritage. Contact Laura for more information.
15) Drawing courses at the Royal Drawing School
The Royal Drawing School is offering one or two week drawing courses for young artists aged 11–15 year olds aimed at helping them develop their skills in a productive studio environment and are taught by professional practicing artists. These courses will run from the studios in Shoreditch and there are limited bursary places available by application, please email Gabrielle Edlin for more information or go here
16) Tate Modern activities

Fresh Perspectives - by and for young people
Every Saturday in August
15.00: Meet on Level 2
Curious to know more about art on display at Tate Modern? Join a free tour led by Tate Collective London to get a new perspective on the Tate collection. Tate Collective London, aged 15 – 25, host a range of free events and festivals for young people to experiment, create and innovate through art and ideas. Tate Collective London is a part of Circuit, led by Tate and funded by the Paul Hamlyn Foundation. More information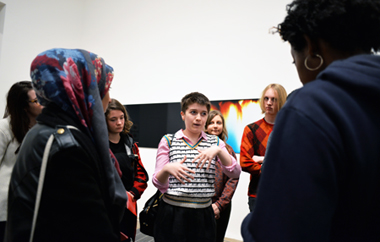 (Image credit: Summer tours. Tate, Harriet Hundertmark)
Turbine Festival One City. One Day
Saturday 25th July
12:30-21:30
Turbine Hall, Tate Modern
FREE
At the Turbine Festival 2015, Tate Modern's Turbine Hall becomes your playground, your cultural hub, your local, your city; and everyone is invited. Turbine Festival 2015 is an audio-visual feast of music, performance, installations and activities. Join-in, create and celebrate alongside locals, Londoners, young people, families, artists, poets, performers and musicians. More information
17) Young Creatives at the Roundhouse

Aged 11-25? If you're cutting your teeth as an artist or you're wondering how to get started, there are loads of opportunities to get involved in the Roundhouse's creative centre, the Paul Hamlyn Roundhouse Studios. Courses and workshops in music, performing arts and media available. More information
18) Into Arts this summer?

Join the Art Academy for short courses lasting four to five days. Their studios will be open this summer for disciplines including: painting, drawing, sculpture, glass, jewellery and ceramics. All the courses are taught by specialists in their fields. Read more
19) Camden Summer University

Do you live in Camden and are aged 13 and 19? Sign up for the free activities the University offers. Courses available in Creative Arts, Music, Dance and Performing Arts and Film. More information
20) More summer schools

For more exciting activities and workshops for the summer, check out this compilation. Singing, acting, theatre, film...the options available are unlimited.
Also, the City Academy offers plenty of options and activities for you.

Have a fun summer!