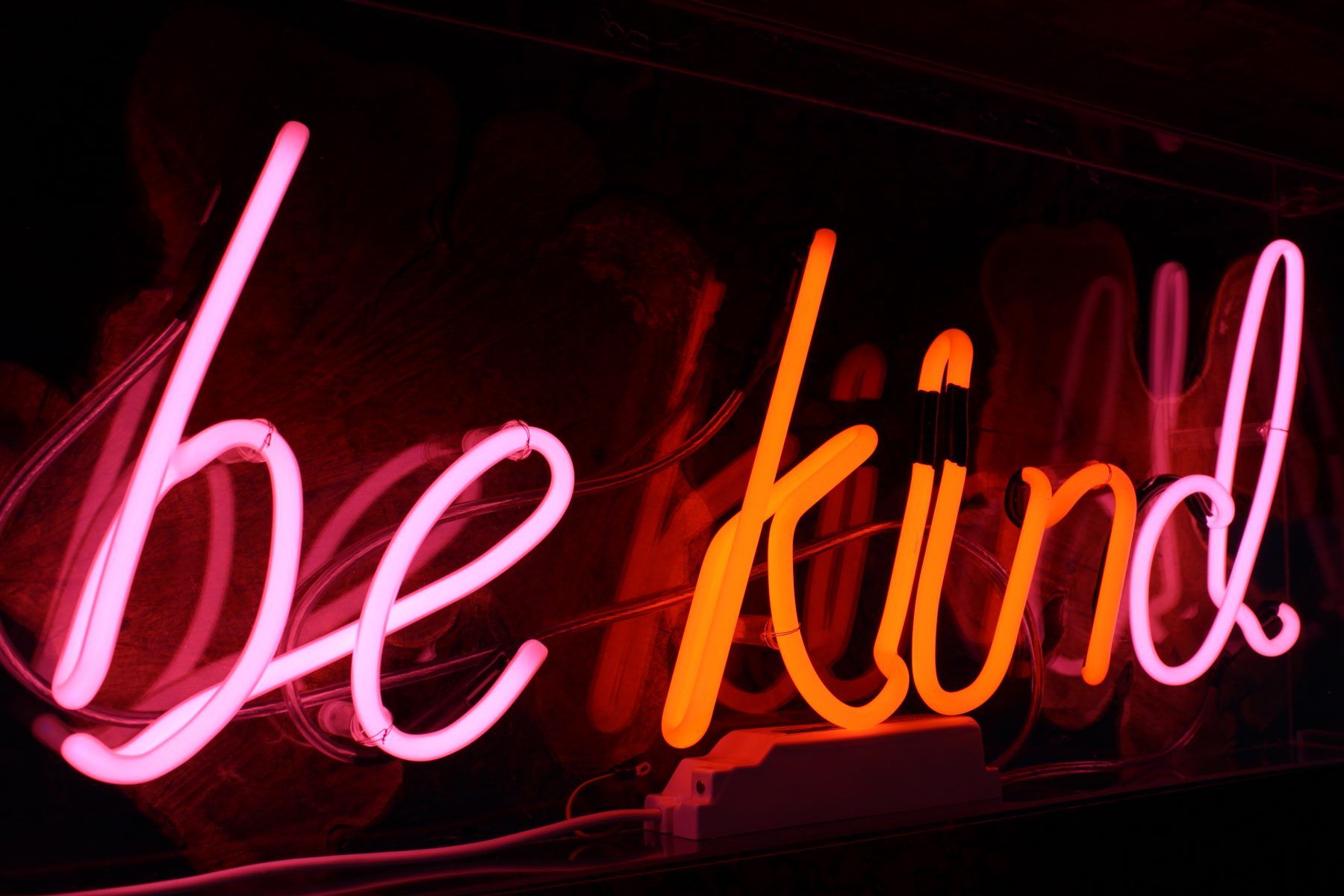 People United's 'be kind' campaign is all about sharing the message of kindness far and wide. We want as many people as possible to create signs with the message 'be kind' and display them proudly on Monday 13 November 2017, World Kindness Day. As part of the campaign, we are also giving away ten bespoke LED neon 'be kind' signs plus some extra special online resources including printable 'be kind' illustrations that can be customised and coloured in.
People United are inviting people and groups who care about kindness from across the UK to apply to own and display one of the limited edition LED signs free of charge. Applications are welcome from everyone including (but not limited to): schools, community venues, youth groups, hospitals, care homes, arts organisations, businesses, voluntary organisations, housing associations, local councils, heritage venues, museums, galleries, and individuals.
To be in with a chance of receiving a LED neon 'be kind' sign, applicants are asked to challenge themselves (along with their colleagues or pupils) to complete a kindness challenge on World Kindness Day. People United is excited to hear applicants' ideas for acts of kindness, big or small, that will benefit their communities and spread kindness. The deadline to apply is midnight on Sunday 24 September 2017.
The idea for the 'be kind' campaign was inspired in part by People United's Arts and Kindness Weeks in Schools. These tailor-made programmes explore and embed kindness in schools through a raft of fun, exciting and creative activities. The programme evolved from a successful artist residency in a primary school which focused on celebrating positive role models. The positive outcomes from this were overwhelming, with research showing that pupils significantly increased their kindness towards others and dramatically increased their understanding of the arts.
World Kindness Day also marks the start of Anti-Bullying Week (13-17 November 2017) so taking part in the 'be kind' campaign and creating your own 'be kind' signs with pupils can be a great start. People United have some brilliant free school resources on our website including:
Arts and Kindness Week Teachers Pack – with activity ideas for each day of the week
Kindness Schools Brochure - a practical booklet for primary schools about kindness
Hunting for Treasure - a learning resource celebrating Values and Role Models
A kind and caring school environment can play a powerful role in pupils' happiness and well-being, especially when concern for young people's mental health seems to be on the rise, and we know from our research that the arts and creative activities can encourage greater connection, empathy and compassion between people. Helping young people understand and value empathy, tolerance and kindness (to themselves and others) benefits them as individuals who have a desire to do good things.
The 'be kind' campaign aims to reach not only schools but any group, individual or organisation who wants to promote kindness as a way of being. By taking part in spreading the message and getting creative you can help build a kinder more caring community around your school and beyond.
---
People United
People United is a creative laboratory and pioneering charity. It is our vision to create a more kind and caring society through the arts. We explore, celebrate and demonstrate the values of kindness through our artistic practice. We do this by commissioning artists, working with neighbourhoods, individuals, schools and arts organisations on creative projects (which are adapted or duplicated), supporting other people's good ideas, generating new research, creating resources, offering advice and bespoke consultancy, and curating public events. Whilst based in Canterbury and working primarily in the South East of England, we also work in partnership with organisations, communities and artists from across the UK.