Using folk music and song in the classroom
Engage with and effectively use folk song and music to deliver and enhance the school curriculum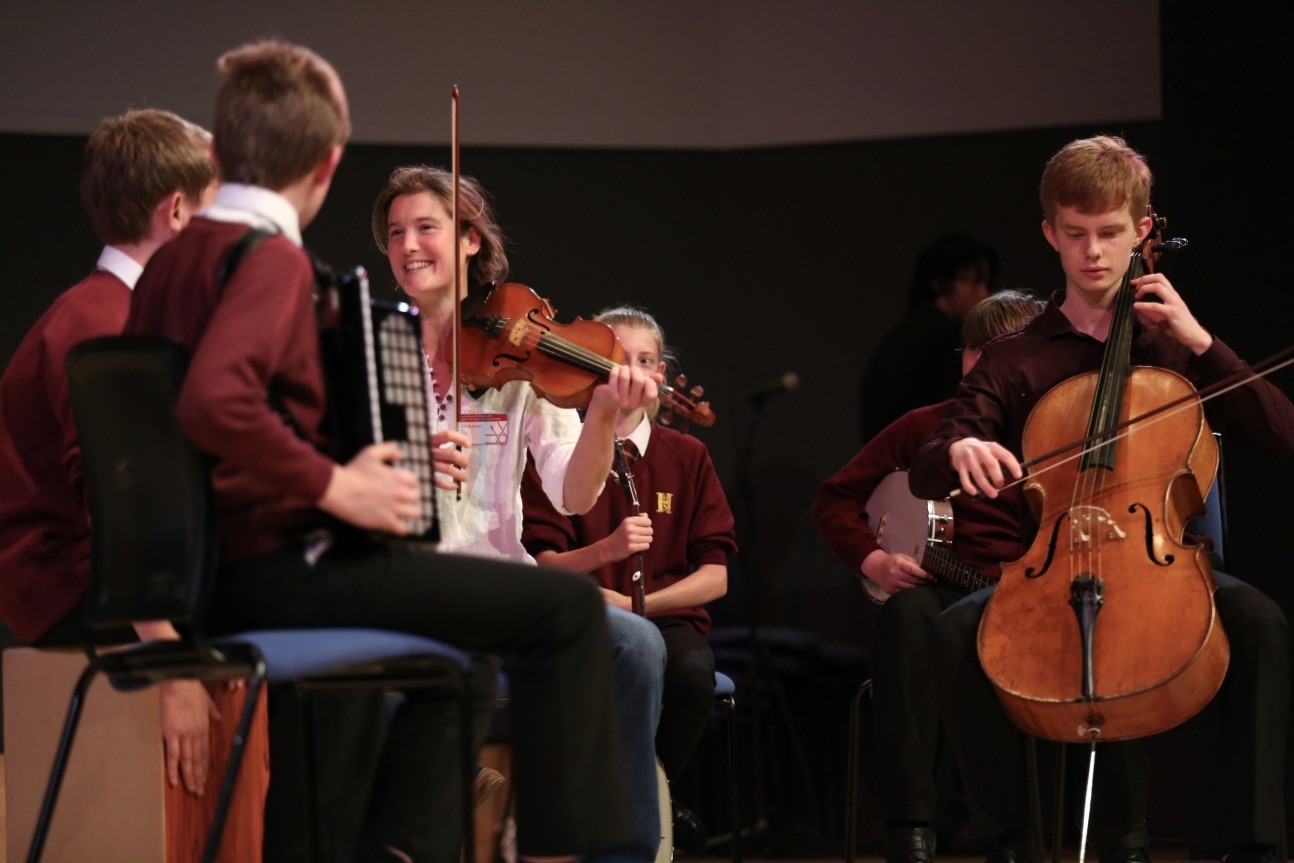 Date, time & location
14 June 2019, 9.30am – 4pm
English Folk Dance and Song Society, Cecil Sharp House, 2 Regent's Park Road , London , NW1 7AY
Click here to book your free place
About the INSET
This one-day course will enable teachers to engage with and effectively use folk song and music to deliver and enhance the school curriculum and learn about our dynamic, living, folk heritage.
The day will focus on two main areas:
Folk song: singing, arranging, creative song-writing
With reference to past projects and resources, we will demonstrate the effective use of folk song in the classroom across the Key Stages. From action songs and rounds, to songs with social, environmental and historical context that remain relevant today, we will explore how folk song can not only enhance your vocal strategy, but inspire creativity and support other areas of the curriculum.
Ceilidh band: learning folk tunes by ear, arranging and playing for dancing
Folk music is highly adaptive and suitable for all abilities. We will explore ways to teach a simple dance tune by ear to a group of mixed ability musicians. With guidance on differentiation, harmonies, technique and arrangement.
The English Folk Dance and Song Society Resource Bank contains hundreds of freely downloadable resources to help educators bring folk arts to life in the classroom. Resources from this bank will be referenced throughout the day and will be available to access after the session.
Learning outcomes for participants

Increased knowledge and understanding of how to use folk music in the classroom, including:

Teaching folk songs effectively and with confidence

Using folk tunes and songs as a starting point for creative music-making

Learning and teaching music by ear

Delivering other aspects of the curriculum. i.e. (Music, PE / Dance, Fundamental British Values, English and History)

Learning folk tunes to enable a mixed ability group

Understanding the social and historical context of folk music

Key links to our award-winning Resource Bank with free downloadable teachers' packs and audio files.


Primary, Secondary and SEND school teachers

EFDSS is the national folk arts development organisation for England. We champion the English traditional arts – music, song, dance, storytelling, customs and traditions – as part of the rich and diverse cultural landscape of the UK.

Our Education department delivers creative learning projects with schools and music education hubs, youth holiday courses, London Youth Folk Ensemble, the National Youth Folk Ensemble, regular youth ceilidhs and events curated by our Youth Forum, and our new Folk Unlimited band for disabled young musicians.

Aimée Leonard

Aimée Leonard is a folk singer, bodhran player and music educator. Originally from Orkney, Aimée has been involved in folk music from childhood. Aimée has performed all over the world with the band Anam and released several albums through the JVC label. She is an experienced workshop leader and also works as a singing teacher, musical director and song collector. She has a passion for ensemble singing and has led folk choirs since 2005 including the Dulwich Folk Choir in South East London. Aimée has extensive experience working with young people, which has been gained in both formal and informal learning environments. She has delivered a wide variety of classes and workshops with primary and secondary schools, including the EFDSS Essex Folk Song Discovery Project 2016 – 18, and has worked with young people and adults with SEND.